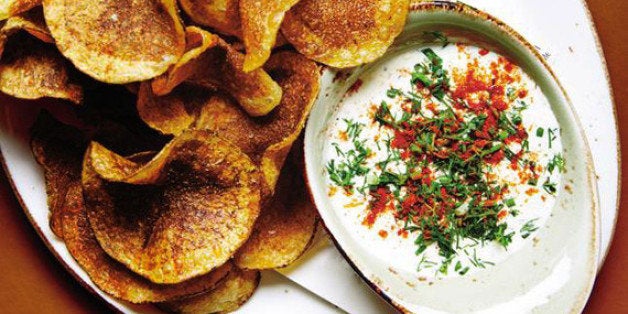 By Leah Koenig, Epicurious
Onion dip is the belle of many a holiday season ball, and for good reason. Creamy, piquant, and so so shamelessly rich, it adds an air of festivity to any appetizer table. And it is equally at home scooped up with potato chips at a casual Secret Santa office party as it is paired with a glass of bubbly at a schmancy New Year's Eve bash.
Of course, like so many other worthy dips (think: hummus, guacamole, salsa...), the storebought version hardly stacks up to the real deal. In the case of onion dip, even the "homemade" variety tends to mean a container of sour cream blitzed together with onion soup mix. Personally, I have a soft spot for the semi-homemade version. Still nothing beats making onion dip entirely from scratch. "The flavor of sweet caramelized onions folded into a rich creamy base makes it especially irresistible," says Epicurious food editor Rhoda Boone.
This year, bring your holiday party's onion dip to the next level by adding in new flavors -- chipotle! spinach! anchovies! -- while maintaining its delicious essence. Here are five new strategies to try:
Char your onions instead of sauteing them.
"Try grilling or broiling the onions to add a smoky, charred flavor," suggests Boone. In this dip, a trifecta of broiled shallots, leeks, and scallions get blended into the mix.
Deploy other onion-friendly seasonings.
Mushroom powder and anchovy paste help make this onion, scallion, and chive dip a stand-out favorite at the holiday table.
Swap in cream cheese for sour cream.
Richer, tangier cream cheese super-charges the base for this onion dip, which comes packed with baby spinach.
Spike your dip with spice.
A solid dose of chipotle chile powder helps lend an era of mystery and intrigue into the category of onion dips. "You can also spice up onion dip with a dash of sriracha or a pinch of smoked paprika," says Boone.
Pair the dip with fancy chips.
You can also add layers to your next onion-dip experience by upgrading the chips you pair them with. Instead of going with storebought pita chips or ridged potato chips, make a batch of homemade pita chips, customized with plenty of cilantro and garlic. They go especially well with this Indian-inspired onion dip, flavored with garam masala.
Popular in the Community