Hot Scots mingled with some of Nashville's elite at this year's "Dressed to Kilt," the annual Scottish-tinged fashion show and charity fundraiser, held Tuesday night at New York's Hammerstein Ballroom.
In keeping with this year's "country chic" theme, the event's featured designers -- which included Vivienne Westwood along with a bevy of up-and-coming European talents -- lent many of their Caledonian-inspired designs a down-home Texas flair. And while tartan and tweed might seem questionable when paired with a ten-gallon hat and cowboy boots, organizers and attendees alike were quick to draw attention to country music's early connection to the Scottish Highlands.
The event drew more than a few high-profile, and occasionally eyebrow-raising, participants -- among them Danny Ware and Ahmad Bradshaw of the New York Giants, both of whom looked surprisingly natural in kilts, as well as country artist Gary Allan and "Gossip Girl" actor Matthew Settle, who teased the judges with a flash of leg before strutting down the catwalk. Donald Trump and wife Melania, neither of whom donned plaid, caused the biggest commotion on the red carpet before breezing by reporters and being quickly ushered to their seats.
Take a look at photographs by Getty and AP and scroll down to keep reading.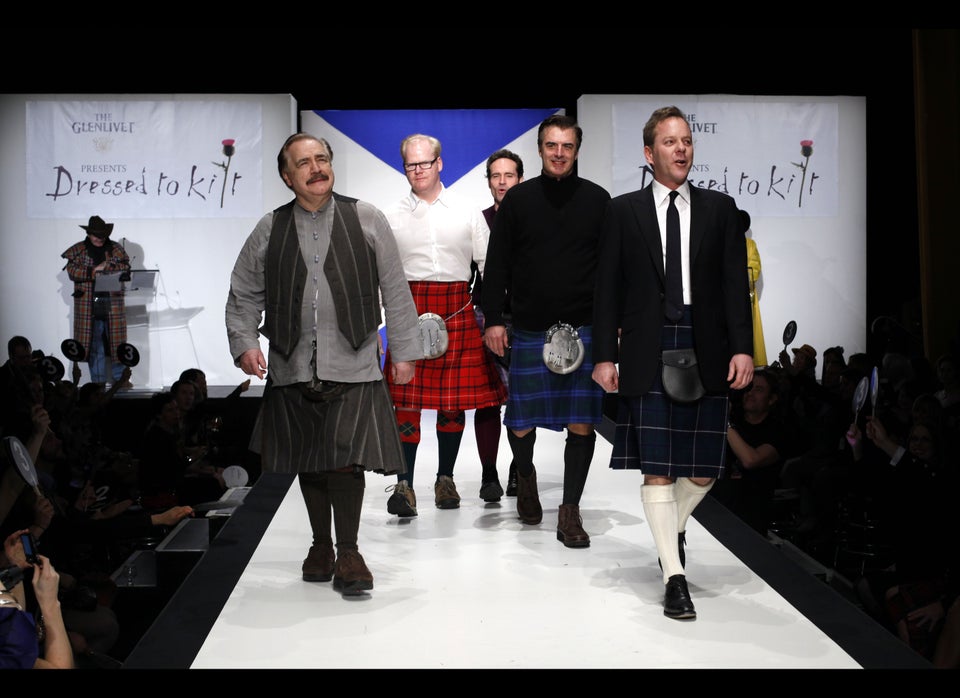 Though men's kilts were the certainly the highlights, that didn't stop the women from having fun in plaid, too. Though she was attending the event for the third time, country artist and "American Idol" alum Kellie Pickler -- who wore a Swarovski crystal-studded gown in Glenlivet tartan and an elaborate feathered headdress on the runway -- admitted to a few pre-show jitters. "As soon as I get off the catwalk, I think, 'Phew! Now I can breathe,'" said Pickler, who recently returned from a week-long USO tour in the Middle East and is currently prepping a new album she hopes to release this year. "I'm definitely not a model." And what does she think of men in kilts? "Hot, I love it! Just as long as they don't turn cartwheels," she says with a laugh.
Of course, the burning question on everyone's mind was, "What exactly does a Scotsman wear under his kilt?" Turns out, at least among the night's attendees, there was no official consensus -- though actors Kiefer Sutherland, Jason Patric, Chris Noth, Brian Cox and Jim Gaffigan gave the audience a surprise thrill at the end of the night by flipping their skirts to reveal nothing but their bare bottoms underneath.
Attending his seventh show, Swedish model Markus Schenkenberg shared those au naturel sentiments. "Wearing a kilt is very liberating, it's nice," he said, noting that while he didn't own any kilts, he took the same commando approach to his vast collection of sarongs. Others, like Glasgow-born comedian Billy Connolly, were quick to opt for undergarments under their skirts. "There's no rule book, and it's like wearing barbed wire," he quipped. "I tried it once, and my arse was purple by the time the day was over."