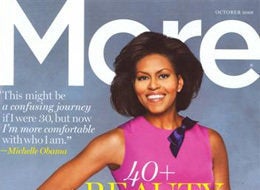 The first thing I noticed about Michelle Obama when she walked through the door of the Chicago hotel suite (which we'd converted into a temporary photo studio for MORE's October cover shoot) was her height. A commanding 5'10"--plus heels--she was even more imposing than the T.V. cameras project, perhaps because she's often photographed next to her even taller (6 foot one and a half) husband. She wore a floral skirt and a sleeveless white blouse that highlighted her incredibly cut arms. After shaking my hand she asked if she could eat. Though we were on a tight schedule (cover shoots usually last all day, but she was giving us only three hours, which included the time needed to do her hair and makeup), I was happy to oblige. Not only had I been hovering over the catering table like a starving vulture since 11 a.m. (my 6 a.m. flight came sans snack), but I believe you can tell a lot about a person by what they eat. (Ever notice how picky eaters are also stingy lovers?) As Obama piled her plate high with all kinds of naughty carbs I thought: We're gonna get along just fine.


And that's what I'd flown from New York to Chicago to ensure. Obama's handlers had been so schizophrenic and fussy over the phone about what they would allow her to wear for the shoot that I wanted to make sure the woman didn't end up naked on the cover because no one could agree on what looked good. (Though naked would have really made news!) Her people had begun, days earlier on the phone, by ordering us not to bring any fancy dresses that "would look presumptuously inaugural." I got that. More's cover stars usually appear in red-carpet styles, which could transmit the wrong message on a political wife (hey, I was learning). So instead we pulled cocktail dresses from the fashion market to bring to Chicago. But then a second dictum arrived: Obama was going to wear a dark brown dress by H&M. We immediately sent an assistant uptown to get us the dress, which turned out to be attractive, but obviously inexpensive and designed (by team Obama) to reinforce a certain non-elitist message. Fine for them--but I needed a knockout image to sell my issue, so I began to get annoyed. I also began to wonder...why such careful packaging? Was Obama really a Galliano-flaunting Nancy Regan who needed disguising, or were her handlers just control freaks? It took several more rounds of negotiations to bring the two businesses--selling magazines and selling a candidate's wife--together. What won the peace prize: a bright pink Maria Pinto sheath, and as a back up, a navy satin Narciso Rodriquez shift (both dresses from Obama's personal closet).

As Obama got her hair and makeup done (by a Chicago professional who'd done it for years--and also happened to be the Obamas' neighbor), she invited me to chat about motherhood and the campaign. The primaries had just ended and she was relieved to no longer have to keep up with the pace set by Hillary. "Nothing could be that hard," she laughed, referring to the general campaign that was about to begin. Yes, her kids were adapting to life under the relentless stare of the Secret Service, but the agents--who arrived each morning in coat and tie--were having a hard time adjusting to her. "I still work out at my local gym," she said, "and part of the routine requires we run up and down several flights of stairs." It seems the Secret Service were running along with her in their suits--until they realized they could just wait sweat-free at the bottom of the staircase.

Before she slipped on the pink shift, the More team inquired if we might remove the blue satin bow pinned at the neckline, to make the look more streamlined. The press people went off to consult Obama, and brought back her reply: "No." Humm, so I had the answer to my earlier question: Obama drives her own fashion train, which is impressive. She has a look and style that she cultivates carefully and is not going to let anyone, including fashion editors from New York, tell her what to do. In a world where most personal style is relentlessly boring and uninspiring because it's all manufactured by the same five Hollywood stylists--it's refreshing, if not always convenient, to see Obama cutting her own cloth.

Read excerpts of the Michelle Obama interview at More.com.

Popular in the Community