by HAYLEY PHELAN | edited by ANNY CHOI
When it comes to building her wardrobe, Aï Bihr certainly has a lot of options. As Steven Alan's creative director, Bihr has a whole store's worth of goodies right at her fingertips -- and is in the enviable position of being able to actually create exactly the kind of garment she'd like to wear. And if that wasn't enough to make you wish you were in her shoes, Bihr speaks multiple languages, has lived in Tokyo, Paris, Los Angeles, and New York, holds degrees in both neuroscience and pattern-making. Here, she gives us the scoop on what she wears to work.
On a work day, I try to wear mostly Steven Alan because it's good for me to wear what we've made; if we need to improve something or if something's not working great, then I know it. I love to wear a big Steven Alan shirt -- I usually get something a bit oversize. So I'll wear a men's extra-large reverse seam in white, with a pair of jeans we've made. I also have a lot of old Levi's because I collect a lot of denim. I love a 501, but I like to buy a big men's size and then cut the legs so they're kind of wide and cropped. I go to a lot of vintage stores to hunt for them; when I lived in Paris I went every weekend to look at the flea markets. I'm also a big vintage eyewear collector and have really loved designing the Steven Alan Optical collection.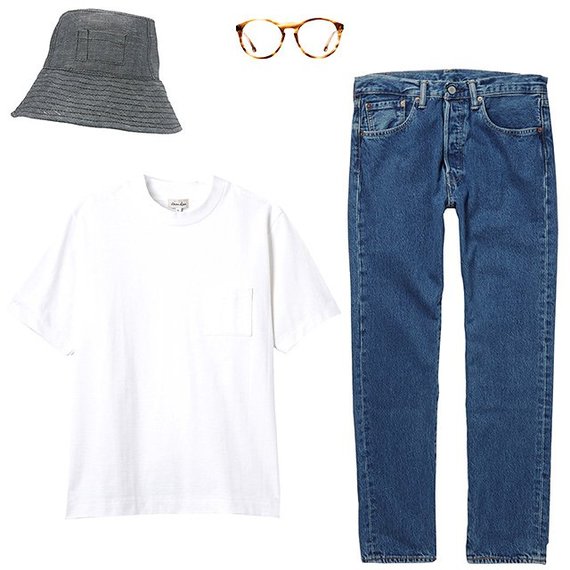 Rag & Bone Clara denim bucket hat, $39; intermixonline.com; Steven Alan Optical Wentworth glasses in light stripe tortoise, $195; stevenalanoptical.com; Levi's 501 CT jeans, $80; mrporter.com; Steven Alan x Beauty & Youth Loose Turkey cotton crewneck tee, $98; stevenalan.com
Photo: (Clockwise from top left) Courtesy of Intermixo; Courtesy of stevenalanoptical.com; Courtesy of mrporter.com; Courtesy of stevenalan.com
On my feet, I usually have sneakers or oxfords. Or like, a penny loafer. My whole team knows I'm addicted to these Japanese high tops called Shoes Like Pottery. I wear them constantly, year round. I don't want to be boring, but I always look the same! Even if there's a corporate event or I have to make a presentation, I always look the same. I try to stay very consistent and have been very consistent for a long time. I've always worn a lot of jumpsuits--whatever brand I go to, I make jumpsuits for them. They're kind of great because they're so versatile. You can even tie the sleeves at the waist and they make really great pants that way. I have a nice collection of vintage jumpsuits, some from the Yves Saint Laurent Safari collection, and I'll wear those tied at the waist or zip them up and belt them. And if I'm wearing a jumpsuit like that I might add a little heeled sandal. Maryam Nassir Zadeh makes beautiful shoes. If I do go to a party and I feel like wearing something a little bit different I'll put on sandals from Maryam. One of my best friends, Mona, designs A Détacher and she makes really beautiful skirts and dresses. I recently bought an indigo skirt/culotte thing from her. It's the perfect length and so good for summer parties.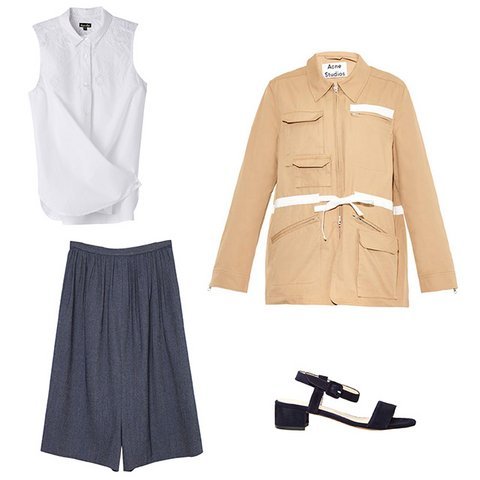 Steven Alan sleeveless crossover shirt, $178; stevenalan.com; Acne Studios Avon drawstring safari jacket, $354; matchesfashion.com; Maryam Nassir Zadeh Sophie suede sandal, $368; nastygal.com; A Détacher Sissy shorts, $450; lagarconne.com
Photo: (Clockwise from top left) Courtesy of stevenalan.com; Courtesy of matchesfashion.com; Courtesy of nastygal.com; Courtesy of nastygal.com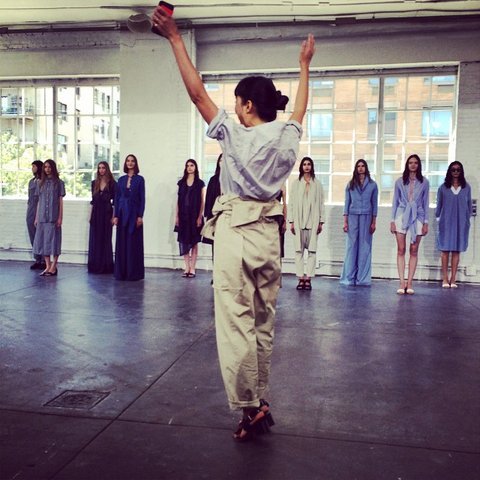 When the weather is this hot and humid, I love to wear linen and cotton poplin. We have these really great cotton poplin wide trousers from Steven Alan called the Picnic Pant. When you wear a wide-leg trouser like that, it's nice to wear something small on top. You can't wear something too big, or else you look like a tent. It's also a great pant to wear with a linen T-shirt.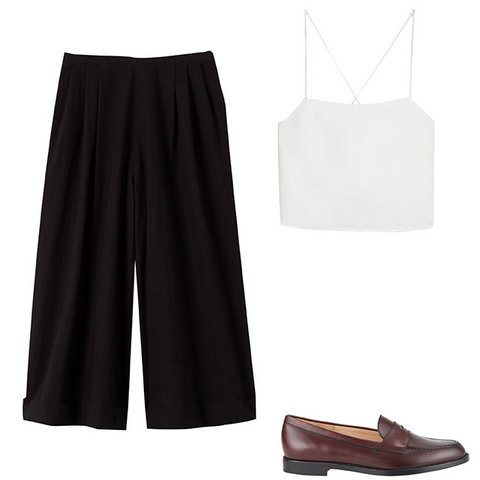 Steven Alan Picnic pant, $255; stevenalan.com; Mango cropped linen top, $50; for information: mango.com; Manolo Blahnik Vazca penny loafers, $745; barneys.com
Photo: (Clockwise from left) Courtesy of Steven Alan; Courtesy of Mango; Courtesy of Barneys
In the fall, I'm usually in a suit. I'll wear a suit jacket and a pair of trousers, with a T-shirt and sneakers. I have a few different jacket styles that I really like--one is a schoolboy that's a bit smaller; The Row makes a really nice one every year. And then I like a boyfriend notched lapel in tropical wool; it's actually the first jacket I made for Steven Alan when I joined the company and it's still my go-to. I also always love to have a peak lapel double-breasted blazer. I think the key to pulling off a suit is--well, first of all you just really have to find the right suit for you. But then you also have to have a more casual element in your accessories or what you're wearing the suit with, like a T-shirt and sneakers.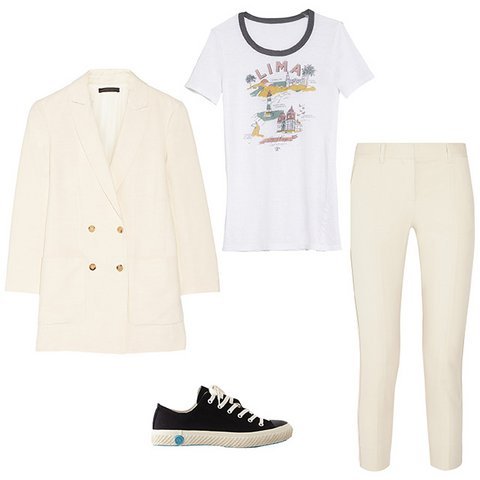 The Row Maguire double-breasted shantung blazer, $1,554; net-a-porter.com; Isabel Marant Étoile Kiliann Lima tee, price upon request; otteny.com; Reed Krakoff cotton-blend tapered pants, $483; net-a-porter.com; Shoes Like Pottery low-top canvas shoe, $155; stevenalan.com
Photo: (Clockwise from top left) Courtesy of net-a-porter.com; Courtesy of otteny.com; Courtesy of net-a-porter.com; Courtesy of Steven Alan
When I'm shopping for myself, I always look at the finishing of the garment. I'm looking on the inside, not just the outside, examining the fabric, rubbing it on my neck and doing all the crazy things that designers do. You want to make sure there's a clean finish--basically, that you don't see all this thread wrapped around the seam--so that it doesn't look like things are going to snag. It's good to pay attention to these kinds of things, because they're going to dictate the longevity of the garment. And really touch the fabric. Customers aren't stupid, they know when they're feeling good fabric. This is why we choose to use really good fabric at Steven Alan, because our customers are smart. They know they're not getting garbage from us. That's one thing I'm really proud of: There's no room for poor quality. I'm really proud to say that more than 90 percent of the things I make are made in New York. And if it's not made here, it's made at the best factory in Japan.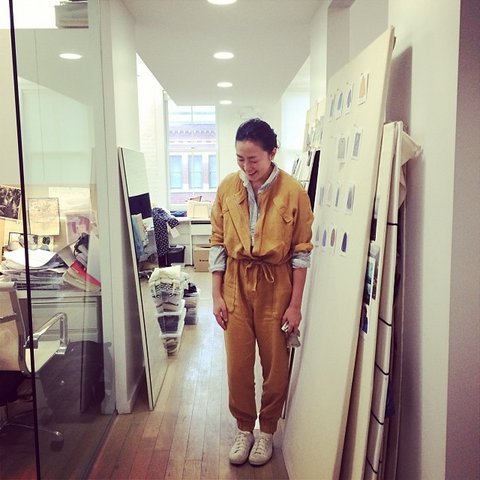 Photo: Courtesy of Aï Bihr
Popular in the Community