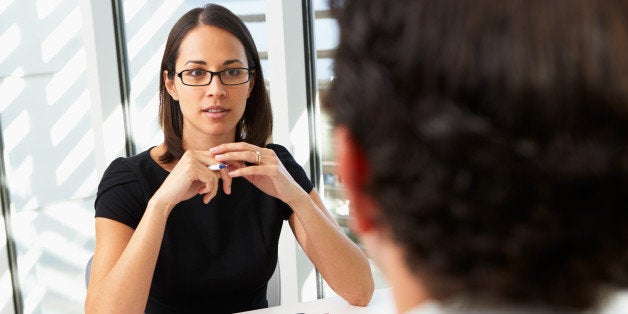 What you wear to your next job interview may be more important than you think. Like it or not, your appearance is the first thing people notice when you walk through the door, and you only have one chance to make that first impression, so it needs to be a good one.
Hiring managers already have a first (written) impression of you, as they have read your resume (and likely your LinkedIn profile). But, when you meet face-to-face for an interview, you are making a different kind of first impression, and the way you look can significantly impact your candidacy. If you show that you care about how you present yourself, then the translation to the hiring manager is that you care about the interview and that you'll care about the job and working for the company.
Companies prefer to hire candidates who will fit into their corporate culture, thrive in their organizational environment and identify with colleagues. While they're not looking for clones, they are looking for some similarities. And, as an employee, you will be representing their organization and brand, so they want to hire people who are both up to task and "look the part," especially for externally-facing roles.
There are many basic rules for dressing for an interview, some of which include: making sure suits, ties, dress shirts, dresses and skirts are clean, pressed, tailored and fit well; checking stockings for runs (and bringing an extra pair in case you get a snag); wearing a belt, choosing appropriate shoes etc.
Beyond the basics are some important things to consider that can influence a potential employer's first visual impression of you.
While you want to show your style and personality, think about the environment in which you're entering. If you're not sure about it, ask your network to find out! Consider the industry, department and job function, and if the position you are seeking is internally or externally-facing. If interviewing for a sales role at a trendy apparel company, wearing a very conservative suit might not be your best choice. On the flip side, when pursuing a leadership role at a global investment bank, it's not the ideal time to over accessorize. And if you're interviewing for an internal government or non-profit role, leave your obvious luxury designer attire or accessories at home.
As the saying goes, "dress for the job you want, not the job you have." This is a really good rule of thumb. For example, if you are upleveling your career and pursuing senior executive roles, make sure your outfit communicates that you fit in at that level.
It's common to be nervous right before and during an interview. Many people perspire when they're nervous, so avoid clothing that can show sweat or doesn't breathe (and can make you sweat more). Women wearing blouses should pair them with blazers or sweaters; men should cover-up a shirt and tie with a suit jacket and consider wearing an undershirt. Darker colors can also help hide perspiration marks. If you're likely to sweat during an interview, pay attention to what you wear so you don't become self-conscious, as it can impact your performance.
Your interviewer should be paying attention to you, not to your accessories or what you're wearing. Avoid things that can be distracting like an armful of noisy bangle bracelets, a flashy watch, change or keys in pockets that can jingle when you walk or strong, overpowering cologne/perfume. It's also a good idea to avoid very loud, busy patterns and definitely steer clear of short skirts and tight or low-cut tops.
5. Put Your Best Foot Forward
Attention to detail matters. Make sure that your shoes are polished and that the soles don't have holes (they can be visible when you're crossing your legs). If wearing high heels, make sure you can walk steadily up and down stairs as well as some distance (like the equivalent of a long hallway in case the interviewer wants you to meet with other people).
6. Test Drive Your Outfit
Commit to an interview outfit only after you try it on and make sure you're comfortable when sitting and walking, as discomfort can be distracting and can impact how you respond to questions. If you talk with your hands, make sure gestures are easy (if something is too tight, it can restrict your range of motion). Choose an outfit that makes you feel great and has positive associations. Feeling good in what you wear to an interview can boost your confidence and enable a strong performance.
Communicating your personality, value, expertise and experience are key to interview success and are what you want a hiring manager to remember most about you. However, appearance can have a strong impact and be an important part of the equation as well. Make a positive visual first impression by being thoughtful about what you wear. A little attention to detail can go a long way and make a job offer a reality.
Alyssa Gelbard, a leading career consultant/personal branding expert, is the Founder and President of Resume Strategists Inc., a career consulting firm. Resume Strategists helps clients take the next steps in their careers by providing the tools and guidance on how to present themselves as ideal candidates for the positions they seek. Clients who work with Resume Strategists encompass a broad range of industries, functional areas and levels of experience.
Related