At 41, eternal ray of sunshine Drew Barrymore says she's never been "angry or bitter or depressed" ― not even for a day. Somehow, despite a turbulent childhood under the limelight of a famous Hollywood family and a hard-partying adolescence that resulted in two rehab stints by age 14, Barrymore has landed on this rose-colored analysis of her experiences.
Today, the Golden Globe winner and mother of two daughters turns her jagged flowering into messages of optimism. Her Instagram feed actually is, in large part, rainbows and flowers. Amid advertisements for her wine and skin-care brands, you'll find the hashtag #girlpower, evidence of her frequent charity work and a parade of smiles. The tone of Barrymore's adult life, as evidenced when I met her on the set of her new "Come As You Are" campaign for Crocs to talk about the 20th anniversary of "Scream," has been one of inspiration. And she's well aware that, given the "intense" contemporary political climate, we desperately need some inspiration. 
"There's so much happening in the world to distract you or bring you down or scare you or confuse you or overwhelm you," Barrymore said. "It's just important to balance that out with a positivity and hope and uplifting. I also just like an all-ages party and an all-economics party."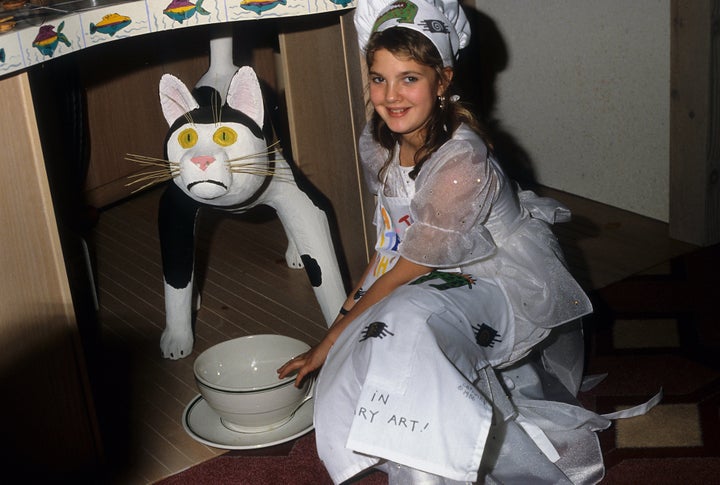 That timbre has defined the bulk of her filmography, especially after Barrymore launched her own production company, the aptly titled Flower Films, with producer Nancy Juvonen in 1995. Flower Films' first project was 1999's "Never Been Kissed," which Barrymore and Juvonen followed up with more romantic comedies and female-centric movies like "Charlie's Angels," "He's Just Not That Into You," "Whip It" and "How to be Single." Their latest is "Santa Clarita Diet," the now-steaming Netflix zombie comedy (zom-com?) that became a "safe space" for Barrymore last year during the throes of her divorce.
"We all want a happy ending and we all want to believe," Barrymore said of her film and advertising choices, which in recent years included an award-winning role in HBO's "Grey Gardens" and a turn in 2015's underrated gal-pal cancer dramedy "Miss You Already."
"It doesn't matter if you have to struggle and fight to get there," she continued. "It's not a perfect journey, but at the end of the day people want to love each other and support each other. It could be a rom-com, it could be 'Charlie's Angels.' I think I like goodness. I don't like depressing things."
Sitting in a dressing room at the Crocs set on a Manhattan soundstage, a playful Barrymore went on to insist the "hard times" of her past are nothing but positives. Again, this came from the woman who did cocaine at age 12, posed nude on the covers of Interview and Playboy magazines, and flashed David Letterman in one of the most famous "Late Show" appearances of all time.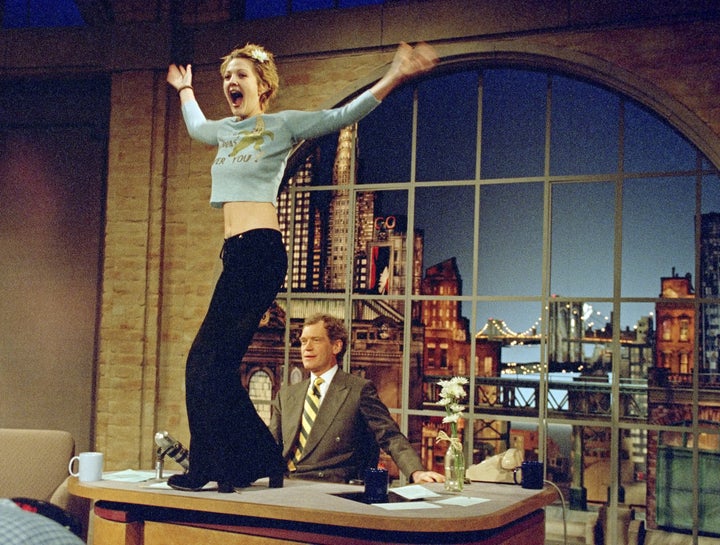 It was "Scream," a movie without the happy ending she now seeks, that catapulted the second phase of Barrymore's career. The shock of her character's death, 13 minutes into the movie, confirmed that Barrymore was the cast's biggest star. From there, 1997's "The Wedding Singer" launched the actress' peppy rom-com rebranding, softening Barrymore's bad-girl image and igniting her leading-lady bankability.
Today, she might as well be a spokesperson for peace and love. That evolution is best evidenced in the shift between Barrymore's two memoirs. In 1991's Little Girl Lost, co-authored with journalist Todd Gold, Barrymore recounted her drug exploits in brazen detail. By the time she penned a second book, last year's Wildflower, her idea of tell-all stories had more to do with road-trip antics and discovering the importance of familial stability despite her fatherless childhood. "'Memoir' seems heavy to me, and I want this to be light,'' Barrymore wrote in the book's preface. She used exclamation marks liberally, just as her character on "Santa Clarita Diet," a show that satirizes the exploitations of macabre zombie stories like "The Walking Dead," probably would. Hard times be damned. 
"Those only made me stronger and more absolutely grateful in understanding there is a different side to the coin," Barrymore said. "So whenever you're on the good side of it, be thankful. When you're on the bad side, get yourself on the good side. And if you're on the bad side and you put yourself there, take responsibility. Get to the good, stay in the good, fight to stay in the good. Happiness is a choice. Happiness is lovely, but the choice part is the empowerment. The fight to stay focused, eyes on the prize, goodness, goodness, goodness. I like the fight. If you're going to struggle, struggle to be happy."
Calling all HuffPost superfans!
Sign up for membership to become a founding member and help shape HuffPost's next chapter
BEFORE YOU GO
PHOTO GALLERY
100 Photos Of Drew Barrymore