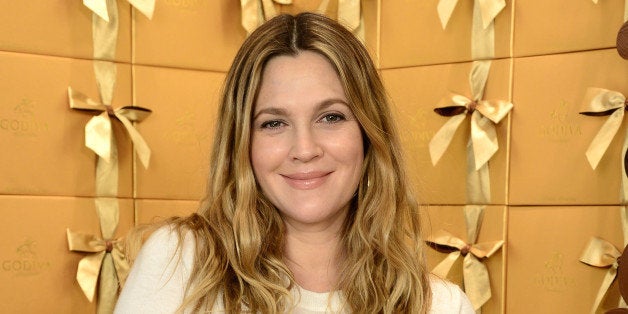 These days, our knowledge of celebrities too often originates with paparazzi images and snarky quotes by anonymous "insiders." After a while, it's easy to forget that stars are real people. That's why HuffPost Celebrity decided to launch the all-new #nofilter, a quick-fire question-and-answer series. Because how well do you know someone until they've shared their guiltiest pleasures?
Drew Barrymore has been a fixture in Hollywood since the ripe age of 5, making her film debut in 1980's "Altered States" before landing the role of Gertie in Steven Spielberg's "E.T. the Extra-Terrestrial" in 1982. Since then, Barrymore has grown up in the spotlight, appearing in hit film after hit film while balancing the media's criticism and praise.
Expectant mom Barrymore chatted with HuffPost Celebrity about the partnership and was ready and willing to take our #nofilter challenge.
How is your second pregnancy different from your first time around?
In some ways it's really similar. There's a little less worry because you know what's happening. But, all is great right now.
Do you have any ideas for a baby name?
I do, but I think I'm going to keep it a secret because my husband and I haven't told anyone yet, so if I came home and said, "I told Huffington Post our working title." [Laughs] That would be interesting.
When do you feel most at peace?
No question, at 10 o'clock at night when our daughter Olive is sleeping -- she goes to bed no later than 7 p.m. -- and the dog has gone outside for the last time and I can actually get in bed without any worry or guilt because I did the best I could in everything I put in all day long. I can write in my journal and watch "The Colbert Report" and just rest for one minute. It's heavenly. I then I fall asleep and the morning comes around so quickly.
Speaking of sleep, what happens in your recurring dream?
Last night I had this scary airport dream, which really, really created for not a great night sleep. I used to have a recurring dream when I was a kid, but I don't have them as much anymore as an adult. I have houses that I'll go to, and I'm like, "Oh yeah, I've been here before in my dreams." But I had really strong recurring dreams when I was a kid. I'm interested in actually writing a short story because some of them, in my opinion, actually came true.
When's the last time you cried?
I cried the other day, I was trying to convey something. I'm pregnant and I just burst into tears saying like, "I, I, I need this!" That was pretty much the conversation. [Laughs]
What's your guiltiest pleasure?
Pretty much anything I do to take time for myself. Like, if I get to a yoga class, I feel guilty about. It feels like such a pleasure, so I guess, a guilty pleasure! And then any like rich pasta while watching a food show. Ugh, so, so good. Ask my husband, I will not watch those shows without food. I can't, it's torture!
What's the silliest thing you've ever lied about?
Probably that, like, my phone was dying. [Laughs] I'm like, "Ah, my phone is dying. Ugh." But it's not.
What's the working title of your autobiography?
I have thought about that … it would be, "The Only Thing That Makes Me Mad About Dying Is That I Stressed So Hard." Which is probably too long of a title. [Laughs] It's true! The only thing that would make me upset about death -- as long as my kids are grown up and settled -- is if I worried so much.
When do you feel most anxious?
Usually at around 10 a.m. when I feel like I've already had a really long, full day and I feel exasperated and strung-out. And I know it's way too early to feel that.
What or who is overrated right now?
Ramen pops in my head, but I don't think so because I love Ramen! I try to eat as much Ramen as I can! Um, root vegetables. If I see another root vegetable I'm going to kill somebody. I'm just so tired of the root vegetable mystique.
What are you most afraid of?
Ever letting my kids down.
Beginning Feb. 1, GODIVA will be offering "Find It in Everything" as a gift with a purchase of $50 at over 200 GODIVA boutiques nationwide and for $65 on GODIVA.com. Together, GODIVA and Drew are encouraging chocolate lovers to share photos of heart-melting moments as a part of GODIVA's Heart-Melting Valentine's Day Sweepstakes.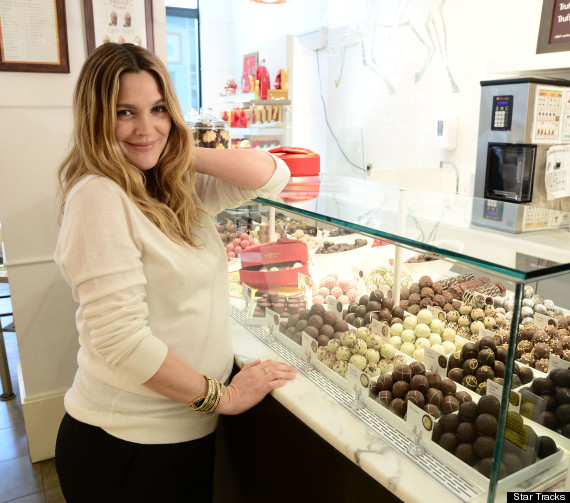 Consumers uploading photos to GODIVA's Facebook Page have the opportunity to win GODIVA Valentine's Day favorites and one lucky winner will have the chance to attend a meet and greet with Drew, receive a signed copy of "Find it in Everything" and relish in a year's worth of GODIVA chocolate.
REAL LIFE. REAL NEWS. REAL VOICES.
Help us tell more of the stories that matter from voices that too often remain unheard.
BEFORE YOU GO
PHOTO GALLERY
They said WHAT? #nofilter