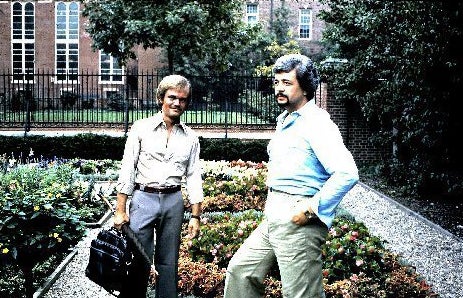 Drew Bosee, 68, and Nino Esposito, 78, didn't think they'd ever see same-sex marriage become legal. The two men have been together for 45 years, after first meeting on Easter Day in 1970. They now live in what they describe as "a pretty conservative Republican neighborhood" in a Pittsburgh suburb with their giant schnauzer, Yuri. And like so many other loving couples, they'd like to get married.
But for Bosee and Esposito, there's a catch: Since 2013, Eposito has legally been Bosee's father.
Before marriage equality, some gays and lesbians adopted their partner so they simply would have some legal rights that they wouldn't have otherwise. It wasn't ideal, but it was the only path offered under the law. 
Bosee said they decided to look into adoption when they were rewriting their wills. The inheritance tax is significantly steeper when a person bequests to a non-family member, but that wasn't the main reason they did it. 
"The only option we had at the time was doing this, and this sort of was a legal completion to something that we had always felt. Not that we were father and son, but that we were like a family," Bosee said.
"The adoption process was very simple," he added.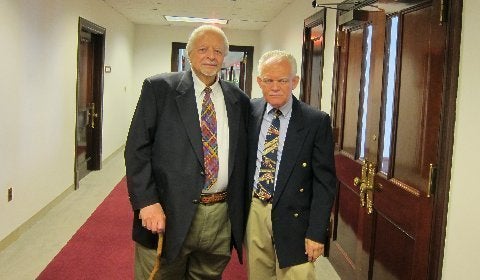 Other couples in this situation have been able to annul their adoptions and get married. Bosee and Esposito even have friends in Harrisburg, Pennsylvania, who seamlessly went through this process. So they decided to go through with their own annulment in early 2015, after Pennsylvania had legalized same-sex marriage but before the U.S. Supreme Court would eventually do so. 
In June, however, Allegheny County Judge Lawrence O'Toole denied their request. Although he has a reputation for being progressive and was "sensitive" to their situation, he argued that state adoption law simply didn't allow him to move forward. O'Toole said courts have generally reversed adoptions in cases of fraud, and he requested direction from higher courts. 
Aaron Tax, director of federal government relations at Services and Advocacy for GLBT Elders, said many lesbian, gay, bisexual and transgender older adults felt compelled to, like Bosee and Esposito, "resort to any means necessary to protect their rights in the face of our country's discriminatory marriage laws."
"We believe the justice system should do all it can to ensure that these individuals are able to access the rights and privileges of marriage they've only now been given access to after decades of facing unconstitutional discrimination," he added.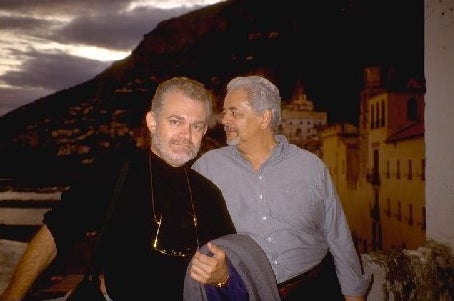 This week, they received another boost when Sen. Bob Casey (D-Pa.) sent a letter to Attorney General Loretta Lynch, requesting that the Justice Department "consider issuing guidance for courts across the country so that gay couples who have previously entered into adoptions can annul them in order to receive marriage licenses."
As Casey pointed out, in at least 25 states, including Pennsylvania, marriage between a parent and an adopted child is considered incest. Therefore, Bosee and Esposito need an annulment. 
Andrew Gross, one of the couple's attorneys, said he is not aware of any other couple in their situation. Justice Department spokeswoman Dena Iverson said they are reviewing the letter. 
Since Casey's letter, Bosee and Esposito have received a flood of national media attention, which they admitted has required a bit of an adjustment. They grew up in a time when being gay was not as widely accepted as it is now, and they're not used to talking about their relationship. They never even openly discussed it with their parents, who have all passed away. 
"Generally speaking, as far as our behavior, we've always been very below the radar -- closed about all of this. We never can say we officially 'came out,'  so all this publicity now within a few days or a couple weeks has been a little bit overwhelming. It's sort of like coming out by cannon fire," Bosee said. 
Bosee and Esposito said they've been very encouraged by the support they've received from people who have seen the news stories, even in their conservative neighborhood. 
"They always used to say there's a difference between knowing and knowing," Bosee added, "and a lot of people would rather have it be the former and somehow once you make it official -- not so much maybe today, but even as recently as 10 years or more, it could be sort of uncomfortable for them or us or anybody if they officially knew the situation."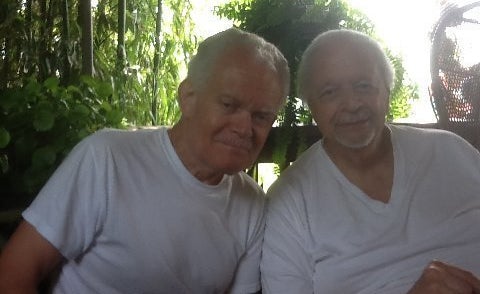 The couple and their attorneys expect to receive a ruling from the Superior Court early next year. The American Civil Liberties Union of Pennsylvania has filed an amicus brief in support of the couple as well.
In the meantime, Bosee and Esposito wait -- and continue to answer questions about their situation from people who are unfamiliar with what gay couples have had to go through to obtain some sort of basic legal protections. And one question they keep having to answer is: Why did they decide to go through all this, other than for financial reasons?
"And I always say, does anybody ask a heterosexual couple why they're getting married? ... It's ridiculous. It's unheard of," Bosee said. "Yet when a same-sex couple is getting married, especially going from what we want to be doing -- going from an adoption to a marriage -- that's the first thing they want to ask. I think it's really crazy, if you stand back and look at it."
PHOTO GALLERY
Celebrations Of Same-Sex Marriage
REAL LIFE. REAL NEWS. REAL VOICES.
Help us tell more of the stories that matter from voices that too often remain unheard.