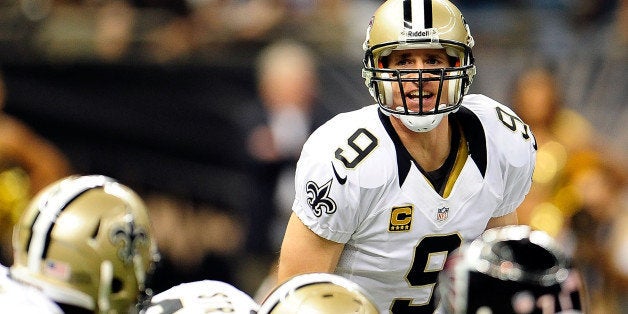 Fresh off a 3-0 start, New Orleans Saints' All-Pro quarterback and Super Bowl champion Drew Brees spoke with The Huffington Post by phone to discuss his relationship with head coach Sean Payton since Payton's reinstatement after a one-year suspension. Brees, 34, also discussed how he breaks down defenses on tape, his opinion on the NFL concussion settlement and how much longer he wants to be an NFL quarterback. (This interview has been edited and condensed.)
How much did the off-field distractions affect this team on the field last season?
We're not going to make any excuses for last year. But there was so much of the line of questioning every week with all the media, the situations with bounty and all that stuff. You try to filter through it, you try to focus on football, but it became hard.
How much has your comfort level increased with Coach Payton back?
It's great because all the pieces are in place. We're just focused on this season. It's all about football. Still a lot of work to do, but yeah, it's great to have him back.
I read that you anticipate his play calls before he can even tell you what to run. Does that happen often?
It happens all the time. It happened in the Tampa game a few times, it happened yesterday [against Arizona] a few times. We're very much on the same page.
When you're at the line of scrimmage before the snap, do you have free reign to change a play?
Within the framework of the offense. We go to the ball with one play, two plays, three plays with the opportunity to check.
Tight end Jimmy Graham has become a superstar. Are you at the point where you feel if you just put the ball close to him, he will win?
Yeah, there's a lot of trust and confidence there. We've really worked at it together. You know, he's coming into his own. He's an ascending player; he's continuing to improve. I know last year he was dinged up quite a bit.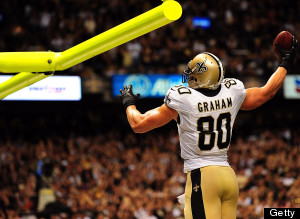 Of tight end Jimmy Graham, Brees tells HuffPost: "He's an ascending player; he's continuing to improve." (Getty Images)
You are known as a film rat when it comes to studying defenses. What exactly are you looking for and does it vary a lot from week to week?
There's consistent things that you try to find. You're looking at their personnel, you're looking at the way that they play certain fronts and coverages, and what their pressures look like, and where your match-ups might be, how they play man coverage, and what they like to do in certain situations -- you're evaluating just about everything you can. At the end of the day, you just want to make sure, when you go into the game, that you're very decisive, and that you have a plan for any situation. You know that every defense is going to do something to you that you haven't seen before and you gotta be able to make the adjustment.
Are there still certain things you find harder to recognize or diagnose?
There's always challenges, and you don't see everything. It's impossible, no matter how much football you see -- there's times when they fool you. You want to be able to fall back on your instincts, your rules and your reactions in order to make good decisions.
It's still very early in the season, but we've already seen a reduced amount of read-option across the league. Does that surprise you at all?
I really haven't paid attention. It's early in the season and I'm worried about my team.
You had a rushing touchdown during Week 3. How comfortable are you to tuck it and run?
Here's the thing: So much of it is just reaction. You don't have time to think about it. You want to develop those good habits, especially on third down or in the red zone, and you want to sustain a drive. It's something the defenses don't account for all the time, and I'm sure they don't account for it with me because that's not really my MO.
So when you step up in the pocket as a play breaks down, how much is it in your mind to just get down and avoid that big hit?
Well, you never want to take unnecessary hits. It just depends on the situation. If it's first-and-10, you take off and know when your journey's come to an end and get down. But if it's third-and-short or a play at the goal line and you have a chance to scramble and get the first down, and there's gonna be a collision, well, you sell out.
Sometimes, a defender will make a big hit on the quarterback and it looks like the QB will say something like, "Nice hit." Does that happen with you?
[Laughs]. No, I don't really say anything to defenders. My mind is always thinking about something other than just the hit.
Even with all the rule changes, do you actually feel safe during a game?
[Laughs]. I don't know if anywhere on a football field you feel safe. It's a violent game, you know, everybody flying around. Obviously, we're focused on hits to the head, and so in the spirit of the rules, it's been all about protecting defenseless players and protecting guys against hits to the head. So who are those players? In a lot of cases, it's quarterbacks in the pocket, it's receivers going for balls down the field. I think those rules are in place in order to lessen the number of head injuries, neck injuries, concussions, to both offensive and defensive players. The punishment for those has been raised in regards to time missed, suspensions, fines. Some guys take to it and some guys don't; but hopefully, long term, that will make the game safer.
I think that there's a lot of guys out there that need help, so I don't know how much help that's going to be long term. But as far as immediate help, if the guys do end up accepting the settlement, I think that that's the big issue. There are so many guys who need help now and don't have time to go through the arduous legal process that might take another five years.
You've got a lot of stuff off the field, like the Tide and the Color Captains Program, but how much longer would you want to play in this league?
I'm taking it one year at a time, but as long as I'm healthy and having fun and able to play at a high level, I want to play.
Email me at jordan.schultz@huffingtonpost.com or ask me questions about anything sports-related at @Schultz_Report. Also, be sure and catch my NBC Sports Radio show, Kup and Schultz, which airs Sunday mornings from 9-12 ET, right here.
Popular in the Community