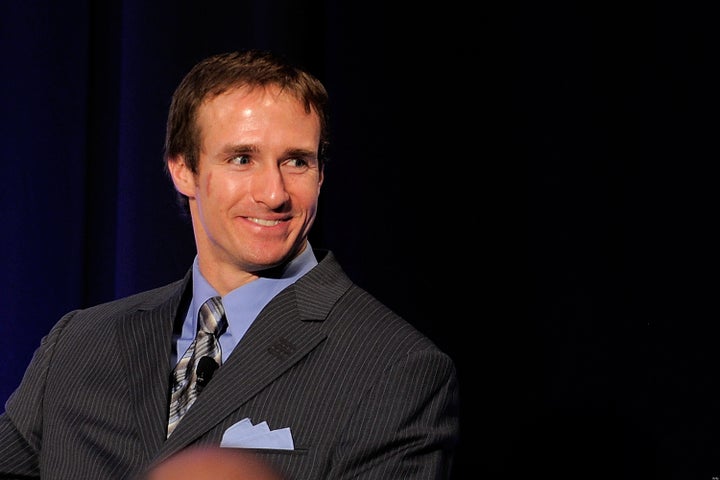 (Reuters) - Last year's Super Bowl winning quarterback Drew Brees of the New Orleans Saints says he could pursue a career in politics once his playing career is over.
Brees, who is hugely popular in New Orleans after leading the Saints to their first NFL title last year, told Reuters that he was intrigued by the challenges of politics and that he would find such a career stimulating.
"Definitely, politics fascinates me, I find it very interesting. I guess, when you look at all the issues and certainly in the current economic times, at times you hate to see both parties going at each other like they do.
"You feel at times, man this is counter-productive, why can't we just stick to the issues? Why can't we just work to resolve some of the problems that our country has and the rest of the global economy has and (focus on) ways that we can help?
"I think the fact is that anybody who goes into politics feels like 'I can make a difference'. But it's not one person, you need so many others. I would love to do it, probably at some point, but I'll wait a while."
Brees, an articulate and effective communicator who is involved in several community projects, said he wasn't ready to make the switch just yet.
"I'd consider it, I am not going to close any doors, hopefully that's some way away, I'd love to be able to play football for as long as I can but we'll see. There are lots of thing I want to do after I stop playing," said the 32-year-old, who was MVP in last year's Super Bowl win over the Indianapolis Colts.
On Saturday, Brees presented the Vicks NyQuil Most Dedicated Fan Contest award to Saints fan Rion Loisel and his wife Kelly who both commented that the player would sweep to power if he ever ran for mayor of New Orleans.
Brees, who did not state his political allegiance, won wide praise for his role in helping reconstruction in New Orleans following the devastating Hurricane Katrina which wrecked the city in 2005.
The quarterback said that experience had created a uniquely strong link between the team and the city's residents.
"Their spirit really motivates us and drives us and I think we really feel a sense of responsibility every time we step on the field to win football games for them because we know how much help it gives them," he said.
"The bond was created and it culminated into winning the Super Bowl, it was a magical season, it was pretty special."
In June last year, Brees was appointed by President Barack Obama to his Council on Fitness, Sports and Nutrition.
The quarterback raised eyebrows in some quarters after he visited the U.S's controversial Guantanamo detention center, in July 2009, and said it should be kept open and defended the conditions prisoners were kept in.
Related
Popular in the Community