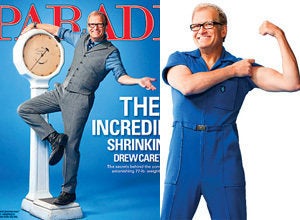 Drew Carey opens up about his remarkable weight loss and health transformation in this weekend's Parade Magazine. Carey has lost over 80 lbs so far, and hopes to have lost a total of 92 lbs by his self-imposed October 31 deadline, down to 170 from his starting weight of 262 lbs.
He now eats right and exercises, is off of his medication for type-2 diabetes, and no longer pants trying to keep up with his fiancee's 5-year-old son.
...it was Connor, fiancee Nicole Jaracz's 5-year-old son, who gave him the incentive to get serious. "I couldn't keep up with him," Carey admits. The comedian would be left breathless and sweating after just a few minutes of playing. "I'd be like, 'Connor, I can't,' and he'd say, 'C'mon, Dad!' That was a terrible feeling. I thought, I'm never going to see him graduate high school."
Carey's own father died before he was 50.
As 'The Price Is Right Host' got healthier and stronger, he suffered one setback that was a realization:
In June, Carey went on vacation to Africa and carried Connor on his shoulders without breaking a sweat. Finally, on Aug. 15, he tweeted from the finish line of a race: "Just ran my first 10K in almost 25 years. Sub-60. Then I had my first ice cream since January. :)"

But then Carey followed the cone with an entire pepperoni pizza and a cupcake. The next day, he ate another pizza, leaving him a few pounds heavier and feeling sick. He learned a valuable lesson from his relapse which he posted above his bathroom mirror: "Eating crappy food is not a reward--it's a punishment."
Calling all HuffPost superfans!
Sign up for membership to become a founding member and help shape HuffPost's next chapter