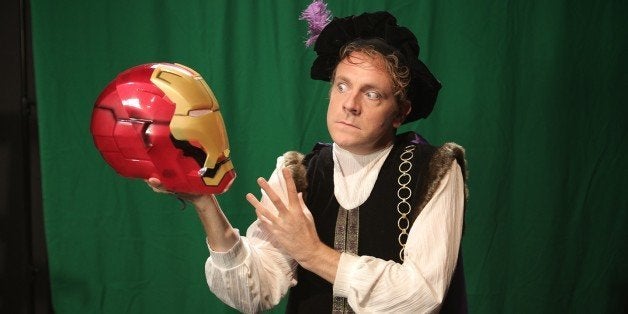 Drew Droege rose to Internet celebrity status as the star of the hit series of videos featuring him impersonating actress Chloe Sevigny.
But after doing Chloe for years, he's hanging up the blonde wig (for now) and starring in a new web series, "Hollywood Acting Studio," which finds him playing an acting teacher trying to guide young starlets through the blockbuster-obsessed world of Hollywood, all while trying to keep the "art of acting" alive.
Calling from Los Angeles, Droege spoke with The Huffington Post about his years as Chloe (including the time he officiated a wedding dressed as her), whether he considers himself a drag queen and meeting adoring fans, many of whom mistake him for other celebrities.
The Huffington Post: You certainly love your crazy women -- can we talk about Woody Allen's "Blue Jasmine"?
Drew Droege: Oh my God. Incredible. They should just give [Cate Blanchett] the Oscar now. That performance was so crazy good. I thought everyone in that movie was great. Everyone in it was so perfect. It's my favorite Woody Allen movie. I always said "Hannah and Her Sisters" was my favorite Woody Allen but I like "Blue Jasmine" more. I loved it. I thought it was dark and maybe because it's Cate Blanchett and she's doing this Tennessee Williams sort of thing, but it feels like his gayest movie in a weird way, in terms of the sensibility of it.
Really? Why?
Well, Woody Allen is never one to tell a gay story, but he's so good about women. I mean, more Oscar nominations for women than any other director, I think. He's so good at writing women really well, but there's something in this movie that feels so tragic and funny, it's a combination that has the Tennessee Williams sort of vibe to it -- it doesn't end well, and yet, it's fascinating and it's all around this boozy sort of drunk mess. More than any other Woody Allen movie I know of, gay people are talking about -- they are way into it.
Would you ever play a character like that?
Are you kidding me? I would kill to play a character like that. All I ever want to do is play flawed messes of people.
In your new web series, "Hollywood Acting Studio," is that how you would describe Professor LaFrange, the acting teacher you play?
Oh yeah, on a good day [laughs]. On the surface he is so deranged, he's a really bad teacher and he's really bitter and he feels very entitled. He still desperately wants to be an actor and he's not a good actor. So he takes out all that rage and lack of success in the industry out on his poor students but then what I feel is even more interesting to play is that he thinks he's a good teacher and he thinks he's helping them.
Is he based on any of your acting teachers?
I feel there have been so many. I've had directors who have really gotten personal with me and they get in your ear and start whispering all these things and they manipulate you and I guess they can get a good performance out of you but you're not really acting -- you're a mess on the floor writhing around and hating yourself. I don't know how you're supposed to do it again and remain a sane person. No wonder so many actors are crazy.
Last year you performed your own one-man show, "Good Evening America," during the Hollywood Fringe Festival. Did you think it was a success?
I had a blast doing it. It all started because there's a festival in Provincetown that asked me to do an hour-long Chloe show. "Can you do Chloe for an hour?" and my first thought was, There's no way that someone would sit through this character for one hour. You will be climbing the walls because after five minutes you're like: 'Okay, we get it.' And so I started thinking, What would it be for an hour? and then I was thinking there's so much backstory to this and a lot of people don't know how it started and all the crazy stories that have happened around it. It was really good helping me process the whole Chloe thing; it was fun doing that with an audience.
Can we talk about "Prairie-Oke?"
Oh, that was really fun. We'll probably do it again. We've sold out every show -- it has a sort of following here. It's been a blast. [Creator Dane Whitlock and the creative team] put together these gleefully demented, crazy mash-up shows and they always have so much heart. They're always so crowd friendly because they're weirdly not cynical, yet they send out the material and it still feels kind of dirty. They always write these really fun horrible women parts for me.
Why are you drawn to Nellie Oleson and these kinds of characters?
I don't know why. I grew up in North Carolina, so for me having to watch "Little House on the Prairie" was torture because I wanted nothing to do with that sort of folksy, homespun, Southern… whatever that is. But I watched Nellie Oleson and I loved her and I was like, I love Nellie Oleson, I'm on her side, I want her to win, and I totally agree with her… It was like I remember watching "The Hand That Rocks the Cradle" and I was on Rebecca De Mornay's side. I was like, "Absolutely. Go for it." I've kind of always loved the villains in things. They're just delicious, they're so much more fun to play than the good guy.
What's happening with Chloe these days?
I put one out a while ago but it's been awhile and people will ask me, "Oh is it done? Are you not doing it anymore?" To be totally honest, for a while I got really burnt out on doing it -- I was doing it so much. I wanted to do other things but the last few months, Jim Hansen, who does the videos with me, and I, every time we get together we're like, "We really want to do more." So, we're going to but he works full time on a sitcom and I've been all around doing other things so we haven't been able to make time to do it. It's really more on him because it's a lot more work on his part than mine. I can write them, pick a day to show up, throw on a dirty mop and go. But he has to edit and put together the whole show, so it's a lot more on him. But I am going to be hosting a birthday party in Scottsdale, Ariz., in October as Chloe. I'm going to be working with a film festival. I still host parties. There are these two guys who are getting married and they asked me to officiate their wedding, which I did before last year in Toronto…
Wait, you are officiating the wedding as Chloe?
Yes. I've done it before and it's so much fun. I was so touched that they would ask me to do that. This was in Toronto and these were two guys who I had met once before and now we're lifelong friends because I married them. They just said it would mean the world to them to have Chloe marry them and I was like, "Here we go…" and I did a whole "Good Evening, America" spiel involving them. Then they said their vows and I married them. I had this giant Versace coffee table book as a Bible -- I think it was purple -- a really heavy fashion book that I read out of and so the whole thing was gleefully wrong.
And you'll be doing it again?
We're just in the beginning phases of talking, but I said, "Of course." When you're doing sketch comedy and doing all these different characters, you never think anything goes beyond it. Maybe you'll get to do SNL and you get to put it on TV but you never think, Oh, I'm going to be flying to Canada to marry two people.
You've been doing Chloe for a while, right?
Yeah, 11 years.
Would you ever retire her?
You know what, I would. When I get burnt out, I think, I don't want to do this anymore and in my one man show I talked about how I tried to kill it so many different times. I did a couple weird shows as her and then Jim and I did the videos and then it kind of took on this whole other kind of life. It's still really fun and I'm doing it as long it goes. I mean Chloe Sevigny herself has talked about doing one and I put out the word to her, so I feel if I did one with Chloe that would probably be the last video because where do you go from there? I think that would be a great thing to end on. I want to do it as much as I can because it's something that is really special to me because people didn't like it for so long, it was just something that I really liked. The fact that people like it now means a lot to me. I'm always happy, even if I'm tired and doing the same old tired jokes and I'm thinking Oh my God, can I write something new? I feel like such a hack. And then you're like, No, people really like this, and it comes from you, and it's something you create. It's special. So I'll do it for as long as people let me.
Do you consider yourself a drag queen?
Not really, no. I mean on the surface -- the definition of dressing up like a woman but my friends who are drag queens and I, we come at it very differently. I have insane respect for drag queens. Every year someone is like, "You should be on 'RuPaul's Drag Race'..." That is not what I'm doing at all. Can you imagine? That would be a disaster. Jackie Beat is a really good friend of mine. I think she is a complete genius and I used to do her show -- this variety type show where she would bring friends on -- and every time backstage she would look at me and be like, "I can't believe you're about to go out onstage on like that, can I help you? Can I put makeup on you? You look terrible." And I was like "I know, I love it. This to me is part of it." I'm more in the vibe of sketch comedy and I happen to play a lot of women.
So no tucking?
Oh yeah. No tucking. No shaving. No boobs. No makeup, really. Or if the makeup is on, it's really odd, really weird.
Do you get recognized out a lot?
Every now and then. A lot of time it's my voice. People will hear me talk and go, "Oh my God are you…" but it's also one of those things I've had to learn the hard way. I let people say it to me before I assume they know who I am because sometimes people will think I'm somebody else. I've gotten in so much trouble. I had one guy who came up to me and was like, "Oh my God, can I take a picture with you? I can't believe I'm meeting you!" and of course I'm just eating it all up. He's so nice and we took a picture and he's almost crying. I was like, Oh my God, this is really a big moment for this guy, and then he looked at me and said "'Summer Heights High' is my favorite show." I didn't have the heart to tell him I wasn't Chris Lilley.
Aside from "Hollywood Acting Studio," what else are you working on right now?
I'm writing a new one-man show that is going to be [premiering] in November. It's called "Bright Colors And Bold Patterns."
What's that show about?
It's different from my other ones because this time I'm playing a character that is very close to me. I'm playing a character staying in a house with a group of friends on the night before a gay wedding. I mean it's mostly comedy but it's a little bit darker than my other stuff. It's sort of my exploration of where we are with gay marriage now and my lack of being in relationships,and sort of exploring all that and figuring all that out. So, it's been really fun to work on and put together. We'll see how it goes.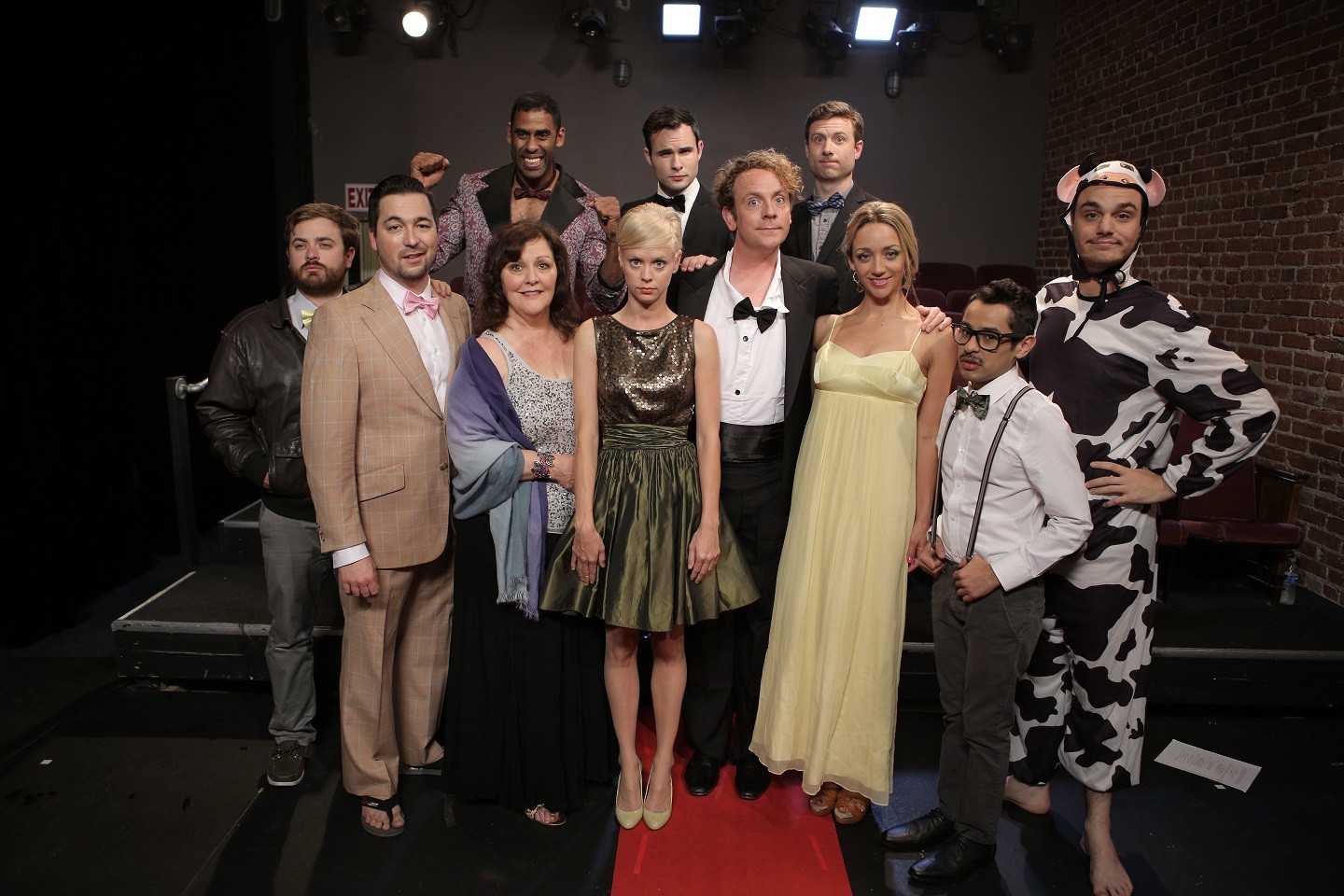 Since you're dressing up so much for Chloe and in spoofs, does that mean you're a big fan of dressing up for Halloween?
You know what? I really don't unless I have a gig. It's my night off. The biggest problem for me is that I have no idea what I want to do for Halloween. I mean, I can't dress up as one of my characters and walk around -- that feels so gross. But it's also running around and doing so many shows, by the time Halloween hits I never have anything. And for Halloween you don't want to be in character all night... No one wants to hang out with you at a party when you're deep in character. A lot of actor friends and I say it's our night not to put on a costume. Though, last year I did go out in costume because my friends had an idea: we went as the women of "The View." I went as Barbra Walters. That was fun because we went with our "View" coffee mugs. It was really fun to walk together and people could instantly recognize what we were. There was one year when I was the only person in West Hollywood, at [the gay bar] The Abbey, not in costume. And I was so happy watching other people's costumes and not having to put one on.
Popular in the Community