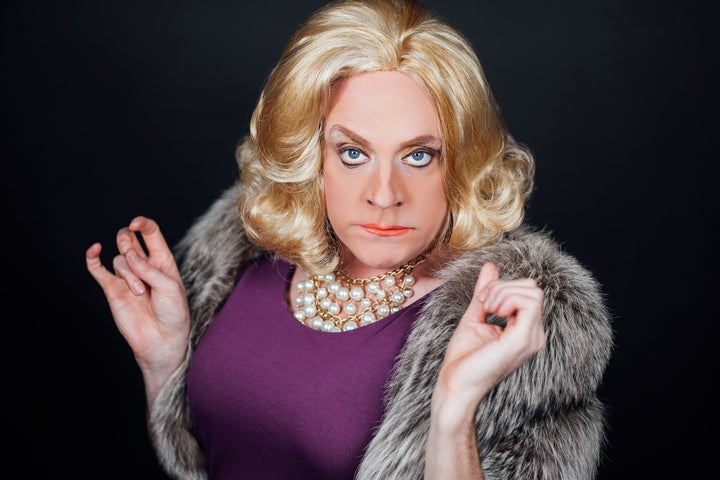 The actor-comedian returns to the stage Friday as the star of Charles Busch's 1999 comedy, "Die, Mommie, Die!," at the Celebration Theatre in Los Angeles. Billed as a "Greek tragedy on acid" and a campy tribute to midcentury Hollywood melodramas, "Die, Mommie, Die!" follows Angela Arden (Droege), an aging Hollywood star who murders her husband and attempts to find happiness in the arms of a young lover. As is the case with most of Busch's satirical work, however, not everything is what it seems, and gender-bending, bed-hopping and pill-popping abound. 
Droege, who was last seen in the hit solo comedy "Bright Colors and Bold Patterns," in New York and Los Angeles, told The Huffington Post that the "batshit crazy" play tackles issues like homophobia and ageism in Hollywood that still feel relevant today. Best known for his viral /www.youtube.com/playlist?list=PLJzrhL16uCyC2WiT--0hpOndzPiVqe0YP"}}">YouTube impersonations of actress Chloë Sevigny, Droege said he felt an instant kinship with Busch, citing the actor, playwright and drag icon as a personal influence. 
"Before ever seeing him perform, I felt like I knew him," he said. "I, too, have always identified with leading ladies in films, but have never considered myself a drag queen... He also created his own career instead of waiting for someone else to figure out what to do with him, which certainly inspired me to do the same."
In an effort to put his own stamp on the character of Angela Arden, however, Droege has avoided watching the 2003 film version of "Die, Mommie, Die!," in which Busch starred alongside Natasha Lyonne and "Beverly Hills, 92010" hunk Jason Priestley.  
"I don't think it's possible ― or wise ― to be completely different from Charles in a Charles Busch show, but I do want to put my spin on it at the same time," he said. "I definitely play around with some word pronunciations because, like Joan Crawford, she is glamorous yet uneducated. But his script is so funny that I don't want or need to do that too much." 
"Die, Mommie, Die!" begins previews at the Celebration Theatre in Los Angeles on Feb. 10, with an opening night set for Feb. 17. Head here for more details. 
Calling all HuffPost superfans!
Sign up for membership to become a founding member and help shape HuffPost's next chapter
BEFORE YOU GO