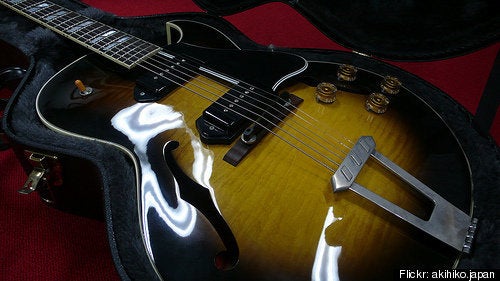 There's an eclectic, rousing sound swelling up from Portland in the singing voices and clapping hands of Drew Grow and the Pastors' Wives, coming to Denver's Larimer lounge next Wednesday, November 3rd. Their music melds together a scuzzy, squally blend of rebellious gospel/folk that at times possesses the radiant buoyancy of Edward Sharpe and the Magnetic Zeroes, and in quieter moments the seeping warmth of M Ward or intelligent, lovely meanderings of Elvis Perkins. It's wild and sharp and smart.
First garnering notice around the Pacific Northwest for the series of acclaimed 7″ singles they released on the Amigo/Amiga label in the past year, the band has gathered those songs together onto one ace album, released last month. These nine songs are largely unclassifiable, a feat that seems to be more uncommon in these days of easy genre labeling.
All songs share a penchant for incisive, thoughtful lyricism, but those words may be screamed over rowdy feedback in "Bootstraps," catcalled in a dirty falsetto on bluesy tracks like "Company," or nearly whispered in the communal pouring-out of spirit on "It All Comes Right." It's an approach that keeps me intrigued through multiple listens, appreciating the sterling streak of quality all the way through. There is a wild weirdness to it, all laced tight with smart songwriting.
Serious buzz started around this band after they stole the show at the Doe Bay Festival outside Seattle this summer. Before I even listened to the album, I read a marvelously visceral review in the Seattle Weekly, and I instantly wanted in. The reviewer wrote that the DGPW live show was "one of those rare, game-changing live music experiences, the kind that turn people from casual listeners into lifelong music fans." She claimed that out of thirteen years of show-going, she'd never felt this way about a performance from a band she wasn't familiar with.
Sometimes, after dozens and hundreds of live shows, I begin to feel the same thirst for something to knock my socks off. I'm eager to see this band next week to test out her supposition. Join us. Drew Grow and The Pastors' Wives are eager to convert you.

Show Information:
DREW GROW & THE PASTORS' WIVES
With Kelli Scheafer, The Raven & The Writing Desk, and The May Kit
Larimer Lounge - Wednesday, November 3rd
Doors @ 7pm, Tickets $8