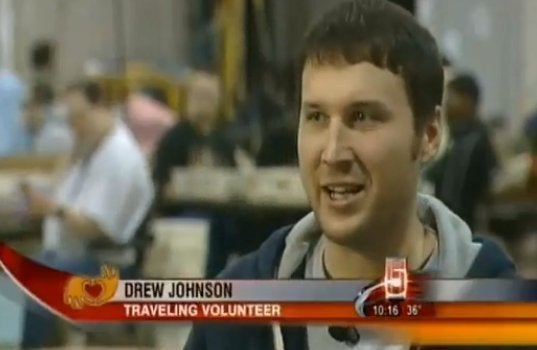 Some of us get our best ideas in the shower, but they don't usually change the course of a year of our lives. Not so for Idaho resident Drew Johnson who "had an epiphany one morning in the shower." The epiphany? To travel around the country volunteering -- one state per week for 48 weeks.
The project is called 48 by 48, and Johnson's Web site describes the projects he's been a part of (and also includes regular tweets).
This week he visited a Meals on Wheels kitchen in Dallas and delivered food to 10 different homes. He's already been through 18 states and has volunteered for the Salvation Army, Habitat For Humanity and Open Arms, an organization that delivers meals to people with debilitating illnesses in Minnesota.
Though Johnson runs his own Web design company, he mostly relies on donations from others to keep the project going. For the most part, he says, people have been generous.
"People can donate online or just in person. So that's how I kind of live. I kept my design company, didn't abandon it; I just don't do the really high-end stuff I did, just small projects. I've been amazed at the generosity of others, but that's what I expected. Kindness begets kindness."
One of Johnson's aims is to inspire young people to give back of themselves. As he continues through Texas, he gave the Dallas Morning News a message for those wanting to make a difference:
"Find something you love to do and find out a way to involve helping other people," he said, "and you will find happiness."
Calling all HuffPost superfans!
Sign up for membership to become a founding member and help shape HuffPost's next chapter