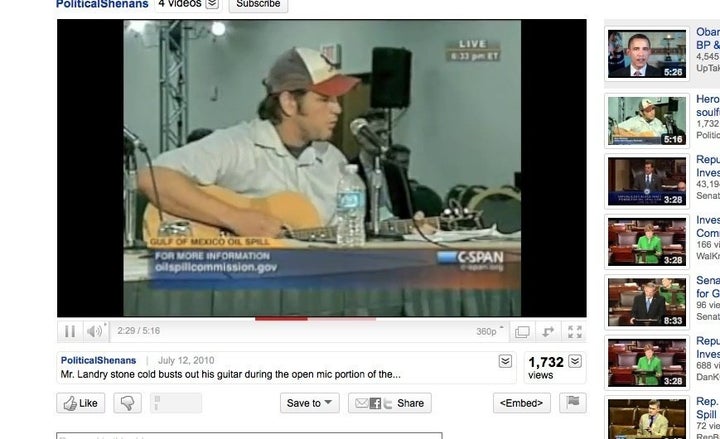 The White House oil spill commission got some advice in an unexpected form this week: a stirring folk song from a Louisiana native who pushed those assembled to "just do the right damn thing."
During a public comment period toward the end of the commission's Monday meeting, Drew Landry, a native of Lafeyette, Louisiana and a Cajun singer-songwriter of some renown, told the commissioners that the army of contractors brought in to clean up the oil flooding the gulf are largely wasting the region's limited financial resources.
"When words failed, music prevailed," said one blogger who posted the video on Tuesday. "I don't remember a time where I've seen a hearing like this."
"We definitely need other solutions, going green -- whatever it takes, man," Landry said, addressing commission co-chair Bob Graham, a former Democratic senator from Florida. "We've got nothing. We don't want to be a welfare state. There's no point in that. We're hardworking people."
Landry said he and his neighbors work in crawfish holes or "pay the bills" in the oil fields, and the recent calamity has been devastating to their way of life. He chose to express that hardship in song.
"I never thought I'd be the hippie that brings the guitar into the meeting," he said wryly, before beginning to play.
"It feels like BP is in control of this deal, and the Coast Guard does what they want, you know, the press can't be around. But more importantly, it feels like the people don't have a voice in this thing," Landry lamented after he finished singing. "It just sucks. Let's just do the right damn thing. It shouldn't be this hard. It shouldn't take a committee to listen to people."
The singer-songwriter said he fears the oil spill and the miserable economic environment will force the "expulsion" of the gulf's residents, "people who love this place."
"I just want to say, nobody stirred while you sang," Graham told Landry. "Everybody's with you."
grew up on the southern shore Louisiana now there ain't no more

kickin mud off up a crawfish hole barefooted with a fishin pole

make a living with my own two hands hell it's part of being who I am

went to workin in the oil fields that's the only way to pay our bills

and if I'm lucky I can have a son take him hunting like his daddy done

get him workin on a shrimpin boat up and down the Gulf of Mexico

eleven dead out on a deep sea rig doin what it is they had to live

oil bleeding from a gaping hole up and down the Gulf of Mexico

Morgan City down to Mobile Bay Pascagula down to FLA

still I'm stuck out here for 7 more watching everything turn black offshore

and brother even if they cap the well hell it's just another oil spill

our way of life won't be around no more and all I wanted was to go back home.

little brother he ain't feeling well, what you spraying on that oil spill

how many of us gonna lose our lives before the people get to work on time

kickin mud up off a crawfish hole barefooted with a fishing pole

goin back into the oil fields that's the only way to pay our bills...
Related
Popular in the Community