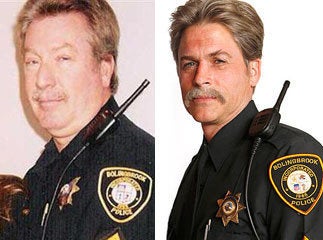 After expressing mild disappointment that Denzel Washington wouldn't be playing him in an upcoming Lifetime movie, former Bolingbrook cop and murder suspect Drew Peterson has asked the television network to stop the film entirely.
The Chicago Tribune reports that Peterson's lawyers sent a "cease and desist" letter to the network and producers, asking that all work on the movie stop by Friday or face legal action. The letter (read it here) was also sent to actor Rob Lowe, who is playing Peterson in the movie, which was based on a book called, "Fatal Vows: The Tragic Wives of Sergeant Drew Peterson."
Peterson is the lead suspect in the 2007 disappearance his fourth wife, Stacy, and has been in prison since 2009 after being charged in the murder of his third wife, Kathleen Savio.
People magazine reported last week that it takes Lowe a full nine hours of hair and make-up time to achieve Peterson's look, and lawyers say movie makers never asked for permission for the "commercial use" of Peterson's identity.
"Beyond the unauthorized use of my client's name, identity, persona and likeness, my client maintains the book is a biased and malicious portrayal," the letter reads. "Far from a 'non-fiction,' 'true story,' but rather, nothing more than a deliberate and calculated assemblage of falsehoods constituting a character assassination composed of a plethora
unsubstantiated, untrue, inaccurate, unbalanced, fictional statements concocted for lucre to falsely and intentionally insinuate that my client is a despicable wife murderer."
The letter also says the film will "prejudice any potential jury pool and undermine my client's fundamental right to a fairtrial."
Lifetime Entertainment, A&E Television Networks, Disney and others who received the letter have not responded yet, the Tribune reports.

Calling all HuffPost superfans!
Sign up for membership to become a founding member and help shape HuffPost's next chapter