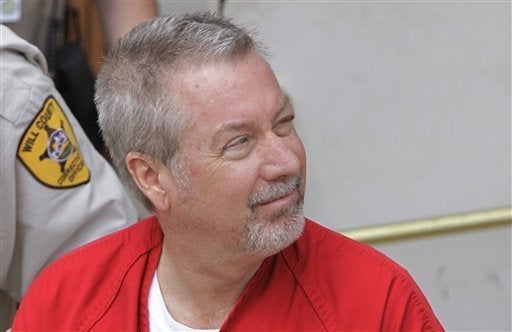 The judge in the murder trial of Drew Peterson appeared shocked in court Thursday upon learning that Fox News had aired footage of Peterson's wife's autopsy -- so shocked, in fact, that he threatened to throw out its results.
Kathleen Savio, Peterson's third wife and the woman whose murder he is accused of, died in 2004; her body was exhumed and in 2007 when authorities began to suspect foul play.
Dr. Michael Baden, a high-profile pathologist, was hired by Savio's family to perform an additional autopsy after the Will County Coroner finished his. Apparently with the consent of the Savio family, Steph Watts, a former producer for Fox News, attended and filmed the autopsy, footage of which aired on Greta van Susteren's "On The Record."
While early reports suggested that Watts was involved in performing the autopsy, he contradicted that claim on his blog:
I asked permission of the family to be in the room with Dr. Baden while the autopsy was performed, and they agreed. I agreed with the Savio family that I would only film Dr. Baden, and no images of the body would ever be filmed or aired. The family knew Dr. Baden would be reporting his findings, whichever way they concluded. During the autopsy, which lasted approximately 3 hours, I took extensive notes and shot video. I never had any physical contact with the body of Kathleen Savio, nor participated in "performing" the autopsy in any way.
Still, Judge Stephen White, set to preside over Peterson's trial and currently handling pre-trial hearings, was appalled when the tape was mentioned.
Judge Stephen White said that if a tape of Dr. Michael Baden performing the autopsy on Savio isn't turned over to defense attorneys, he may not allow the high-profile pathologist to testify at trial next month.

"You're saying Fox videotaped the autopsy?" an incredulous White asked during a hearing today. "Somebody allowed a TV station to videotape an autopsy?"

According to the Tribune, Judge White was also briefed today on the still-ongoing search for the body of Stacy Peterson, Drew's fourth wife. Stacy went missing in 2007, and her disappearance prompted the re-opening of the Savio case.
Police spent some time this month digging near Peoria, and have been described as "extremely confident" that the body is near that area.
Related
Popular in the Community