Drew Pomeranz did the unthinkable in 2016. Despite being traded for the third time in six years and despite battling an onslaught of shoulder problems, the 27-year-old pitcher earned the first All-Star appearance of his career. Better yet, the Midsummer Classic took place in San Diego, where he'd been starring for the lowly Padres, accumulating the third-best ERA in baseball (2.47) while ranking first in opponents' batting average (.184) for all National League pitchers.
Yet less than 48 hours after the All-Star Game ― in which Pomeranz pitched a scoreless inning in relief ― he found out he'd been traded to the Boston Red Sox. He wasn't necessarily surprised, however. Although the recently engaged pitcher did have to bow out of wedding-planning mode, getting set to play for his fourth team in six years almost felt like a relief.
"I've been hearing stuff for a while about different teams that were on me," the 6-foot-5, 240-pound Pomeranz told The Huffington Post. "My agent called me earlier in the day and said something might go down with the Red Sox. ... I was excited. I think that's why I keep getting teased. Someone sees something in me."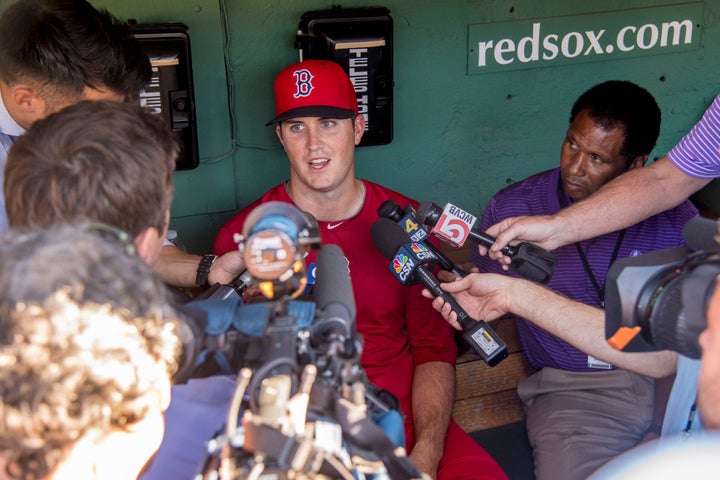 That "something" was never more evident than it's been this season.
A former University of Mississippi star and first-round draft pick of the Cleveland Indians in 2010, Pomeranz was drafted right behind superstars like Bryce Harper, Manny Machado and Matt Harvey. Yet AC joint surgery dealt a significant hit to his velocity as he entered 2016.
The soft-spoken left-hander entered spring training with the Padres eager to add a third pitch to his arsenal, which already consisted of a fastball and a deadly curveball that consistently ranks near the top of the bigs. Starting pitchers generally need a minimum of three pitches, though, whereas relievers ― especially with power arms ― can rely on just two.
"I've always wanted [a third pitch], but nothing ever stuck," said Pomeranz, who has been both a reliever and starter throughout his six-year MLB career. "I picked up a cutter about two weeks before spring training. ... I met with our manager and pitching coach and said: 'It feels like you're writing me off in the bullpen. I'd really like an opportunity to start.'"
The Padres' coaching staff agreed and were rewarded when Pomeranz put together an excellent spring. On the final day of spring training, they informed him he'd made their starting rotation.
Pomeranz knew he had earned it. And a crucial reason for that was the effectiveness of his new pitch.
It came about rather inauspiciously, while he was rehabbing on a trip during the offseason ― hardly a time to develop a go-to out pitch. Pomeranz, who always attempts to find throwing partners wherever he goes, developed his cutter by playing catch with Travis Higgs. A career minor league catcher without a big league team to his name, Higgs was eager to help.
"I noticed his ball would cut, so I asked him about it," Pomeranz said. "He showed me how to throw it. At first, maybe 1 out of 10 [of my balls] would cut. I kept doing it every day, and guys were missing it. No one was squaring it up, so I was like, 'I guess this thing works.'"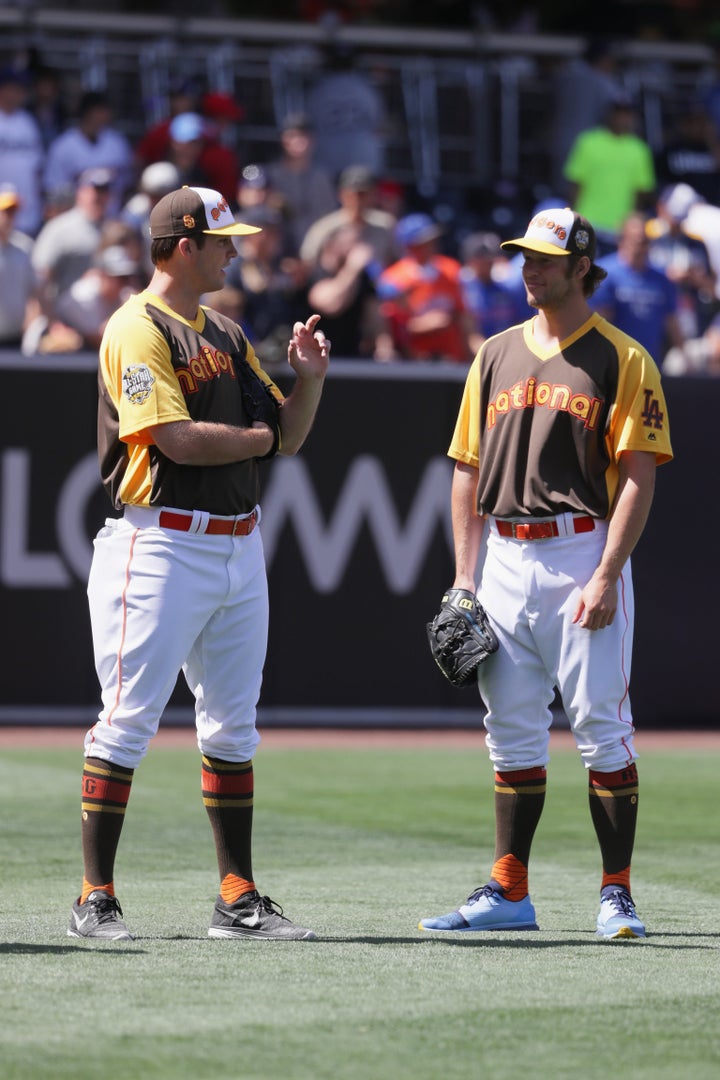 Pomeranz was right, and in a big way. This season, he throws the cutter about 11 percent of the time, resulting in a commendable 30 percent swing-and-miss rate, according to Overthemonster.com. That's a great clip for a pitcher with a dominating curveball, and a complement he never previously had in his repertoire.
Meanwhile, after a brutal opening start at Fenway Park for his new team ― Pomeranz was shelled for five runs in just three innings of work ― the Tennessee native rebounded in his second start, tossing six innings and allowing two runs in front of the Red Sox faithful. In pitching 111 innings thus far in 2016, he has already surpassed his MLB single-season high.
To be sure, starting at Fenway ― a premier hitter's ballpark compared to the more pitching-friendly confines of Petco Park ― for a legitimate World Series contender comes with additional pressure. The mound at baseball's most prized cathedral can be a lonely place, and that pressure only intensifies when you consider that Boston traded away one of its top pitching prospects for Pomeranz because it desperately wanted to bolster its starting rotation. 
Then again, Pomeranz has come a long way since his first day at spring training just a few months ago. His mindset then, without question, was more fragile, though he hardly wavered.
"It's hard to tell yourself to get ready," Pomeranz said, "when it's like: 'I need to make this freaking team first.'" 
To read HuffPost's exclusive interview with Milwaukee Brewers six-time All-Star Ryan Braun, click here.
Calling all HuffPost superfans!
Sign up for membership to become a founding member and help shape HuffPost's next chapter
BEFORE YOU GO
PHOTO GALLERY
Best Baseball Quotes