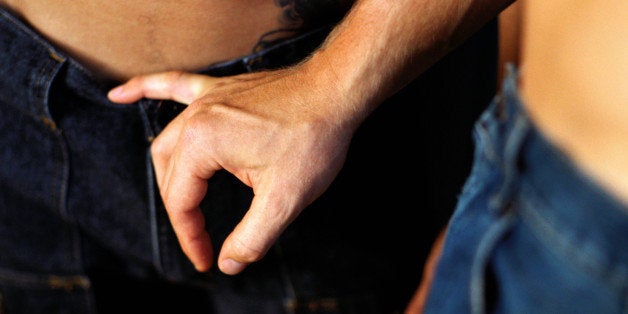 The gay geosocial app Grindr was introduced in 2009, and has since spread to over 192 countries, making it the most popular gay app in the world.
The benefits of the technology are undeniable; aside from the obvious -- sex, and fast -- the app helped usher out antiquated views of moralized sexuality, thus opening up a liberated space for proudly sexual beings to be just that. However, there is an equally vocalized downside to hookup sites like Grindr in their tendency to replace intimacy with pure physicality, leaving many feeling unfulfilled.
Dries Verhoeven is a 38-year-old Dutch artist and gay man who has felt, like many people, both the positive and negative effects of Grindr culture. In a performance titled "Wanna Play," Verhoeven aims to explore the potential powers and dangers of a site like Grindr, putting his life on display in the process.
The artist has erected a glass-walled container in the center of a popular Berlin square and will live in this 2.5 by 14-meter space for 15 days. Throughout this time, Verhoeven will be able to communicate with the outside world solely through Grindr and other similar apps. Everything that goes on in the glass house will be projected on a large screen at the back of the structure, as well as on a live stream on the the project website, though the faces of all Grindr participants will be blurred for privacy's sake. Verhoeven has five smart phones by his person inside the glass box, and whatever happens on those phones will be projected as well.
But before you get all excited, we should add, there's not going to be any sex.
Through his unorthodox performance, Verhoeven hopes to push the boundaries of Grindr -- testing its potential not only in the realm of sex but of personal connection. Furthermore the performance will experiment with bringing both the goings on of the internet, and of gay dating, into public view.
"Grindr brought me more sex than ever before, but the app was untouched by any form of intimacy, we maintained a silent agreement that we could enact our porno fantasies on one another," Verhoeven says. "I felt like a superficial illustration of myself, a man that could fulfill many sexual fantasies, but who rarely went to the movies with a stranger. I hadn't brought anyone home to the family for Christmas in years. Grindr kept me from dealing with my single life. A feeble surrogate, but good enough not to feel lonely."
"My dystopia was more about sex date apps coming to monopolize the daily lives of gay men. That our search for a deeper form of contact could only take place through this medium, like a darkroom in which men weren't looking for sex, but were veiling their desire for love. I think something has gone wrong when gays trust each other enough to admit their desire to have a fist up their butts, but can no longer dare to invite one another to dinner."
UPDATE: Grindr provided the following comment to the Huffington Post:
While Grindr supports the arts, what Dries Verhoeven is doing by luring Grindr users under false pretenses is entrapment. This is an invasion of user privacy and a potential safety issue. We encourage other users to report his profile by using the 'flag' function on our app, so we can take action to ban the user. Together, we will work to keep these users out of our Grindr community.
UPDATE: On October 5 HAU announced via Facebook that, after numerous complaints from the public regarding the morality and legality of the performance, it would be terminated after only five days. Learn more about the decision on Hyperallergic.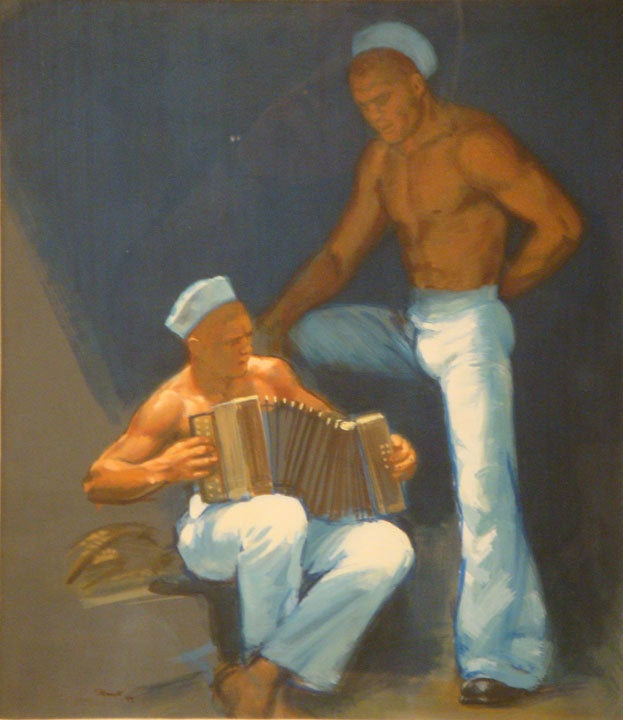 "Lust In Uniform"
Popular in the Community