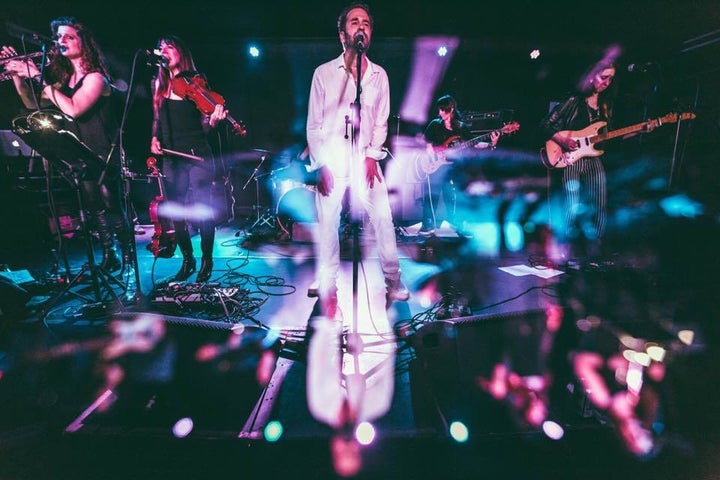 Never underestimate a man who doesn't care what you think about him - that's the man who changes lives. The man you won't soon forget.
Through the graveyard otherwise known as the community of NYC singer / songwriters, Chapell stands out. His carnival-like live show is starting to get noticed by fickle New York audiences and feckless New York music blogs alike. And as a result, some of those same blogs who slept on Chapell's album The Redhead's Allegations are starting to dig deeper. So I pulled out my shovel to see if there was something worth… well… uncovering.
Case in point, and partially lost in the mix of Chapell's 11 song debut album is "A Change is Coming." While I definitely was digging the groove, I was fully prepared to write that song off as just another missive lamenting gentrification by a hand-wringer of white privilege. But there was something special about this song; and not just because of the heavy Talking Heads influence radiating from the chorus. "A Change" centers around Greenpoint, Brooklyn over the past decade. Living "in the shadow of the factories, the rain falls hard on the place this used to be." I sat down with Chapell to talk about the song, and what it was like to work closely with former Talking Head Jerry Harrison on a full-length album.
"'A Change is Coming'" sort of illustrates how valuable it was to have Jerry on board," said Chapell. "Jerry, engineer ET (Thorngren) and I spent a lot of time working on that song. We tried several different approaches on bass, but just weren't happy with how it grooved. Until one day, Jerry walked into the studio with an idea and two words – 'Billy Jean' (Referring to the Michael Jackson hit.) Bassist Angeline (Saris) started playing a variation of the Billy Jean bass line and instantly the song began to click."
That type of story isn't exactly uncommon coming from bands who were fortunate enough to record with Jerry Harrison. Whether it's the Von Bondies, No Doubt, or even New York's own Bogmen, there's one thing in that will almost certainly happen when Harrison produces your album. Jerry will walk in with an idea seemingly out of nowhere, and suddenly the song comes together. It might be suggesting that the guitar lay out of the first part of the verse, or coming up with a lyric that plays off the theme of the chorus in a way that a songwriter is too myopic to see. "Jerry knows how to make music work", said Chapell. "He's just so smart and cerebral that he almost makes it look easy."
Chapell was first introduced to Harrison by Talking Heads drummer Chris Frantz. Chris and his wife (fellow Talking Head) Tina Weymouth used to come see Chapell's band back when he was in college. "I was trying to get Chris and Tina to produce my band back in the day, but the timing wasn't right", said Chapell. "But more recently, when I was looking for a producer, I reached out to Chris again. He loved the music, but thought Jerry might be a better fit. So next thing I knew, I was on a plane headed out to his recording studio just outside of San Francisco."
But back to the song. Leaving aside the oh so catchy bass line that may or may not have Michael Jackson's lawyers calling, the verses for A Change is Coming suggest that there's more to the story here than gentrification. "The change I'm referring to has less to do with what was happening in Brooklyn and much more about what was going on for me" confessed Chapell.
In fact, the neighborhoods of Greenpoint and Williamsburg in the early oughts – working class neighborhoods filled with buildings cased in inexpensive aluminum siding - were reminiscent of Chapell's childhood home of Stamford, CT. These symbols were equal parts comforting and disorienting. Connecticut was the very place that Chapell tried very hard to escape. (He wanted to get out so badly that he went all the way to India. But that's a different story for a different day).
One tends to become much more introspective when confronted with the demons of one's childhood. Thus, the "wind sweeping through this hood" isn't referring so much to the change to the neighborhood. But rather, it's about coming to terms with the fact that you've reached a point in life where drifting about is no longer an option.
While I'm not ready to put Chapell up there with Woody Guthrie just yet, it's obvious that this is someone who's both searching and willing to take risks. Whether he ultimately finds what he's looking for or crashes and burns is anyone's guess. I for one am curiously awaiting his next album to see what happens next.
Damien Rios is a NYC based writer, thinker and occasional musician.