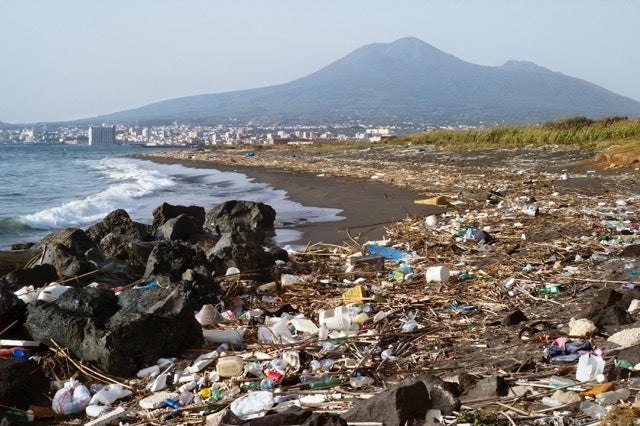 Is our crap truly your cake?
That in a crude phrase is the hopeful if ironic message of this spring and summer's expo at the always provocative Mucem (Museum of Eurpean and Mediterranean Civilizations) in Marseille, long one of the Mediterranean's worst urban garbage dumps.
Entitled The Lives of Garbage: The Economy of Waste, Mucem curators have filled an entire floor with sculptures, maps, graphs, films and preciously preserved waste that show us just how vast and intimate is our marriage to garbage. At the same time huge industries are blooming in China and Turkey where entrepreneurs are gobbling up our junked paper, steel and plastic, then selling it all back to us freshly refabricated as everything from paint to summer lounge chairs to fire and water resistant walls and floors.
Ordinary as garbage is in our daily routines, the explosion of 20th century consumer culture has rendered waste collection and "conversion" one of our era's primary and essential industries—if it remains vastly underdeveloped. What this expo achieves, often with grim humor, is a sperm-to-casket panorama of how the global waste system works, photographing, mapping and illustrating how waste is found, identified, categorized and transformed. Never to be forgotten in this degenerative/regenerative ballet is the central role of gangsters in running both local and global garbage economies—be they in Cairo, Naples, Marseille or Jersey City—and the special relations local police almost always maintain with the garbage operators.
As one of the Mucem's photographers, an American, explained it, documenting the dark side of urban trash life requires patience and diplomatic skill. Working in Cairo, he spent several weeks living in one key neighborhood and getting to know the local residents on the street and in their cafés before snapping pictures. When one journalist at a press briefing asked about the dangers posed by crooked police, he smiled and said, "The local people are much more important than the police. You get to know them first and it's all OK."
And it can be amusing to see the technology that self-reliant garbage collectors invent, as in this famous converted tri-motorcycle collector from Cairo on display at the Mucem. Its specialty, like the bell-ringing donkey-pulled wagons of old, is collecting household furniture and equipment--everything from chests and wardrobes to ovens, refrigerators and space heaters. The driver arrives, sounds his bells and waits until residents descend loaded down with everything they want to get rid of. Far less amusing is the garbage mountain only a short bike ride from the old port of central Marseille, a toxic ridge taken over by scrub brush and short-lived trees, which when their roots become entwined with the waste below will wither and die.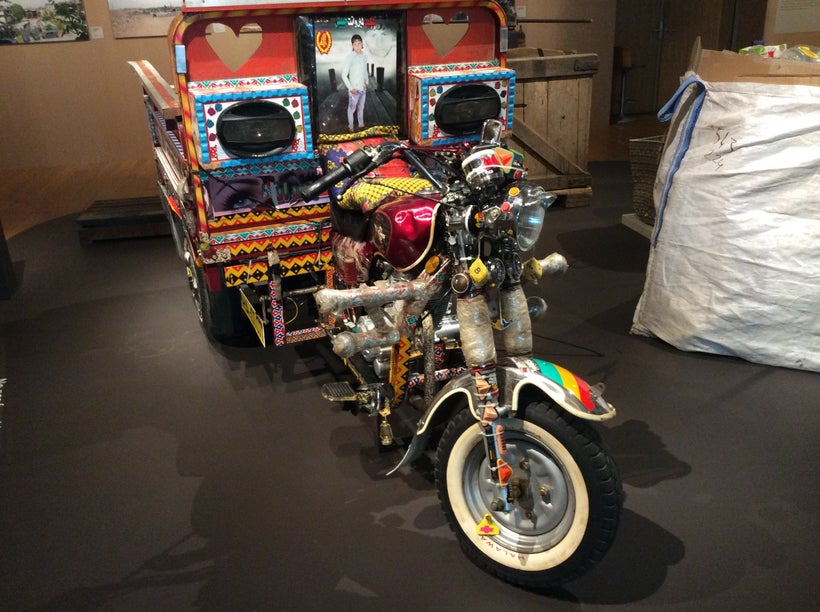 Despite remarkable progress in reducing and reprocessing mostly urban waste in northern Europe, the story in the Mediterranean basin is far worse. A few figures illustrate: the world's cities create 1.2 billion tons of waste per year; Europe alone generates 243 million tons for an average deposit of 481 kilos per person. There are of course national differences: while the French recycle 22 percent of their waste, the Germans recycle half theirs. The Austrians compost a third of their organic waste—while the French compost only 17 percent. (site: www.écoemballages.fr)
Repair vs rejection is a continuous theme throughout the show. Most of us over 55 grew up patching, mending and restoring the toys and tools of our homes and workshops. That all that began to change as median incomes rose in the postwar years and as plastics and superglues steadily replaced wood, straw, crockery and plaster. Sewing baskets and Singer machines have become relics all but unknown in today's starter families. To remind us of knowledge and habits lost, one whole wall is filled with repaired farm tools, broken wine vats, restored knives and straw baskets, clothing, among other objects, that were regularly repaired just half a century ago. Now in a world of super-stores current high tensile plasticized forms have become all but impossible to repair. Result: they head straight to the dump. Only about 20 percent are recycled.
Concerning clothes alone, rarely do we mend shorts, socks, pants or sweaters. A small percentage go to clothing collectors for poor people. Perhaps one of the most imposing displays is a set of three "refabricated" houses built of tee-shirts, plastic bags and other found objects, conceived by scenographer and architect Julien Choppin. Inside each is a story of how the materials are, or could be found and transformed. Even in the realm of plastics, recycling has become a small but growing sector—be it with North Face jackets made from plastic water bottles or a brilliant series of multi-colored handspun chairs, hats and baskets spun out by a small group of craftspeople in Morocco.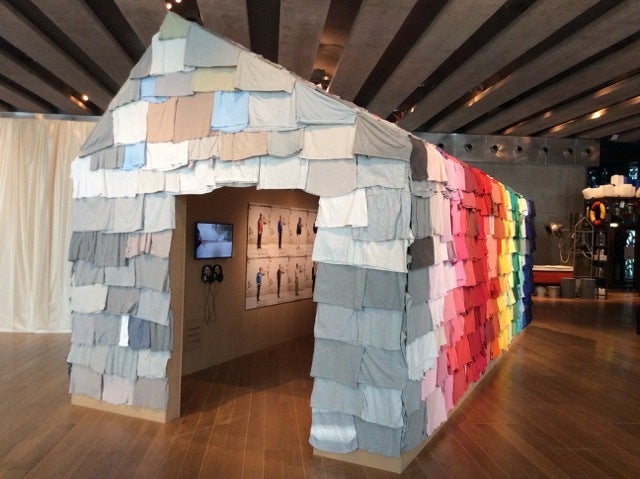 The race between suffocation and transformation is far from won—and with the current American regime that celebrates every from of waste, a sunny future is hard to imagine. Still, optimists to the end, the Mucem curators conclude their expo on an activist note born in Marseille. It's called 1 Piece of Rubbish A Day. (www.1dechetparjour.com) This citizen initiative born last fall asks each person who joins to collect, repair or recycle at least one piece of trash a day. The campaign went viral almost overnight and now claims more than 15,000 followers who say have collected and recycled more than 60 thousand kilos (or 130 thousand pounds) of trash.
Should Ivanka signs on, there may be hope for the Great Lakes—if not for the Tidal Basin.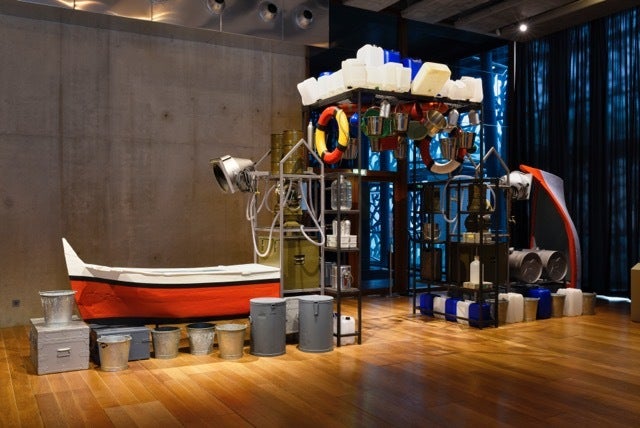 Calling all HuffPost superfans!
Sign up for membership to become a founding member and help shape HuffPost's next chapter
This post was published on the now-closed HuffPost Contributor platform. Contributors control their own work and posted freely to our site. If you need to flag this entry as abusive,
send us an email
.