Once upon a time -- back in the early days of the Bush Administration -- the serious pursuit of mixology was but a blip on the food/drink radar. Cocktails to accompany meals? Pshaw. Knowing the sources of your spirits and mixers? For heaven's sake, why? Taking what you drink and how you drink it seriously? Oh, of course. Um, you are talking about wine, aren't you?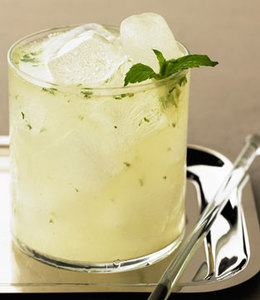 The Ginger And Spice cocktail created by the Bowery Hotel's Walter Easterbrook for this year's Luckyrice Cocktail Feast. Weirdly, it doesn't have any ginger in it, but it's still quite tasty.
Oh, how times have changed. Everyone and their next-door neighbor seems to have become a spirits/cocktail geek in the last five years. Which, coincidentally, is how long Danielle Chang's Luckyrice Festival has been around. Chang caught the zeitgeist back in '09 and understood that a festival devoted to Asian cuisine couldn't just be about the food. Which is why she's included a "Cocktail Feast," focused on drinking as much as eating, as an integral part of the festival. This year's Cocktail Feast takes place on Friday night at the Bowery Hotel, and it promises to be the biggest yet, with eight of NYC's finest bartenders cooking up unique cocktails for the festivities. Chang says, ""I love the fact that more and more chefs are getting behind the bar, whereas the bartenders are stealing ingredients from the kitchen. Cocktails have become an important part of the culinary experience, and that is why we hold the Cocktail Feast every year, to highlight cocktail culture."
But Chang doesn't just highlight cocktail culture, she creates it. Her partnership with Bombay Sapphire gin for the festival was such a hit that they wound up collaborating on Bombay Sapphire East, which adds Thai lemongrass and Vietnamese black peppercorns to Sapphire's botanical mix, and launched it together in 2012. The signature cocktails for the Cocktail Feast are all made with East, including the Ginger & Spice, created by the Bowery's Walter Easterbrook, who says, "Gin as a category has a lot going for it and it easily relates to Asian food. Adding the peppercorn and lemongrass in the East only adds nice depth and complexity that makes it a perfect marriage with Asian and Asian-inspired food."
The Cocktail Feast is actually called the Moon Festival Cocktail Feast. Chang, a native of Taiwan who moved to the States as a child, explains, "The mid-autumn Harvest Moon Festival occurs on the 8th full moon of the 8th month of the lunar year, a very auspicious and important date in the Chinese calendar for friends and family to gather under the splendor of the moon and enjoy good bites and drinks... It is traditionally meant to usher in a good fall harvest, but really symbolizes universality, family, friends and feasting -- perfect reasons to celebrate!"
Personally, I'll be celebrating the fact that some of the most creative cocktailians in the city, including Eamon Rockey of Betony and Brett Hughes of Madam Geneva, will be on hand to dazzle with their Asian-inspired potables. The food, unlike the rest of Luckyrice's events, will take a backseat to the drinks, but with the likes of Daniel Boulud, David Chang and Anita Lo on the board, even the canapés should be pretty nifty. If you're not in NYC on Friday night, don't worry -- Luckyrice has become a moveable feast, with festivals in Los Angeles, Las Vegas, Miami and San Francisco throughout the year.
Danielle Chang sees cocktails becoming the co-stars of the Luckyrice festivals, rather than supporting players: "I think they have played an increasingly more important role as we've progressed throughout the years.... Last week, at the San Francisco Luckyrice Feast, we actually served mostly cocktails and not even wine - which I think must be a first for a SF food event." Not that I've got anything against wine, but I think that's pretty damn cool.
Tickets are still available for the Moon Festival Cocktail Feast -- for more info and for dates of future Luckyrice events, check out their website.