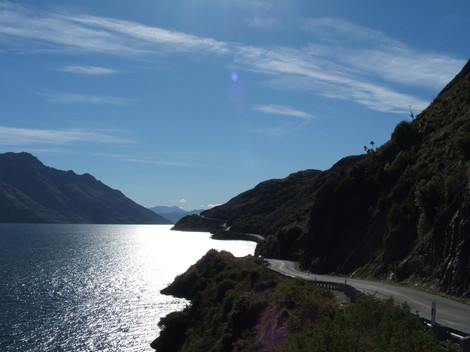 I have a real attachment to this country. I went for a two week holiday and came back five years later, much to the consternation of my mother, but the profound happiness of my ex girlfriend. It's a special place, a land of perpetually blue skies and ridiculously green and rolling hills, with air that makes you think you're discovering oxygen for the very first time. The whole country only goes to prove that no matter what deity you believe in they were using Instagram long before the rest of us.
This is wine country; especially Sauvignon Blanc, which tastes like a citrus grove is exploding lovingly in your mouth, and the dark god that is Pinot Noir. Unlike Shiraz, which along with cockroaches and Honda Civic's could probably survive the apocalypse, Pinot Noir requires nothing short of obsession to cultivate. It's a fragile, precocious thing; a degree too cold, too hot, too anything, and all you're left with is a pile of rotting fruit and an overdraft. Get it right however and you've got bottled magic. Visit in winter and you may even get to see the surreal sight of helicopters hanging over the vines, circulating warm air like the world's most elaborate and expensive air conditioning.
As if they weren't lucky enough with the vines, they also produce an astonishing amount of beer and were doing the craft thing long before the first hipster uttered the word (Brooklyn circa 1996.) They express their love of it by drinking staggering amounts of the stuff, ranking 21st in the world in terms of consumption (they are 123rd in terms of population.) They also make incredible vodka, nice gin, and even whisky, although to be honest that tastes like a crime of outrage is being perpetrated in your mouth, but you can't have everything.
Bartenders here actually need a license to practice, a hangover, (pardon the pun), from the 'Six o clock Swill' which afflicted the country for much of the twentieth century. Designed originally to get men home to their wives at a reasonable hour, it legislated that all bars must close by 6pm. This led to sixty minutes of diligent speed drinking, the likes of which we only see today in Ibiza and Daytona Beach on spring break, between work finishing at five and the pub closing at six. There are even bars with sections of tiled wall still visible, installed for easy hosing at nights end.
Nothing, and I mean nothing can stop a Kiwi having fun. Even the earthquake that shattered the countries third largest city of Christchurch in 2011 couldn't put a stop to a good night out, with the bars and restaurants reduced to rubble simply reopening in converted cargo containers and creating one of the largest and most innovative collections of pop up bars on earth.
As for where to drink, there's never a shortage of options, from forest to beach, to mountains, and everything in between, but the peak of it's form is undoubtedly Auckland harbor and Queenstown, respectively on their North and South Islands (called North and South Island -- Kiwis like understatement). The harbor front of the City of Sails is heavily touristy, leaning dangerously towards chain-bar conformity, but is still pure sorcery as the sun goes down. The little town of Queenstown, sitting on gorgeous Lake Wakatipu, nestled in a range of mountains endearingly called The Remarkables is a place where an icy cold glass of Sauvignon Blanc, a cold beer, or a Pinot Noir comes garnished with a view that goes on forever and a memory you'll take to the grave.
New Zealand is a long way to go, but good things take effort and there are few places better to sit and sip and simply stare in wonder.
Just don't drink the whisky.