Every year at the annual Food + Wine Classic in Aspen, trend-spotting is as fun as spying celebrity chefs nosh on truffle fries at Ajax Tavern. Between cooking classes with Jacques Pépin and Marcus Samuelsson, Best New Chefs demonstrations, and my favorite, rare wine seminars, this food-and-wine marathon sets the summer stage for what to eat and drink now. Mark Oldman, one of the country's top (and perhaps most witty) wine experts, led a buzz worthy seminar titled "Wine for IPO Trillionaires," which landed a standing-room only crowd and included such wine royalty as Jordan Winery & Vineyard's top brass and Fred Schrader (his "Old Sparky" To Kalon Cabernet Sauvignon is a cult classic). Oldman, in his usual wine speak-without-the-geek style, took the stage in an astronaut suit. Though the "Trillionaire" seminar rallied around rare vintages, Oldman was quick to mention a "high-low" trend—pricey gems were touted, but so were affordable alternatives.
The portfolio Oldman poured in Aspen was perhaps the most expensive consumer wine tasting ever. If an attendee wrangled the seven wines at retail, it would ring an eye-popping $10,000 per guest. Jordan bottled a Melchior—a large format, 18L bottle that demanded it's own tap—exclusively for the tasting. "Las Vegas is jealous right now," Oldman joked about the super-sized Cabernet. What Oldman does best is "slay the snooty." His approachable style to wine tasting simplifies viticulture and wine tasting. As such, I lassoed his high-low picks for what to drink now (for "Trillionaire Taste" selects below, prices are dependent on bottle format and often these rare wines are only found at auction). Oldman's tips for value wines? Drink like a rock star—or trillionaire—with these most bang-for-your-buck selects. Ready. Set. Sip!
1) Trillionaire Taste: Henriot Champagne "Cuve 38" La Réserve Perpétuelle NV (in 1.5L magnum.)
Bang for Buck: Gruet Blanc de Blancs Brut (New Mexico, $20). "Lively, zesty, all-Chardonnay sparkler," says Oldman.
2) Trillionaire Taste: Chateau La Fleur-Petrus 2012
Bang for Buck: Charles Smith Merlot "The Velvet Devil" 2013 (Washington State, $12). "Elegant, plummy Merlot."
3) Trillionaire Taste: Jordan Winery Cabernet Sauvignon Alexander Valley 2012
Bang for Buck: Crimes Cabernet Sauvignon 2014 (Australia, $18). "Complex, dark-fruited, cedar-infused Cabernet Sauvignon."
4) Trillionaire Taste: Nicolas Feuillatte "Palmes d'Or" Brut Champagne (in 3L Jeroboam.
Bang for Buck: Juvé y Camps Brut Nature Reserva de la Familia Cava 2011 (Spain, $16). "Nuanced, baked bread-inflected, traditionally-made sparkler."
5) Trillionaire Taste: Guigal Côte Rôtie Château D'Ampuis 2011
Bang for Buck: Copaín Syrah "Tous Ensemble" 2013 (California, $22). "Savory, spicy, restrained rendition of Syrah."
6) Trillionaire Taste: Schrader Cabernet Sauvignon "Old Sparky" Beckstoffer To Kalon Vineyard 2012
Bang for Buck: Odfjell Cabernet Sauvignon Armador 2013 (Chile, $14). "Luscious, velvety, opulent-style Cabernet Sauvignon."
7) Trillionaire Taste: Kopke Colheita Port 1966
Bang for Buck: Warre's Kings Tawny Port NV (Portugal, $18). "Smooth, medium-bodied, rush of maple and smoke, with fresh, enduring finish."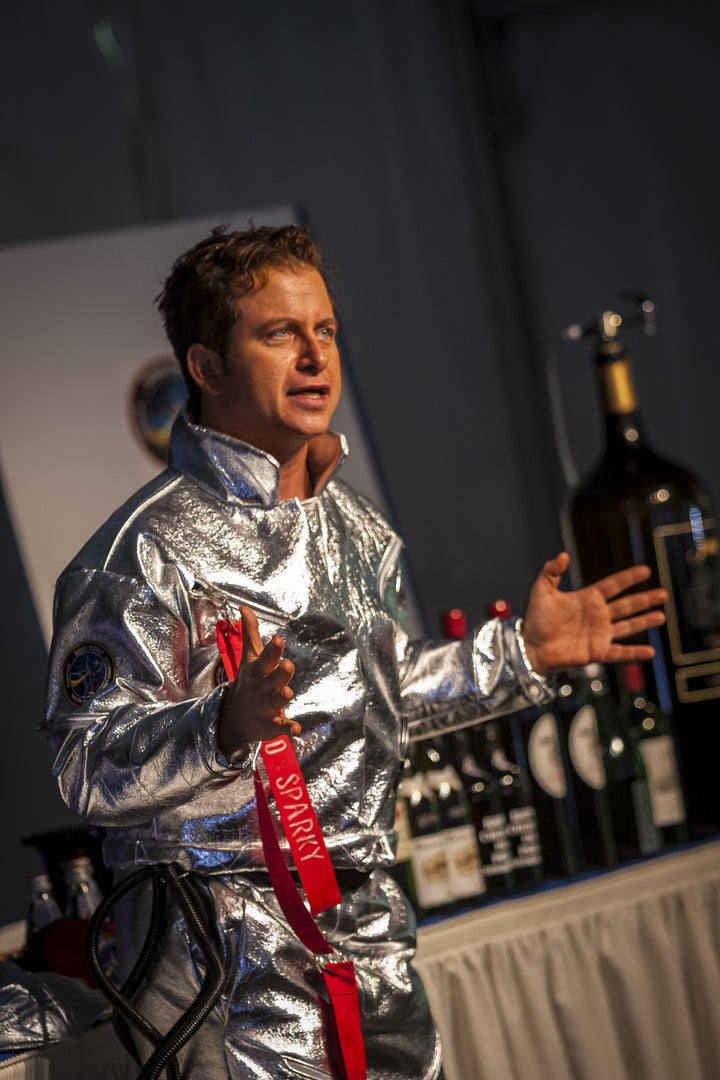 Related
Popular in the Community