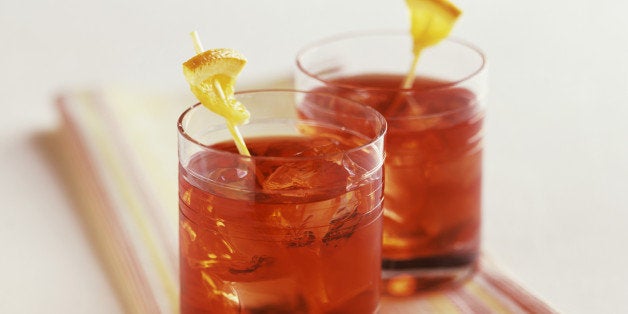 By Joanna Prisco for Fathom | We love all drinks but hold a special place in our heart for the Negroni. (It must be all those sunsets on the Amalfi Coast.) The world is getting in on the action this week.
Suddenly seeing red? No need to call the optometrist: It's just Negroni Week, the seven-day spectacle taking place all over the globe from June 2-8, 2014. More than 1,000 bars and other drinky establishments are crafting their versions of the beloved classic cocktail and donating proceeds to charity.
For the uninitiated, a Negroni is a mixed drink of Italian origin made from equal parts gin, red vermouth, and Campari, the distinctively bitter and citrusy ruby-tinted aperitif.
"It takes time to appreciate -- it's not a sweet, easy-going-down drink," says chef and James Beard Awards finalist Cathy Whims of Nostrana in Portland, Oregon. "It makes you think."
Whims has done perhaps a little more meditation on the subject than most. Four years ago, she and then-bartender Doug Derrick created a Negroni of the Month special at Nostrana that resulted in 12 delicious variations. The collection prompted a party at the restaurant called the Negroni Social, which in turn inspired Imbibe magazine to launch Negroni Week nationwide. Now watering holes from New York City to New Zealand are whipping up their variations. Here are some of our favorites.
Analogue in Chicago made a variation called the Sloe Ride (Dolin Blanc, Campari, sloe gin, Peychaud's Bitters) for Girls Rock! Chicago.
Chef Fabio Trabocchi's three restaurants are taking part for D.C. Central Kitchen. Fiola is serving Negroni Rosmarino (EG rosemary lavender vodka, Cocchi Americano, Dolin Blanc, and a rosemary sprig), Casa Luca has Negroni Primavera (Plymouth gin, Cocchi Rosa, Aperol), and just-opened Fiola Mare has NegroAmaro (gin, Amaro dell'Erborista, Cocchi Rosa, sweet vermouth).
Cure in New Orleans, is serving "Madame Devalier" — Cocchi Americano Rosa Aperitivo, Ransom Old Gin, and Salers Gentiane stirred 40 times — to benefit Hogs for the Cause.
BarChef, a Toronto bar we've covered and loved, is pouring Strawberry Negroni, with strawberry-infused gin, their own sweet vermouth-based strawberry and elderberry bitter, and Campari, to benefit Second Harvest.
"We are so proud to have inspired Negroni Week," says Whims, whose Negroni Social this year has grown to even include contortionists and performances by stilt walkers. "It's amazing that our love of the Negroni has turned into an international sensation that also raises money for charities."
So what will she be drinking this week? "My overall favorite variation in summer is the Negroni Sbaglito, where gin is replaced with prosecco. It lowers the alcohol and gives it effervescence," she says.
Joanna is a writer living in Brooklyn. You can follow her on Twitter @joannaprisco. She travels to expand her vocabulary, to test the boundaries of her palate, and to find creative inspiration while staring out a window for thirteen hours.