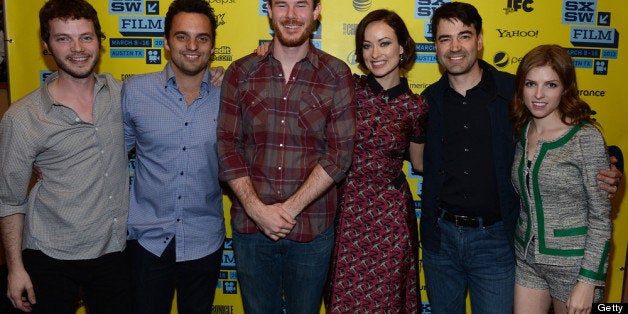 Kanye West. Derrick Rose. Joe Swanberg.
At the moment, these are my three favorite Chicagoans.
One is reveling in the most polarizing time in his career, entering fatherhood and selling plain white T-shirts for $120. One is a former MVP, soon returning to the court to help the Bulls put another banner up in the rafters at the United Center. One has directed 17 movies in less than a decade.
Like "Gangnam Style," it's not cool to say "mumblecore" anymore, but Swanberg is one of the stalwarts of that movement. The Southern Illinois University graduate seemingly has the strongest work ethic on the planet, making mid-aught classics like LOL, Hannah Takes The Stairs and Nights And Weekends, contributing a segment to last year's horror anthology film V/H/S AND a whole bunch of other stuff that I can't even find.
In a summer of garbage (big ups to R.I.P.D.!), Swanberg's latest, biggest and most expensive film, Drinking Buddies, forced me to address all the relationships throughout my life with friends and girlfriends and friends that I wanted to be my girlfriend.
Luke (Jake Johnson) and Kate (Olivia Wilde) both work at Revolution Brewing -- one of the many nods to Chicago including the line, "It's like swallowing a burnt condom full of gas," describing Malort. Luke is a scruffy brewer, always wearing an Old Style hat. Kate works in the office, but is always BS-ing with the bros. They are always drinking beer, in the fun, not-really-a-functioning-alcoholic-but-you-should-probably-be-careful type of way. They drink on the job. They drink at beer tasting parties. They drink nearly every night after work at the bar. Beer is a living, breathing character in Drinking Buddies and probably should have been billed fifth.
If you saw them out, you'd think Luke and Kate are a couple. The way they bring out the best in each other while together is something you'd just have to audibly say "Awww" to. They flirt and have inside jokes and certain hand placement can be easily scrutinized.
But they aren't dating. Luke is with his longtime girlfriend, Jill (Anna Kendrick), an amazingly sweet special-ed teacher and Kate is with Chris (Ron Livingston), a little bit of an older dude who seems to connect with her sexually, but not intellectually.
So why aren't Luke and Kate together? What the hell is stopping them? That's what Swanberg and crew examine in a way that is painfully real. I think our society has evolved past the question of, "Can men and women just be friends?" and the answer is a resounding "YES!" In Drinking Buddies, the question is framed a little differently; Can you love a friend and be in love with a friend, and where does one feeling begin and the other end?
These four characters live in the grey. I loved them most of the time, but I hated them sometimes, too. When they go on a couple's trip to a cabin, I bit the shit out of my nails. There are several scenes that made me cringe more than any of Woody Allen's relationship dramas. I think that's indicative of Swanberg's incredibly intimate way he approaches his movies. The realism is profound. I wasn't seeing the girl who has a hit song from Pitch Perfect talk to the dude from Office Space; I was seeing Chris and Jill.
I hate to use the c-word, but Jesus, Wilde and Johnson have chemistry. Isn't there an old cliché that in order for two co-stars to make their relationship seem believe, they have to fall in love a little bit? If I didn't know that Wilde was dating co-star Jason Sudeikis and having lots and lots of sex, I would have figured her and Johnson were dating and having lots and lots of sex. Did they go on some sort of couples' or BFF's retreat prior to shooting? There's this intangible, almost primal connection between them that rivals Ethan Hawke and Julie Delpy in Before Midnight.
And I know Wilde is a star -- she's been in tons of movies and legitimate Hollywood blockbusters -- but Drinking Buddies is the best she's ever been. If I were some weirdo who compiled arbitrary notes on my iPhone about who should be in the conversation for the Best Actress Oscar, Wilde would be there.
I had a girlfriend in college that reminded me so much of Kate. Undefined by me, forever independent, eternally outgoing -- she also maintained a friendship with a dude that was her Luke. She always referred to him as "my buddy" and would share with me funny stuff he had said. I was always weary or uneasy, but I didn't want to fracture our relationship through irrational paranoia. Trust, ya know?
Needless to say, we broke up and she married him.
Drinking Buddies, man. And, drinking buddies, man.
Calling all HuffPost superfans!
Sign up for membership to become a founding member and help shape HuffPost's next chapter