WASHINGTON -- Contaminated drinking water ranks behind only cancer and heroin abuse as a serious health problem facing the U.S., according to a new survey by the Kaiser Family Foundation.
The poll asked whether people considered a range of health problems "extremely serious." Thirty-five percent felt that way about contaminated drinking water, the same percentage as for heroin abuse.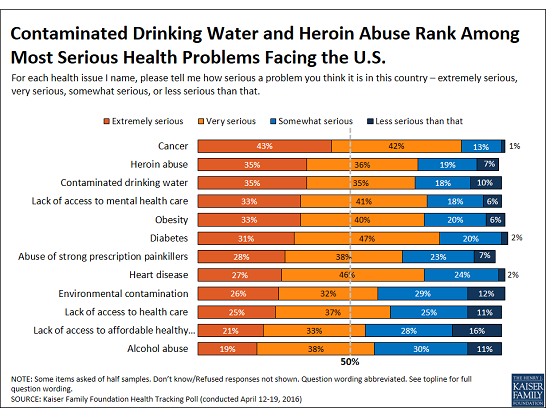 The water crisis in Flint, Michigan, has focused national attention on the problem of aging water systems with crumbling pipes that deposit lead in people's drinking water.
In Flint, the pipes crumbled extra quickly after the city started pumping water from the Flint River in April of 2014. Contrary to regulatory requirements, state regulators told city officials not to treat the water with anti-corrosion chemicals designed to reduce the amount of lead that leaches from pipes into the water.
Research eventually showed higher blood lead levels in Flint children following the water switch. Michigan Gov. Rick Snyder (R) admitted the state made a terrible mistake, switched Flint back to Detroit's water system, and has remained a political piñata ever since.
The Kaiser poll found 70 percent of Americans said this month that they've followed the Flint fallout closely, up from 63 percent in March.
Liz Hamel, Kaiser's director of public opinion and survey research, told HuffPost that increased public attention toward Flint probably explains why people ranked contaminated water so highly on their list of public health concerns.
"I would guess at least part of the reason it ranked so highly is because of what's happening there," Hamel said.
In the wake of the Flint crisis, many local water systems have had to assure customers that their water meets federal standards. The standards, it turns out, can be a little leaky -- the federal government didn't cite Flint for problems, for instance, before Snyder reconnected the city to Detroit's water in October. The water had been poisonous for 18 months -- and still is to this day.
Arthur Delaney is a co-host of "So, That Happened," the HuffPost Politics podcast. This week's episode addressed the Flint water crisis in the 39th minute.
Support HuffPost
The Stakes Have Never Been Higher
Popular in the Community