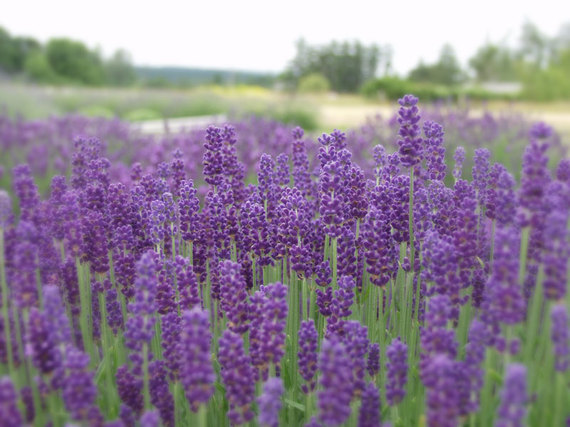 When life presents us with an excess of lemons, we know it's time to make lemonade. A more pressing question is what to do when confronted with a massive surplus of ... lavender.
For Daniel Szor, a former hedge-fund maven looking over hedgerows of the graceful herb, the answer was obvious: Make lots of gin. Less obvious was how, and where. For this transplanted New Yorker, all of that lavender surrounded a farmhouse he'd purchased, with his English wife Katia, in the Cotswolds, 80 miles northwest of London in the picturesque market town Shipston-on-Stour. Very Downton Abbey.

It is here that Szor established The Cotswolds Distilling Company and now his "Cotswolds Dry Gin" is gradually becoming available in the US. We consumed copious samplings of it last month at the British Consulate-General's nifty penthouse in New York. This is classic London Dry gin based traditionally on juniper and other botanicals, to which Szor adds fresh grapefruit and lime peel, black pepper, cardamom seed and judicious quantities of his ubiquitous lavender. That he's using fresh rather than dried fruit propels his gin into the premium category.
The evening began with wee glasses of just the gin, which was wise because (a) it is highly drinkable on its own and (b) it prepared us for mixed drinks that followed, the most important of which were martinis. If there were better martinis anywhere, perhaps they were mixed and stirred by cocktail legend Dale DeGroff, who was sipping with us along with David Rosengarten and assorted other bold-faced names. Although delicate served "neat," this gin holds its own in a classic G&T and well as standing out in an ultra-trendy negroni.
In truth, Cotswolds Distillery's gin almost was an afterthought, for Szor's original notion was to make single-malt whisky (we would call it "scotch") from organically-grown local barley using Scottish copper pot stills. Whisky, however, takes ages to mature, which means that after you've spent wads of cash making the stuff, it then sits in barrels in a warehouse for at least 3 years -- probably longer for Szor's whisky -- before being released. This results in what is called "negative cash flow" and, as you might imagine, is terribly upsetting to a hedge funder.
Gin, on the other hand, requires no aging and, assuming people buy it, generates revenue while the whisky gradually attains maturity. Hence the "eureka" lavender moment.

Szor's venture is the only distillery in the Cotswolds, which makes him celebrity enough to be feted at the Consulate-General's digs. We learned there that there will be a big English gin promotion in New York and Los Angeles late in October, signaling a resurgence of high quality gin around the world as vodka sales taper off. Note that most gin is sold in clear bottles, so if you happen upon an elegant black bottle standing out at a bar or in a liquor store, most likely it will be Cotswolds Dry Gin.
Szor's gin is "non-chill filtered." Chemistry aside, this means that it may gain in complexity because essential oils of the botanicals remain in the gin; on the other hand, it also means that over ice your drink will cloud up a bit (as will top-of-the-line single malts), which we think adds to its appeal. Trend alert: the Cloudy Martini.

When asked about his favorite gin, young head distiller Alex Davies, who appears to have just graduated from a Harry Potter movie, singles out two American products: bold-flavored St George Dry Rye Gin, made in San Francisco, and New York Distilling Company Perry's Tot Navy Strength Gin (Navy strength in this case meaning 114 proof). The latter is made in Brooklyn by Tom Potter, who was co-founder of the Brooklyn Brewery. Michael Whiteman's (my colleague who co-wrote this article) favorites include Old Raj (110 proof) from England. I am partial to 209 Gin, made in San Francisco (92 proof) by Leslie Rudd who owns Rudd Vineyards in Napa and, until recently, Dean & Deluca.

You should know that the Cotswolds' verdant rolling hills are heartbreakingly beautiful and full of quaintly named towns like Whichford, Streeton-on-Fosse and Chipping Campden. They deservedly draw large numbers of visitors, many of whom begin just north of the Cotswolds at Stratford-on-Avon, home of the Royal Shakespeare Company, and meander their way south to the architecturally glorious city of Bath. So if you're visiting the area, Szor's distillery offers tours and tasting packages, and has its own shop for Cotswolds Single Malt, the first of which will be available in 2017, and its gin, which is drinkable now.
Rozanne Gold is a four-time James Beard award-winning chef and author of Eat Fresh Food: Awesome Recipes for Teen Chefs, Healthy 1-2-3, and Radically Simple: Brilliant Flavors with Breathtaking Ease.