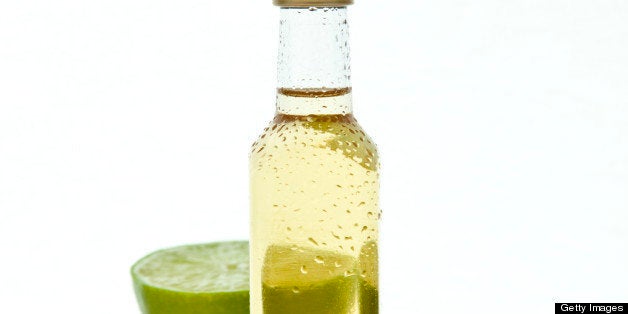 The infusion of wine, beer and other liquor is hardly new to the food scene, but this past year it has been making a cool comeback in everything from chocolate and other food items, to meals and dishes at some of the hottest restaurants in the country. L.A. favorite Umani burger works a beer cheese on one of its classic burgers, many Japanese restaurants mix sake in marinades and other menu items.
But one of the coolest ways to tap into this trend is at home. Beer is incredible as a marinade for chicken. Go with an artisan or craft beer brand for the most flavor -- rich and dark will produce the most flavor but you can use a pale ale if you'd like. Soak chicken breast or pieces in the beer for a few hours in the fridge, then either bake in the oven or toss on the grill.
Tequila has been a tried and true companion to plenty of dishes, but Patron makes a coffee flavored variation that is nothing short of amazing as a marinade for steak. We mixed it with fresh garlic and onions, then had the steak marinade in it for a few hours here at Condiment, then served it as fajitas topped with homemade mole sauce. Coffee tequila is also very good in chocolate desserts of all kinds. You can mix a little into recipes you've already got for a rich twist.
Sake with miso and Miren is one of the easiest and most incredible marinades for fish. It works a bit better with a white fish over something like salmon, but you can definitely use it with salmon as well. Sake works with a lot of other food items, as does classic cooking favorites, such as red and white wine.
If getting ambitious in the kitchen isn't your thing, you can still bring the liquor-infusion food trend home. Mercer's has the most decadent wine ice creams in a bunch of flavors. The company has been an iconic brand in upstate New York for over 60 years, and began making its award-winning ice creams in 1952.
Portland favorite Salt and Straw paired up with area breweries to make a collection of beer-infused ice creams, which are small batch and fresh made using sustainable, organic ingredients from handpicked suppliers in Oregon and beyond. Wine or beer ice cream is incredible any time of the year but are particularly great during the summer months.
Telluride Truffle has a range of liquor-infused chocolates that play on creative flavors and include everything from whiskey to Chambord. The list doesn't stop at sweets -- you can find plenty of other sauces, marinades and other food products that play on the trend. All you have to do is add it to your favorite dishes and meals.