In its seventh year, National Drive Electric Week (NDEW) demonstrated once again that plug-in electric vehicles (EVs) aren't just incredibly fun to drive, but that the public is starting to catch on. This year, all last week, more than 100,000 people attended 279 EV promotion events in all 50 states -- a first! -- with international events also taking place in Argentina, Australia, Canada, Croatia, Denmark, England, Jordan and New Zealand. From tailgate parties and electric bus rides, to carpool karaoke -- every event was unique, but most centered on giving the public a chance to kick the tires and see for themselves what it's like to sit in the driver's seat and experience instant torque first hand. At least 8,000 people took test drives at the events in all thirty fully electric and plug-in hybrids on the market today, and next month we're betting we'll see an uptick in their sales as a result.
There were upwards of 1,000 media hits about the events, mostly in local publications. What a terrific way to expose the masses to EVs. "Timing is perfect," said Antinette R. at the Los Angeles event. "We were watching KTLA Morning News, and there was Gayle [the reporter] talking about this event. My husband and I know we want to buy a car, and decided we were going test driving this weekend."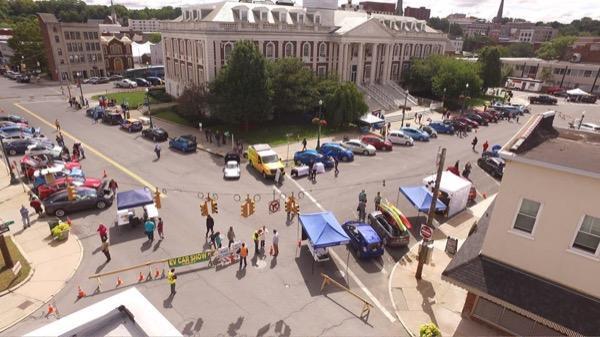 Policy-Makers Taking the Wheel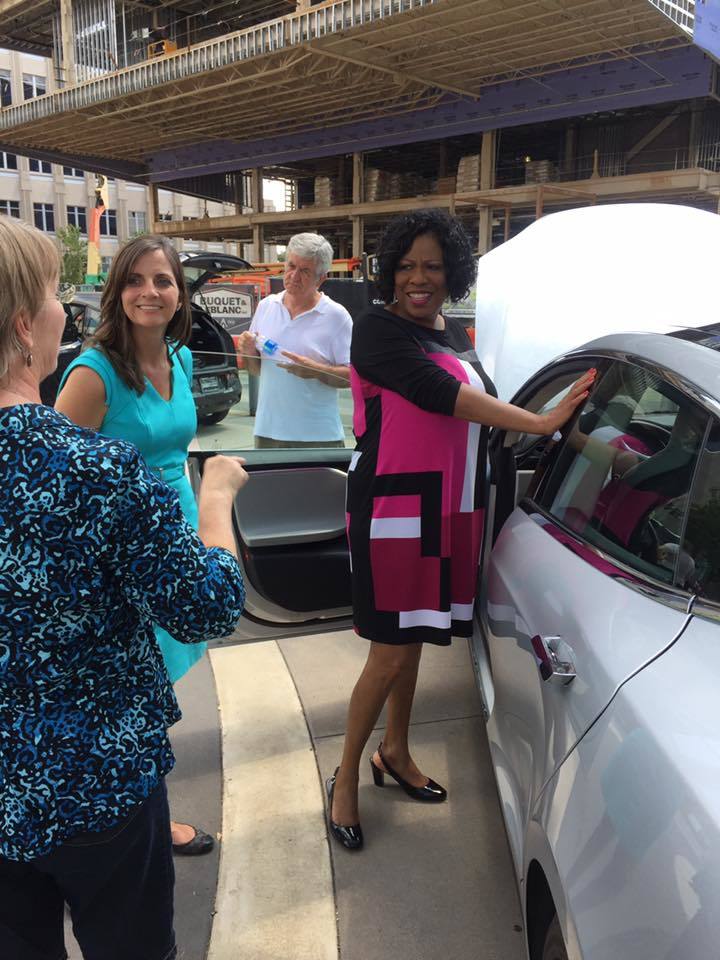 Since the pollution from our gas-powered cars and trucks account for nearly thirty percent of our nation's carbon emissions, the transition to zero emission vehicles isn't negotiable, it's critical -- and state and local leaders realize this. That's why NDEW has always been a springboard for state and local officials to check out and promote EVs as well as to announce pro-EV policies and incentives to accelerate the switch to clean transportation in their communities and to make buying or leasing an EV easy and affordable. During National Drive Electric Week, California lawmakers passed and Governor Jerry Brown signed A.B.134, a bill that earmarks $900 million in funding from the state budget to support various clean transportation, clean air, and alternative fuel initiatives, including EV consumer rebates that lower the cost of EVs for Californians. Reportedly, this is the biggest commitment of funding in any one year aimed at reducing air pollution in the state.
A record number of elected officials participated in Drive Electric Week, including mayors in North Dakota, Maryland, Kansas, Illinois, Iowa, California, and more. Washington Governor Inslee, New Hampshire Governor Sununu and Hawaii Governor Ige all signed proclamations for NDEW in their states, and in Massachusetts 19 mayors sent a letter to the state's Department of Transportation calling for a swift transition to zero emission transit buses. And dozens of mayors, state legislators, and other public officials spoke at the events, including Congressman Paul Tonko of New York and Los Angeles' Board of Supervisors member, Sheila Kuehl.
To keep the EV momentum going, event organizers can follow up with the policymakers who attended their events with suggestions on model policies. The Sierra Club and Plug in America recently put together a policy toolkit to help organizers and attendees urge policymakers to speed the transition to electric vehicles.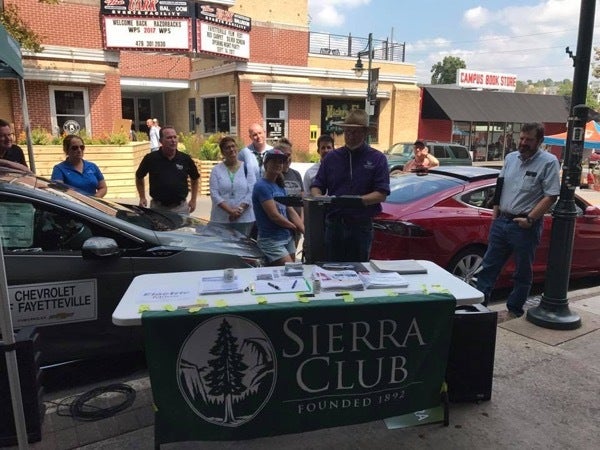 Electric Buses More than half of all U.S. students ride in school buses, exposing our children to noxious fumes that worsen diseases like asthma. The San Diego event had both an eLion electric school bus on display and a BYD transit bus displayed behind the Mayor who spoke to the crowd on how San Diego is committed to 100% clean energy by 2035. Events in Los Angeles, CA, Worcester, MA, Schenectady, NY, and Steilacoom, WA also featured electric transit buses. The Dupont Circle Advisory Neighborhood Commission in Washington, D.C. introduced a resolution in support of the electrification of DC Circulator Buses in the days leading up to the NDEW kick-off.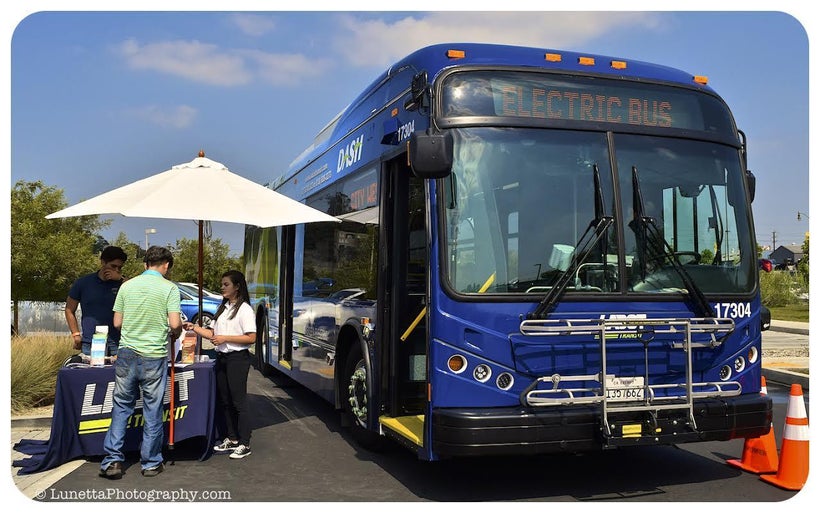 New EV Charging Stations Unveiled The experience of charging in public is becoming easier and more streamlined as more public charging stations are made available, especially in key destinations where people will be for extended periods of time, like shopping malls, sporting events, and colleges.
From California to Ohio to Vermont and in states in between, cities installed charging stations during NDEW to help EV drivers plug in. At the NDEW event in Denver, EVgo unveiled a fast public charging station during a ribbon cutting ceremony at REI's Denver flagship store, giving customers the ability to charge their electric vehicles easily before heading on to their next adventure in the great outdoors. At the Bozeman, Montana event, the company KERBspace unveiled new charging stations. At a press conference during NDEW, the Massachusetts Secretaries of Transportation and Energy & the Environment unveiled six new fast charging stations along the Massachusetts Turnpike.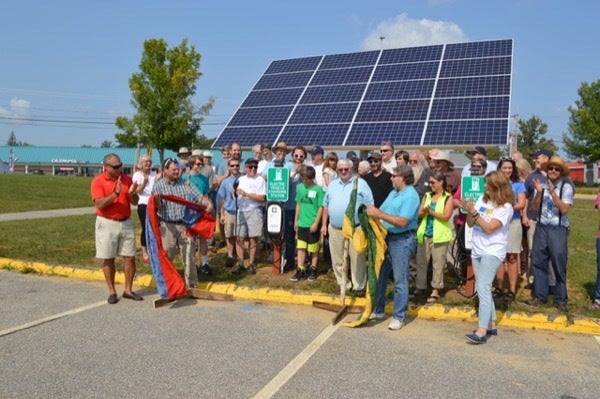 Just following National Drive Electric Week, Mayor Bill de Blasio announced a new investment in EV fast chargers in all five New York City boroughs.
Charging networks are expected to expand from Volkswagen's settlement, which requires the automaker to invest billions in electric vehicles and infrastructure across the nation over the next decade.
National Drive Electric Week is organized at the National level by the Electric Auto Association, Plug in America, and the Sierra Club. But we couldn't make it happen without the hard work of the local organizations and city captains who organize the events on the ground. We'd also like to thank our national sponsors, including Nissan, Lyft, ClipperCreek, Inc. and California Air Resources Board.
As our federal environmental protections are under unprecedented attack from the current administration, the rest of the nation isn't giving up the fight to reach our climate goals, in part by kicking gas and making the switch to drive electric. National Drive Electric Week events are another example of cities, states, and individuals taking the lead on climate action.  
This post was coauthored by Mary Lunetta, a campaign representative for the Sierra Club's Electric Vehicles Initiative.
Calling all HuffPost superfans!
Sign up for membership to become a founding member and help shape HuffPost's next chapter
This post was published on the now-closed HuffPost Contributor platform. Contributors control their own work and posted freely to our site. If you need to flag this entry as abusive,
send us an email
.