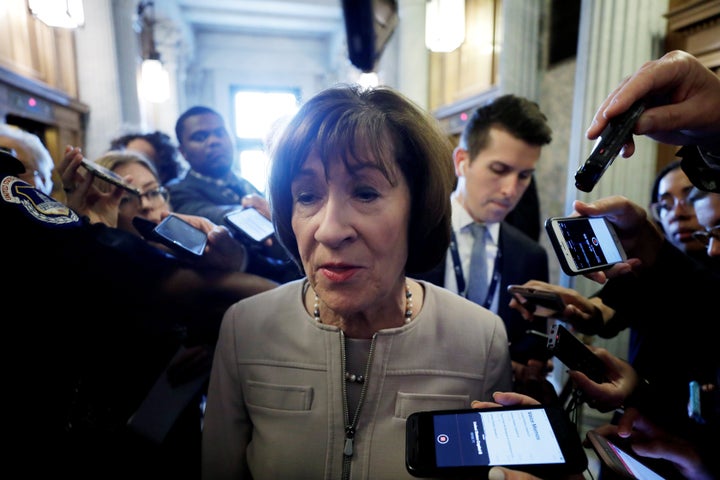 The left has a new top target for 2020: Maine Sen. Susan Collins.
While the election is more than two years away, Democratic donors, activists and operatives are already signaling they'll be focused on ousting the woman whose pledge to support Brett Kavanaugh likely sealed his confirmation to the Supreme Court. Recruiting efforts have already begun, and donors large and small are promising financial support for Collins' opponent.
Major donors have already pledged $1 million to an effort to register and educate voters in Maine ahead of the contest, organizers told HuffPost. They said they hope they can eventually raise as much as $4 million.
"We're in conversations with lots of major donors over the last couple of weeks," said Jesse Graham, the co-executive director of Maine People's Action. "They want to make sure that everyone who is upset by this vote is actually a registered voter by 2020, and that we have resources to make sure everyone in Maine remembers how Sen. Collins voted."
Defeating Collins is easier said than done. She won her last two Senate elections, in 2008 and 2014, with more than 60 percent of the vote. She has a strong reputation for bipartisanship in her home state, both because of her clashes with more right-wing Republicans like unpopular outgoing Gov. Paul LePage, and her votes against Republican attempts to repeal Obamacare and the nomination of Education Secretary Betsy DeVos. (There's also the possibility Collins retires.)
But the big donors funding the effort think Collins' reputation as a bipartisan crowd-pleaser is overstated after her votes for Kavanaugh, Justice Neil Gorsuch and the GOP's tax law.
"There's this narrative out there about Collins being untouchable," said one major Democratic donor who is helping organize the effort. "And I think that's an outdated narrative, based on her running in an off year, in a pre-Trump era, against an underfunded candidate with no name ID."
This new effort comes on top of more than $2 million that activists raised for a future Democratic opponent to challenge Collins in 2020, in the event that she decided to vote for Kavanaugh. (The crowdfunded effort crossed the $2 million mark while Collins was delivering her speech explaining her vote for Kavanaugh.)
There is already one announced challenger for Collins: Cat London, a physician who announced her bid in July. But Democratic operatives in Maine named a slew of other potential challengers: Rep. Chellie Pingree, who lost a 2002 Senate race against Collins, and her daughter, Hannah Pingree, a former speaker of the state House; Adam Cote, a lawyer and Iraq War veteran who finished second in this year's Democratic gubernatorial primary; and Jared Golden, the Democratic nominee in Maine's rural 2nd District and a veteran of the Iraq and Afghanistan wars who was once an aide to Collins.
"You better believe we are recruiting and the bench is strong," EMILY's List spokeswoman Julie McClain Downey wrote in an email.
Two other potential candidates expressed interest Friday. Maine House Speaker Sara Gideon wrote on Facebook she would consider a bid after November's elections.
"Women both in Maine and across the country have raised our voices loud and clear," Gideon wrote. "Brett Kavanaugh should have no seat on the highest court in the land. Unfortunately, Senator Collins has chosen to vote against the interests of us all. Maine deserves a champion in the US Senate."
And former United Nations Ambassador Susan Rice indicated on Twitter she would consider running. Rice's mother is from Maine, and she spent summers there as a child.
National Democratic operatives also suggested former Planned Parenthood president Cecile Richards, who owns a home in Maine, could run.
Collins announced her support for Kavanaugh on Friday in a lengthy speech on the Senate floor. The senator, often considered more moderate and a supporter of women's rights, said she would vote for Kavanaugh's confirmation even though he faces accusations of sexual assault. She said that while she believes Christine Blasey Ford "is a survivor" of sexual assault, "I do not believe that these charges can fairly prevent Judge Kavanaugh from serving on the court."
The crowdfunding project, the average donation of which was $28.40, was organized by the Maine People's Alliance, Mainers for Accountable Leadership and progressive activist Ady Barkan. The funds will sit in an escrow account until her opponent emerges, Barkan told HuffPost.
Collins denounced the money, saying she considered the "quid pro quo fundraising to be the equivalent of an attempt to bribe me to vote against Judge Kavanaugh."
Collins has long received a measure of bipartisan support, if not outright endorsements, from progressive groups because she's been willing to occasionally break with her party. But there's no doubt that her vote for Kavanaugh will do serious, and perhaps permanent, damage to her reputation.
"In the wake of this news, there is only one course of action," said Chad Griffin, president of the LGBTQ equality group Human Rights Campaign, which endorsed Collins for re-election in 2014. "The millions of Americans who have fought a valiant struggle against this despicable nominee must make their voices heard in November and beyond by electing lawmakers who will stand up for our rights rather than sell us out."
Popular in the Community