Some states are requiring parents of teens to take a class before their children can get a driver's license, a move applauded by safety experts but opposed by some legislators.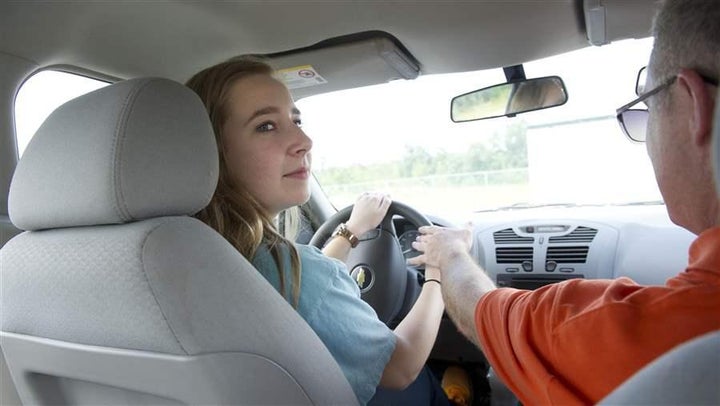 For many teens, taking driver's education has become a rite of passage in itself, just like getting a license. Now, some states are requiring their parents to take a class as well.
Last month, Rhode Island became the third state to enact a law that requires parents or legal guardians to take a class about the rules and restrictions their children face when they get behind the wheel before their teens can get a license. Connecticut already has such a requirement, as does Massachusetts, the first state to mandate it in 2007. (Virginia requires it as well, but only in Northern Virginia.)
And in New Jersey, a mandatory parent education measure passed the state Assembly last month and is pending in the Senate.
"Mom and dad are the most influential people in a teen's life, when it comes to driving," said Pam Fischer, a consultant to the Governors Highway Safety Association, which represents state highway safety offices. "If they are educated to understand the risk, that's huge because their kids are listening to them."
But critics say making the class mandatory puts an additional burden on parents and is yet another example of unnecessary government interference.
Young, inexperienced drivers have higher crash rates than older, more experienced ones.
"Young, inexperienced drivers have higher crash rates than older, more experienced ones."
The fatal crash rate for 16- and 17-year-olds is about three times the rate for drivers 20 and older, according to the Insurance Institute for Highway Safety, a nonprofit research group funded by auto insurance companies.
And while teen driver-involved crashes have dropped by almost half over the last decade, they recently have spiked. In 2015, nearly 1,900 drivers aged 15 to 20 died in motor vehicle crashes, a 9 percent increase over the previous year. And an estimated 195,000 were injured in crashes in 2015, a 14 percent hike.
There will be fewer teen crashes if parent education classes can prompt participants to monitor their young drivers more closely, said Chuck Farmer, an institute vice president. "Anything that gets parents more involved in their child's driver education and early driving experience should be beneficial."
While cars have more safety features and seat belts are used more frequently, distracted driving has become increasingly common, with the advent of smartphones and texting.
Every state now requires teens under 18 to go through some type of graduated driver's licensing, a three-step process. It starts with a permit phase, in which teens practice their skills, usually with supervision. Then they enter a probationary or intermediate phase, in which they face restrictions such as not driving late at night or having multiple teen passengers. In the final stage, they become fully licensed.
But parents often rely on their children to tell them about the licensing restrictions, said Fischer, the Governors Highway Safety Association consultant. And teens aren't always honest or may not even know about them.
"Parents have to enforce this stuff," Fischer said. "It's critical."
Teens whose parents are actively involved and provide coaching and guidance are less likely to crash and engage in risky behaviors, she added.
A 2010 study in the Journal of Safety Research, for example, found that teens' seat belt use improved when driving violations were reported to their parents.
The insurance institute's Farmer, who co-authored the study, and AAA officials say they know of no data examining whether parent education classes have had a direct impact on teen crashes. But they agree parents play a significant role when it comes to their child's safety behind the wheel.
That's why some states are requiring parents to participate in the education classes.
In Connecticut, before a 16- or 17-year-old with a learner's permit can get a license, a parent or legal guardian must complete a two-hour joint information session with the teen focused on safe driving and the laws affecting young drivers. The class is included in an eight-hour program required of all new drivers in the state.
Massachusetts law requires a parent or guardian to take a class as part of the teen's driver education program. The curriculum includes teaching parents about the driving skills and behavior their children will be learning so they can coach and mentor them to be safe drivers.
While some parents say they'd prefer not to take the mandatory two-hour class, many others say they're glad they did and have learned a lot from it, said Leony Simo, who coordinates the driver's education program for the state's motor vehicles division.
In Rhode Island, the new parent education requirement became law in July without Democratic Gov. Gina Raimondo's signature.
The class is required of a parent or guardian of each prospective teen driver. It will be free, and those who have multiple teens will only need to take it once in five years. It can be done in the classroom or online.
"Parents can take the class in their pajamas on a Sunday morning on their iPad if they want," said Lloyd Albert, a senior vice president for AAA Northeast.
But state Sen. Nicholas Kettle, a Republican who voted against the bill, said it places an undue burden on parents. "I don't think the government needs to regulate what everybody should be doing in their lives."
State Sen. Gayle Goldin, a Democrat who also voted against the measure, said she asked Senate policy staffers to search for data showing that parent education classes improved public safety, but they couldn't find any. If they had, she would have voted differently, she said.
"It's already difficult for working parents to fulfill all the requirements needed to get their child a driving permit," she said. "This seemed like we were adding in another layer, and we didn't know for sure that it would have a positive effect."

Support HuffPost
The Stakes Have Never Been Higher
Popular in the Community