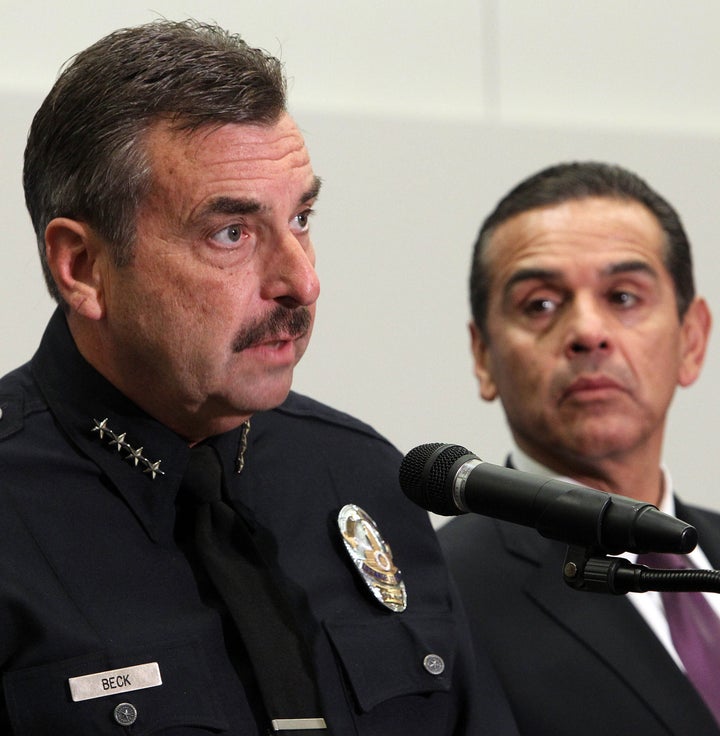 Mayor Antonio Villaraigosa, Sheriff Lee Baca, and City Attorney Carmen Trutanich are coming forward in support of driver's licenses for undocumented immigrants.
The mayor weighed in on Beck's comments and the ensuing controversy in an interview with KTLA the next day, noting that the LAPD chief has held the opinion for some time. Villaraigosa also said that former LAPD Chief Bill Bratton supported the idea when he served Los Angeles.
Villaraigosa threw himself into the mix of civic leaders in support of driver's licenses for the undocumented, saying that it was "a public safety issue. It's not an immigration issue." He also insisted that the licenses would not be used to obtain government benefits.
Watch KTLA's interview and read their story here.
In a Thursday interview with the Los Angeles Times, Sheriff Baca discussed his role in the failed 2002 task force to research special licenses for undocumented immigrants marked with "I" for "Immigrant."
"You can't do this en masse and make the average citizen happy," he said to the LA Times, although he conceded that if the issue experienced a "sensible" resurgence in Los Angeles, he would sign on as a supporter.
City Attorney Carmen Trutanich also offered his opinion, telling the LA Times that he supported Beck's comments because driver's licenses for the undocumented is "a matter of public safety."
As we noted in a previous news story on Beck's comments, a San Francisco Chronicle analysis of California statistics found that hit-and-run collisions accounted for 7.8 percent of traffic accident deaths in 2001 -- more than twice the national average, which was 3.8 percent at the time.
Reports from 2009 show that there were 15,611 hit-and-run collisions in California that left 20,260 injured and 185 dead, according to the California Highway Patrol [PDF].
Chief Beck reasoned that allowing undocumented immigrants to obtain driver's licenses would result in a decrease of uninsured drivers on the road, as well as erratic driving behavior -- two factors that lead to hit-and-run collisions. Listen to the Chief's statements in full on these LAPD blog podcasts.
Support HuffPost
The Stakes Have Never Been Higher
Related
Popular in the Community