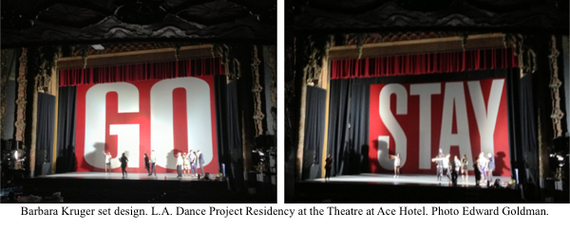 If you live in Los Angeles and don't like driving through the maddening spread of streets and freeways of this metropolis, you don't live in the same city that I do. After all, don't you think that living in London and complaining about its rainy weather is rather silly? I do remember my first experience being on the 405 here in LA. It was nighttime and the traffic was dense. My American uncle complained about it, but I looked in front of me, and what I saw were rivers of white and red lights streaming through the night. Call me helplessly romantic, but even now, three decades later, I see these rivers as a flow of rubies and diamonds or, if you prefer, streams of blood and milk feeding our City of Angels.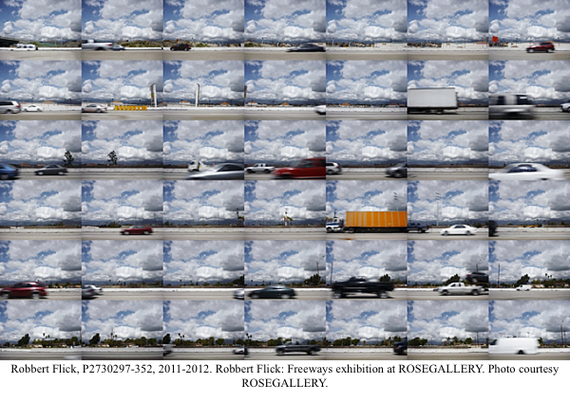 Which brings me to the intriguing exhibition of photographs by well known LA artist Robbert Flick at Rose Gallery. Flick has been known for creating what is described as conceptual photographic landscapes of the city. Each of his landscapes consists of dozens and dozens of photos made while driving a car along the freeway. Looking at his freeway landscapes, one can easily see him as the painter making brushstrokes, or hear him as the musician beating on a drum.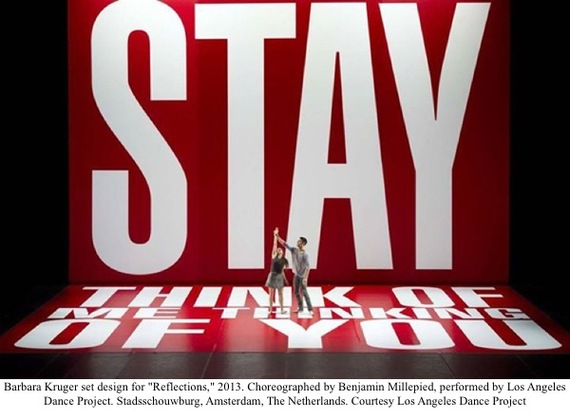 Now, let me tell you, if you haven't gone last week to the recently restored historical Ace Hotel on Broadway for the performance of LA Dance Project, you missed out on a hell of a lot. I'm talking about great dancing plus challenging set design by the major LA artists, Barbara Kruger and Sterling Ruby. All that topped off with a variety of music that gave the entire experience a spicy edge.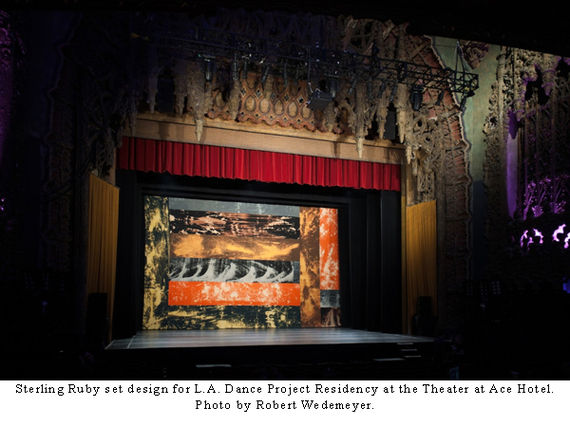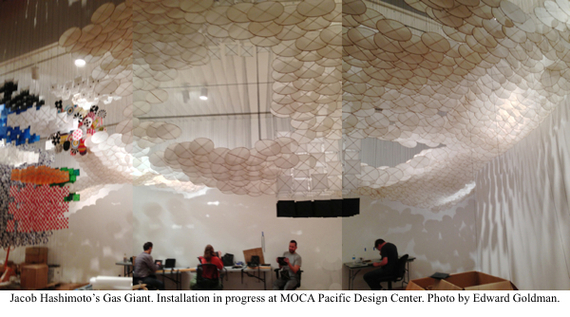 So, after a touch of driving and dancing, it's time for a little bit of flying. For close to a month now, Jacob Hashimoto, once an Angeleno, but now a New York-based artist, has been working -with the help of a small army of assistants -on the completion of his massive sculptural installation, Gas Giant, which is scheduled to open on March 1 at MOCA Pacific Design Center.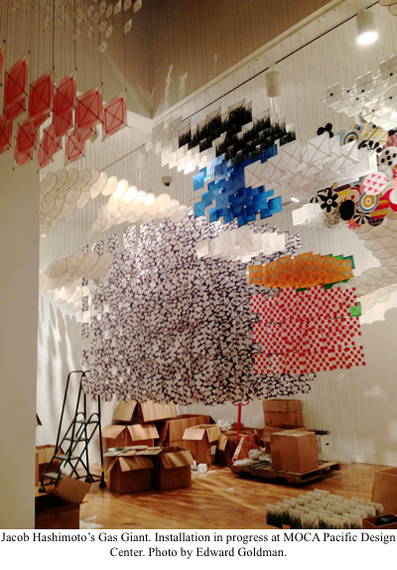 The artist's trademark - small, painted paper kites - hundreds, and often thousands of them, are suspended from the ceiling, becoming billowing clouds. MOCA's PDC gallery spaces are notoriously difficult -sometimes inhospitable -as evidenced by a number of previous exhibitions. But with this installation, Jacob Hashimoto took full advantage of all the space's shortcomings -the low ceiling of the cramped ground floor gallery, and the soaring heights of the gallery upstairs.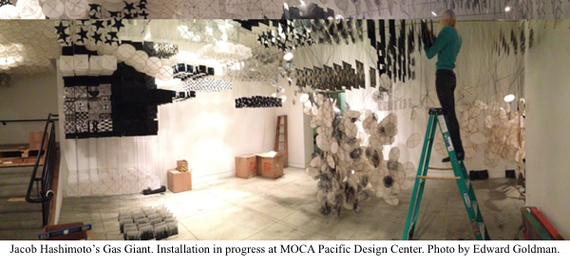 Several days ago, I stopped by to catch the last efforts of the artist and his crew. I have no doubt that the whole process of this intricate, ambitious installation was incredibly labor intensive. But as always with very successful artworks, the final result comes across as magically effortless.
Concurrently with Hashimoto's Gas Giant exhibition at MOCA Pacific Design Center, Martha Otero Gallery presents Jacob Hamashito's new works on paper, which were created in conjunction with Gas Giant.
Edward Goldman is an art critic and the host of Art Talk, a program on art and culture for NPR affiliate KCRW 89.9 FM. To listen to the complete show and hear Edward's charming Russian accent, click here.
REAL LIFE. REAL NEWS. REAL VOICES.
Help us tell more of the stories that matter from voices that too often remain unheard.