The beauty of entrepreneurship is that it allows the passionate individual to both build a career based on doing what he or she loves and, simultaneously, support complementary passions. My new friend, Angela Tebon, perfectly exhibits such a passion and it shows in everything she does -- from her own small business, to her ministry, to her family life.
I met Angela when she picked me up from the Atlanta airport. I learned she was born in Obegu, in eastern Nigeria and that, full of ambition and spirit, she'd moved to Lagos to seek her fame and fortune. A gifted actress, once in Lagos, Angela made a living working in the theater and braiding hair. She also met an Italian construction worker who was in this city to help build hotels. He thought she was the most beautiful woman in the world and, after a whirlwind romance, Angela moved to Terni to start a family with him. Angela grew to love the Italian people and made many friends there. Twenty-five years went by in a flash and the couple had four children -- Lucia, Terryjane, Dino, and Vittorio. During her pregnancy with her fourth child, she was called to be a preacher.
After becoming ordained, Angela Tebon opened congregations in Nigeria and Tuscany. After several years, she came into some conflict in one of the ministries and decided to bring someone else to run the ministry in her stead. She looks back on this decision as the right thing to do and as an honor to her own steadfast faith. She had been dividing her time between Nigeria and Tuscany -- both ministries were very successful -- but she decided, following the 2004 recession, to move Atlanta, a city with both a large and active Nigerian and Italian communities. Angela and her husband started a new life on a new continent. Her husband found work in his own field, building and construction, and Angela became a bus driver. Her husband remains an Italian citizen. He comes to the United States for only three months before deciding to return to Italy. Like her family, Angela loves Italy and feels the Italians have a great love for life. But she also loves to be in America and, ultimately, one of the major reasons she is working so hard as an entrepreneur is so that she can give back to people in Nigeria and Italy.
In Atlanta, Angela joined a local congregation and made a new friend from Nigeria. Sensing Angela's ambition and her customer service skills, he told her about a car for sale: "Angela, I know you want to be an entrepreneur. Buy it. You'll be good at it. You can help your family and achieve your dreams." She bought the car, a beautiful Lincoln Town Car and became an entrepreneur.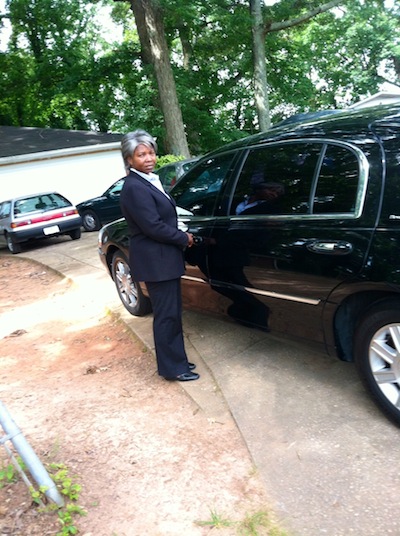 Angela Tebon.
Fortunately, because of connections, she learned the ropes of business as a driver. She chose to name her service the Allfayette Limo Service, the "A1" so the company would appear first in the Google's alphabetical list. She also learned about customer service, joined a cooperative for businesses, insured the company, and incorporated it an LLC. With her car and LLC, Angela registered her name and soon established a successful business model. She has 10 regular customers who bring her some $90,000 annually. I gave Angela advice on making a simple business plan and encouraged her to think critically about its operations. Annually, her maintenance is about $6,000, her gas is $12,000, insurance is $4,000, and her miscellaneous costs amount to approximately $3,000. So, her economics of one unit is $90,000, and less variable costs of $25,000 and her profit before fixed costs and taxes is $65,000.
Angela has dreams. She believes she can double her business over the next year by buying an SUV and another Lincoln. Her five-year goals are big. She wants to hire five drivers and to buy a stretch limo in addition to the two town cars and the SUV.
My conversation with Angela was enlightening. It was fascinating to learn about her experience on three different continents and about how she successfully raised a family. She followed her inner passion, helping people to find their spiritual paths and starting a self-supporting business with ambitions for growth. She hopes to expand to a $500,000 business, with $100,000 per driver, and to be able to help her family, create jobs, and follow her passion in the ministry. I asked her about the hardest part of running her business and she told me, simply, "keeping it going." She told me that she is fearless. When fear and anxiety comes upon her, as they often do a small business owner, and often in the winter months, she closes her eyes and prays, "For God hath not given us the spirit of fear; but of power, and of love, and of a sound mind." (2 Timothy Chapter 1)
This post has been updated from a previously published version.