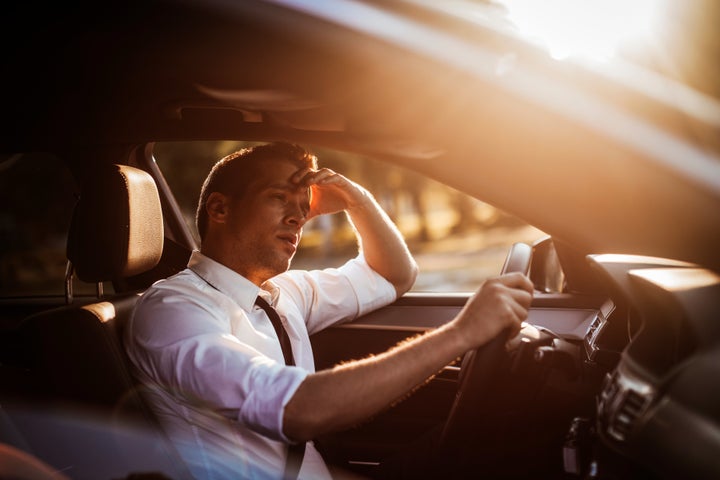 If you've driven after a night of only four or five hours of sleep, you might as well be driving drunk, according to a new report from the AAA Foundation for Traffic Safety.
The new data reveals that drivers who've slept five to six hours in the previous 24 nearly double their risk for a crash. And drivers who've only slept four to five hours the previous night more than quadruple their risk of a crash ― the same risk as someone who is legally drunk. (The report considered the standard of sufficiency to be seven hours of sleep per night, the minimum recommended for adults by the National Sleep Foundation.)
The results are sobering considering more than 35 percent of surveyed Americans reported getting fewer than seven hours of sleep per night on average, according to a 2011 Centers for Disease Control and Prevention report.
AAA's new drowsy driving report included data from a national sample of 4,571 police reported crashes that included 7,234 drivers. For each crash, at least one vehicle was towed from the scene and emergency medical services had been sent. As part of the investigation, each driver was asked to report how much he or she had slept in the prior 24-hour period.
The data showed that compared to drivers who slept more than seven hours,
Drivers who slept six to seven hours were 1.3 times more likely to crash;
Drivers who slept five to six hours were 1.9 times more likely to crash;
Drivers who slept four to five hours were 4.3 times more likely to crash; and
Drivers who slept fewer than four hours were 11.5 times more likely to crash.
Previous reports from the National Highway Traffic Safety Administration have shown that having a blood alcohol concentration of 0.08 makes a driver 2.7 to 3.9 times more likely to crash compared to someone who is completely sober.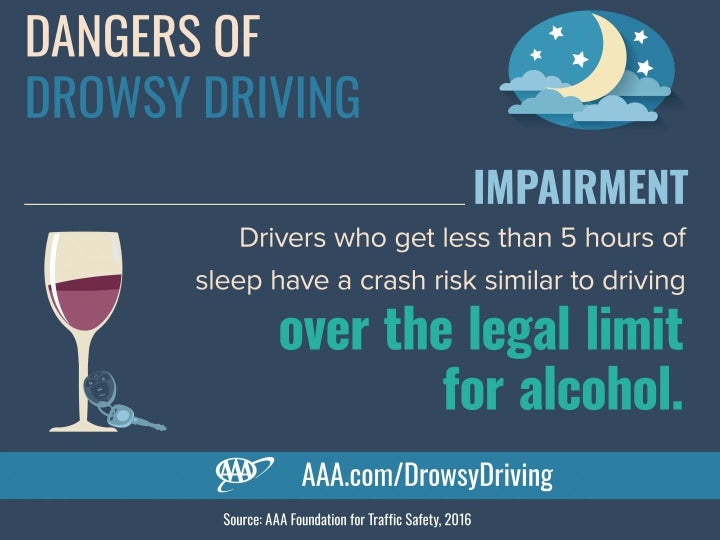 What's more, the study may actually underestimate the risk of driving while sleep-deprived, because the research does not include data on crashes that occurred between midnight and 6 a.m. ― a time period that other studies have identified as the most detrimental to attention and performance.
"We never really truly understand how tired we are."
Signs of drowsy driving include having trouble keeping your eyes open, drifting in your lane or not remembering driving portions of your trip. But drivers should pay more attention to getting enough sleep, rather than being vigilant about signs of fatigue, as people can easily underestimate how sleepy they actually are. They should stay off the road if they haven't gotten enough, the AAA report recommends.
"We never really truly understand how tired we are," Pam Fischer, a transportation safety consultant and former director of the New Jersey Division of Highway Traffic Safety, previously told The Huffington Post. "That's the scary thing about fatigue."
The bottom line: If you haven't gotten enough sleep, getting behind the wheel is a lot more dangerous than most of us probably think. It's another good reason to prioritize sleep ― and to make sure any designated driver is not only sober, but also well-rested.
Watch the video below for more about the new report and the risks of driving on limited sleep.
Sarah DiGiulio is The Huffington Post's sleep reporter. You can contact her at sarah.digiulio@huffingtonpost.com.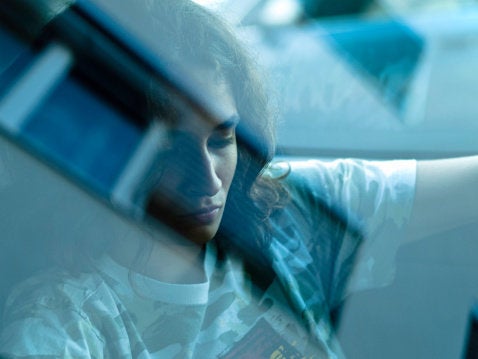 LOOK: Common Distracted Driving Violations