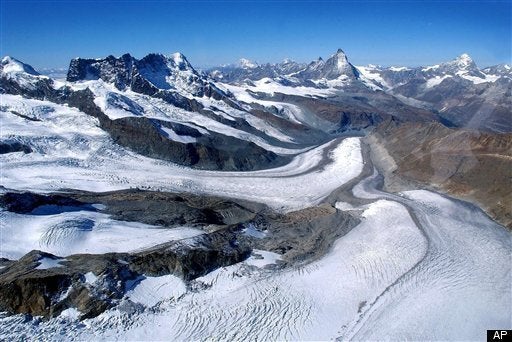 As a frequent traveler to Europe, I have covered a lot of territory in rental cars. My husband and I land, hit the rental counter, and hit the road. We drive everywhere. We cross borders, stopping to explore along the way, and then continue to wherever our final destination happens to be.
Most people take trains in Europe and on a few occasions, we have tried taking trains, too. It was okay, but it really wasn't for us. After having a car at our disposal, we found too much time was wasted waiting in train terminals. Lugging suitcases around was exhausting, and when we would arrive at another station and have to take a costly cab. Sometimes it was more expensive than renting a car and paying for petrol. The only exception is when we stay in a major city more conducive to walking. For example, driving in Paris is ludicrous. We've had the driver's side mirror ripped off in front of the Arc de Triomphe. Finding a parking spot in Vienna and Florence is nearly impossible, and when we did stumble upon a spot, we couldn't remember where the car was parked -- it took a couple of hours to find it in 90 degree heat. And once in Siena, our car was towed, and we had to pay the police, tow truck driver and impound in order to get it back.
But so as long as you're out of the cities, renting a car to explore the countryside independently is gold.
This brings me to one of our all-time favorite drives in Europe: Tasch, Switzerland to St. Moritz. Tasch is located in the valley below car-free Zermatt. This dizzying eight-hour drive is not for the faint of heart, so it's of no surprise that most people who make this journey take the highly touted Glacier Express. The train route is mostly in valleys. It does reach an altitude of 6,670 feet and crosses 291 bridges, and disappears through 91 tunnels.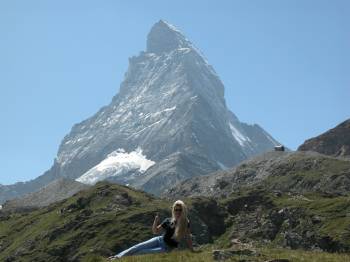 I'm Giving a Thumb's Up at the Matterhorn
St. Moritz is not the easiest place to get to, which might account for its exclusivity. It's located in the extreme southeastern part of Switzerland, very close to the Italian border. Needless to say, the stunning scenery on view during the drive is beyond thrilling. We zig zagged along the Oberalp road and crawled around white knuckle hairpin turns and switchbacks sans guardrails.
Our first stop was the storybook old town of Brig, where a cappuccino was in order before we continued northeast to Gletsch and the beautiful high section of the Rhone Valley. The Furka Pass is a 7,992 ft. high mountain pass and, without a doubt, is the most dramatic segment of the drive, as well as being one of the most scenic vistas in the world. We drove up the mountain to its peak and then drove down the other side. (A car scene from James Bond's film Goldfinger was filmed at the Furka Pass with an Aston, Mustang and Rolls-Royce Phantom.)
Soon after, we stopped across from the Hotel Tiefenbach, where we ogled the arresting views of both the Rhone River and Rhone Valley. This is a special spot, because of the inception of the two great European waterways, the Rhone and Rhine Rivers. Since this area is the start of the Rhine, it's actually called the "Baby Rhine." The Rhine flows north to Rotterdam and into the North Sea and the Rhone flows southwest eventually ending up in Marseilles. For people traveling on the Glacier Express, they completely miss this remarkable area as well as the stunning Furka Pass, because the train travels through the Furka Tunnel and comes out on the other side.
We got back in the car and continued on to Andermatt and the 6,669 ft. high Oberalp Pass. In the winter, this region is snowbound making this drive impossible. A train carries cars over the pass, which takes about an hour. Next, we passed through a small town called Reichenau Tamins and turned southeast to Thusis; this is where we started the ascent to Julier Pass with to-die-for alpine views. Because of the high altitude, it was like a desolate moonscape: treeless, grassy and rocky. Grazing cows dotted the uneven mountain pastures on both sides of the road followed by a steep grade to Silvaplana, a lake known for international windsurfing competitions.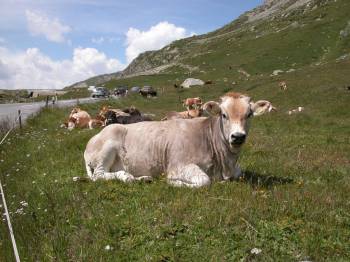 Swiss Cows at Julier Pass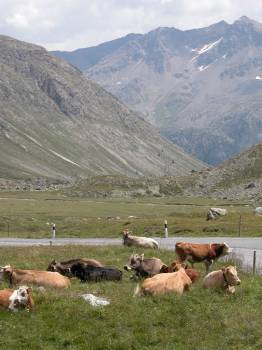 Our next and final stop was St. Moritz where we pulled up to Hotel Eden, located in the heart of town. We didn't have a reservation, but lucky for us, August is a pretty quiet month in St. Moritz, so a room was available with a small balcony directly looking down onto the entrance of Badrutt's Palace Hotel and the glass-like lake beyond. It was so quiet in town, we could have heard a pin drop.