Disruptive, digital technologies are revolutionizing all types of businesses and healthcare is no exception. Mobile and cloud technologies hold the promise to provide quality patient care anytime, anywhere with immediate access to vital patient information, while big data can help physicians to become more efficient. Yet the critical nature of healthcare can introduce resistance to change, making innovation a slow and difficult process. With the additional pressure of the financial squeeze being brought on by the Affordable Care Act, healthcare providers are in need of new and innovative ideas to continue to deliver quality patient healthcare, giving technology a key role in healthcare reform.
David Chou, the new CIO at the University of Mississippi Medical Center (UMMC), the second largest employer in the state, is using mobile, social and big data to drive change and innovation to improve patient care and enhance collaboration among their 10,000 employees. The University of Mississippi Medical Center has 3 missions: education, research and patient care. Despite the added pressures that confidentiality and being a state entity bring, Chou is achieving his goal of becoming a more open, transparent and collaborative organization and offers his advice on how CIOs can ignite change and innovation in healthcare (or any industry) despite the many challenges they face.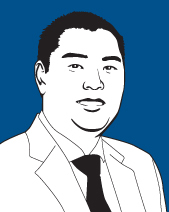 David Chou - CIO UMMC
7 Ways to Drive Change and Innovation in Healthcare:
1. Consolidate organizational silos - The University of Mississippi Medical Center supports three missions: education, research and patient care. When Chou came on board three months ago his goal was to bring all three missions together. Today all three parts of the business have been consolidated and now roll up to him which has allowed for the creation of one mission and vision for the entire organization and for all employees to focus on doing what's best for the entire organization. Chou says that building solid relationships with the key stake holders in each mission was the biggest factor to a successful consolidation.
Silos even existed within his own department, the office of the CIO, composed of 400 employees. Every department had their own IT staff a few years ago, and Chou's predecessor had a huge undertaking to get everyone under one umbrella. Chou agrees that this was the right thing to do.
2. Keep everyone engaged and create an enjoyable workplace - Chou is working on training his employees and getting them engaged, which he says is key. Employee morale is a big initiative for him. "People spent the better part of their day at work so it should be an enjoyable place to be", he says. The new energy and happy faces that he sees around the office are signs that he is making headway in this area. Although Chou came in and started to impose change immediately, he saw very little resistance from his team because there was alignment in terms of the collective vision of the IT organization to improve efficiency and effectiveness or the organization. In fact, most of the changes Chou championed were based on direct employee suggestions. Employee training, engagement, and improving morale is a priority for Chou and his staff.
3. Be honest and transparent - The adoption of moving to electronic medical records among the staff was a challenge, but Chou was very transparent from a productivity standpoint and was honest in recognizing the fact that this change would slow things down, but also helped employees to see that the benefit of having all the records electronic, searchable and legible would improve patient care. This transparency helped the doctors to accept the challenge and understand that this is where the industry is headed. "I am very transparent and if I make a mistake I will call it out, which helps to build trust," says Chou.
4. Use social media for better internal communications - In a recent tweet Chou announced that in 2014 UMMC will make social media their primary channel of communication with their 10,000 employees. Although his organization does not currently use social media, Chou is trying to change the culture and get employees to be more engaged by offering them an informal way to get a hold of him other than email. Social networking as one of the top 5 ways that technology is transforming healthcare 5 ways that technology is transforming healthcare. With plans to roll out Yammer, a private social network for the enterprise, Chou is striving to create a culture of open communication, and additionally feels that social media will help with his goal of boosting employee morale by giving people a way to have instant report with leadership and senior management.
As far as using social media externally, Chou sees employee social media activity on sites like LinkedIn and Twitter as a great way to help build the brand and attract top talent to UMMC. He encourages employees to create LinkedIn profiles to show they are proud of their brand. Of course compliance in terms of openness is always a top concern and Chou is in close communication with his Chief Compliance Officer. His approach is to use technology as a tool to be efficient. In his own social media presence, Chou is sensitive to the confidentiality issue and talks about leadership and industry topics with the goal of providing education to his employees.
5. Cultivate and formalize a culture of innovation - Chou refers to himself as a non-traditional CIO because he is a problem solver who thinks a little differently, which the other executives embrace. Chou created an innovation institute within his department which allows this group to be creative and use a different side of technology. This type of different and innovative thinking will be crucial as they prepare to deal with a 2% reimbursement decrease brought on by the ACA, which will mean a more than $200 million dollar decrease in revenue for UMMC. The fact that revenue is decreasing while patient expenses are increasing and technology expenses are higher than ever will force them to rethink how they operationalize the delivery of healthcare. A global survey by Intel indicates that technology will play a key role here.
Chou thinks that the role of the CIO in all of this is to look at showing how technology can bring value to the organization through improved efficiencies that come by being able to do things quicker and without manual intervention. Holding the largest budget in the organization comes with the pressure to deliver an excellent product. Chou hopes to help counteract the financial squeeze being experienced in healthcare by trying to make his department one that is revenue generating and by offering IT as a service (ITaaS).
6. Recognize technology mega trends and adapt - Chou will not be buying anymore computers but will practice medicine solely from tablets and smart phones. He says that sometime in the year 2014 they will be a fully cloud and mobile environment, allowing his team to roll out things anytime, anywhere. A report by the McKinsey Global Institute identified 12 "disruptive technologies" that could be transformative for the U.S. economy. Mobility ranked first and cloud fourth. I recently published 50 statistics regarding technology mega trends, including mobile, social, cloud, big data and apps.
Big data is where his research team comes in to take information from all areas, make connections and add meaning to it all. The data will allow them to back theories to get funding for grants and physicians can use the data to decide how to be more efficient.
7. Deliver the highest quality patient experience - The mission of UMMC is to provide the best healthcare in the state. They have teamed with the states of Alabama and Louisiana to collaborate on the issues they all are facing and discover how to be more effective together. They are also very mindful that they are using tax dollars so they are very conscious about how they operate and they exert extreme financial diligence. Chou wants to extend their healthcare services to the entire southeast region of the U.S. and would even like to go global.
David Chou is an extraordinary CIO and his passion, energy and willingness to collaborate is what all healthcare CIOs and IT professionals need to drive towards in order to lead technology transformation initiatives, aimed at improving healthcare quality.
You can watch the full interview with David Chou here. Please join me and Michael Krigsman every Friday at 3PM ET as we host CXOTalk - connecting with thought leaders and innovative executives who are pushing the boundaries within their companies and their fields.
Calling all HuffPost superfans!
Sign up for membership to become a founding member and help shape HuffPost's next chapter