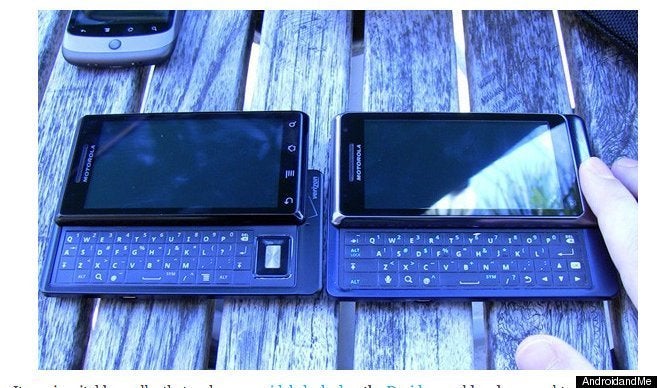 Motorola and Verizon are likely to unveil the still-unofficial new Motorola Droid 2 on June 23, but Android and Me seems to have gotten its hands on the new smartphone already and has a five minute video (allegedly) of the Droid 2 to prove it.
The clip compares the previous Droid to the Droid 2, with the two handsets' outside forms "virtually identical" save for changes to the navigation pad and buttons.
"If you saw someone using this phone and didn't know it was the Droid 2, it would be easy to confuse it with the first version. Both phones are the same physical size, shape, and weight. They even use the same exact battery," writes Android and Me. "Performance is the main area of improvement over the original."
The Droid 2--with a 1 GHz processor-- is faster than the original Motorola Droid, equipped with a 550 MHz processor. It also has about twice the memory of the first-generation Droid.
The Motorola Droid X is expected to be announced together with the Droid 2 later this week. See pictures, video, and details of the Droid X here.
WATCH:
REAL LIFE. REAL NEWS. REAL VOICES.
Help us tell more of the stories that matter from voices that too often remain unheard.