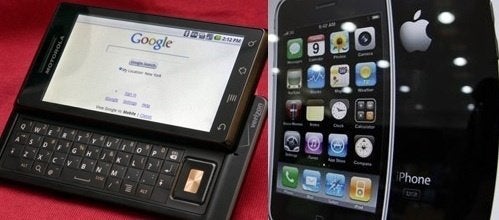 Droid vs iPhone reviews say that the battle is on between the two products.
The smartphones are similar, though a closer look reveals each has its advantages. The iPhone 3GS has more than 93,000 apps compared to the 10,000 currently available for the Motorola Droid. But the Droid trumps the iPhone on megapixels with 5.0 to 3.0.
With the Droid and another phone from HTC, Verizon is placing a big bet on the unproven Android. The software is popular with techies and has attracted enough support from developers that 10,000 apps are available for download to Android phones, but it hasn't yet caught on with consumers. In addition, Verizon risks confusing customers with the sheer number of devices it's introducing. "Greater choice is not a guarantee of a greater quarter," says Richard Doherty, research director at Envisioneering Group.
Technologizer finds that the Droid has "better specs" and calls the Android operating system by Google "promising," though it also notes the many similarities between the products.
Popular in the Community