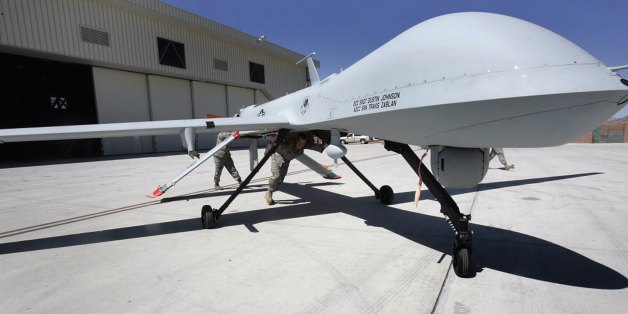 Drone strikes under President Barack Obama have killed an estimated 2,400 people -- but there has never been an official count. That would change under a bipartisan bill introduced in the House of Representatives on Wednesday.
The bill, sponsored by Reps. Adam Schiff (D-Calif.) and Walter Jones (R-N.C.), would require the administration to release an annual count of the number of people killed in drone strikes, as well as information on whether they were believed to be civilians or combatants. The legislation, which is similar to an amendment sponsored by Sen. Dianne Feinstein (D-Calif.) in the 2014 intelligence authorization bill, would be retroactive for five years.
"It's a way of holding ourselves accountable as well as being transparent to the rest of the world about the drone program," Schiff told HuffPost. Obama has committed to reducing civilian casualties from drone strikes, Schiff said, and "this allows us to account for whether we are meeting that goal."
Supporters include advocacy groups like Amnesty International and Human Rights Watch, which simultaneously released highly critical reports on civilian deaths from the drone war in Pakistan and Yemen last year.
"It's a small step in the right direction," said Zeke Johnson, director of Amnesty International USA's Security with Human Rights campaign. "We should all be able to know how many people the Obama administration has killed with drones."
But human rights activists still have far more on their agenda: They would like the U.S. to stop using so many drone strikes, and to offer channels for civilian drone victims to seek compensation. Obama and his administration were slow to admit civilians had been killed by U.S. drones, with the president claiming in 2012 that the drone program had not caused a large number of fatalities.
"There's far, far more that the government has to do, not only on transparency but also on accountability," Johnson said. "There also needs to be systemic law and policy reform."
The pace of drone strikes in Pakistan has slowed considerably since a May 2013 speech Obama gave on the program. No strike has occurred there in 97 days, according to the non-profit Bureau of Investigative Journalism. But the strikes have continued in Yemen, where the Bureau tallied two attacks and between four and 19 deaths in March.
Schiff acknowledged that his bill "won't satisfy many who would like to see the drone program go away completely." Last year he voted against an amendment offered by Illinois Rep. Jan Schakowsky (D) to ban some drone strikes.
Schiff is convinced, in fact, that increasing transparency around the drone program could actually legitimize it in the eyes of the world.
"I think it will help rebut some of the excessive claims of civilian casualties," Schiff said. "Whenever there's a drone strike there's an immediate response, it seems, invariably, that it's a wedding. They can't all be weddings. I think the U.S. hampers its own efforts when it fails to disclose."
REAL LIFE. REAL NEWS. REAL VOICES.
Help us tell more of the stories that matter from voices that too often remain unheard.
BEFORE YOU GO
PHOTO GALLERY
Obama Pointing Fingers