One of the highlights of last year's Government Summit, an annual international forum held in Dubai designed to help shape the future of governments, was the announcement that the UAE was set to introduce drones to help deliver ID cards, driving licenses and other permits to its residents.
The announcement was brushed off by some critics as yet another Dubai PR stunt to generate headlines. This view was held by several people mainly for two reasons First, the thriving Emirate's obsession with breaking records, winning competitions and probably, it's unbelievable fleet of police super-cars which include Lamborghinis, Ferraris, Aston Martins, Bugatis and Bentleys.
(A video showing drones UAE ID cards was shown at last year's government summit. Courtesy: Youtube)
The second reason was that drones are mainly infamous for their role as remote-controlled killing machines which fly into enemy territories, fire ammunition and more often than not, take away innocent lives rather than actual targets.
As such, very few people actually had an idea of how drones could be used for peaceful purposes. And it was those "few people" that HH Sheikh Mohammad bin Rashid wanted to reach out to. As such, the follow-up announcement to last year's Government summit was equally interesting; Sheikh Mohammad created a scheme to encourage, recognize and reward those with the best ideas when it comes to using drones for good. The result? A global competition called "The UAE Drones for Good Award" which concluded yesterday with a Swiss team winning the 1 million USD prize for developing a drone that can enter confined spaces and safely fly close to humans, proving to be highly effective in rescue missions.
The competition also offered a prize 1 million AED (almost 267,000 USD) for a team of local developers who created a 2.2-kg drone can fly for up to 40km around the Wadi Wurayah National Park, the UAE's first mountain protected national park. The drone collects data from 120 camera traps that capture images of wild animals at the park.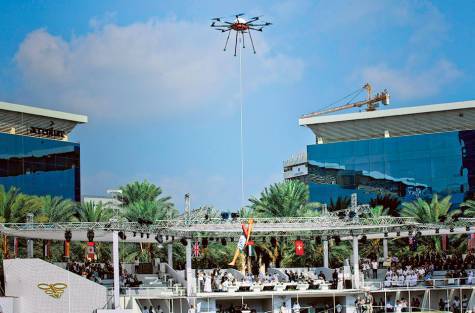 (Sanad is a UAE developed drone that can be used in critical life-saving missions, particularly beach rescues, Courtesy: Drones for Good)
Competitive in doing good
Most people who attended the two-day long competition, which saw some of the best and innovative minds from various countries around the world present their ideas for peaceful drone usage, would probably realize that this was about much more than a team of developers walking away with a prize.
"Whatever we do, we do it for goodness" says Mohammad Al Gergawi - a UAE's Cabinet Minister and Sheikh Mohammad's longtime right-hand man.
"Part of our strategy is to always show goodness, work for it and be competitive about it, be in drones or be in terms of providing aid worldwide, where we are the biggest aid-donors in terms of GDP," he adds.
Gergawi believes that drones will soon be part of our everyday lives, much like what cars are to us today. He also believes that such a competition shows a different side of technology, adding that he anticipates that over the next two decades, 95 percent of drone usage will be for civilian, peaceful purpose such as education, rescue missions and providing services to more people in more report areas.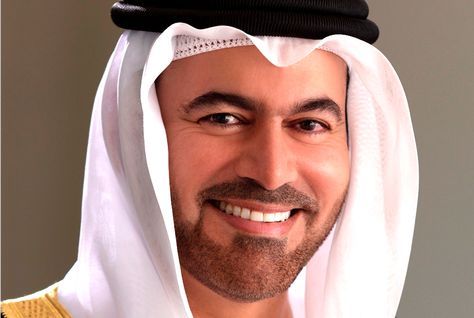 (Caption: "Part of our strategy is to always show goodness, work for it and be competitive about it, be in drones or be in terms of providing aid worldwide, where we are the biggest aid-donors in terms of GDP" - Mohammad Al Gergawi)
The competition winners were selected by a team of experts judging 800 entries which were later shortlisted, and whilst the awards are designed to recognize the best ideas in terms of implementation, they inevitably do also reward innovation in technology as "sometimes you have to innovate to be able to reach the implementation desired," says the awards' General Coordinator, Saif Alaleeli.
"They are interlinked, but we are not a technology-focused competition like many people might think," he adds.
Alaleeli also responds to the traditional concerns over the usage of drones relating to safety and personal privacy. He says the UAE will soon be announcing a set of regulations that will make sure people's privacy are respected and safety concerns are also addressed.
"However, many seem to think that all drones will interact with people directly, this is not true and many drones might be used for government-to-government or government-to-business purposes, so people might not even see them or interact with them at all."
Entries displayed over the weekend included drones designed to monitor wildlife, save people at sea and deliver medical supplies, among other functions.
The vibe was extremely positive and as we -- as a region -- have to face and eliminate the physical and ideological dangers of terrorists of the caliber of I.S.I.S and Al-Qaeda, such events might just be one of the ways needed to fight back.
"When you think of what is happening, it is a difficult time in terms of violence," says Gergawi.
"Our job is to bring goodness and create an environment for youth to excel. Drones for good is only one part and so many other things are coming in the pipeline," he concluded.