 A request for drones from a California sheriff's office prompted the American Civil Liberties Union to point out, what officials say, are significant dangers posed by the proliferation and misuse of the aerial surveillance devices.
The Alameda County Sheriff's office in Northern California has requested a grant to purchase unmanned aerial drones for video and infrared surveillance in police, fire and rescue settings, according to Pleasanton Patch.
Sheriff Gregory Ahern insists a drone deployed by his department would not be used as a "patrol tool."
"It would be a mission-specific tool for evaluating and testing for specific incidents," Ahern said. "If we do this, we have to have permission from the [federal aviation administration] defined for each specific type of mission such as search and rescue, fires or for explosive ordinances teams to take photos of suspicious devices."
But the civil liberties group notes that strong "safeguards and accountability mechanisms" must be in place to ensure that "law enforcement does not use drones to engage in warrantless mass surveillance," according to an ACLU blogpost.
Ahern touted the affordability of drones, noting that a single drone costs between $50,000 to $100,000, whereas a helicopter costs $3 million and is expensive to operate.
But the ACLU sees the cheapness of drones as another potential danger.
"When the police have to mount elaborate and costly foot and squad patrols to follow a suspect 24/7, the expenditure of resources serves as a deterrent to abuse; it forces the police to limit their surveillance to instances when it is actually necessary," the blog post says. "Drones permit the police to surveil people at all hours of the day and, apparently, at 1/30 the cost of other forms of aerial surveillance. The natural deterrent to abuse goes away, and invites abuse."
Current Guardian columnist and former Salon blogger Glenn Greenwald echoed those concerns in a December, 2011 piece.
The fact is that drones vest vast new powers that police helicopters and existing weapons do not vest: and that's true not just for weaponization but for surveillance. Drones enable a Surveillance State unlike anything we've seen. Because small drones are so much cheaper than police helicopters, many more of them can be deployed at once, ensuring far greater surveillance over a much larger area. Their small size and stealth capability means they can hover without any detection, and they can remain in the air for far longer than police helicopters.
Armed drones have become a common and controversial tool used in the so called "War on Terror" overseas.
Since then, worry over privacy and other civil rights abuses has inspired legislation in Congress that would put some clamps on law enforcement's ability to use the unmanned aircrafts.
"When it comes to privacy protections for the American people, drones are flying blind," Rep. Ed Markey (D-Mass.) said in a statement released in August. "Drones are already flying in U.S. airspace – with thousands more to come – but with no privacy protections or transparency measures in place."
Related
Before You Go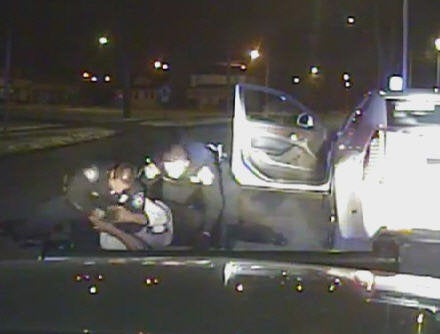 Police Brutality Incidents
Popular in the Community