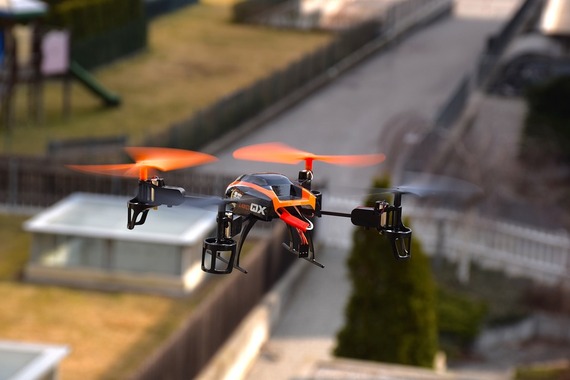 Drones have many good uses, but these can also be used for illegal purposes
The commercial drone industry has undergone significant technological developments over the past few years. There have been efforts to regulate the use of UAVs to ensure that safety measures are in place even as the industry is seeing an increase in the number of commercial drones being used for defense, agriculture, filming and weather monitoring among others. According to a report released in 2014, the value of commercial drone markets stood at $15.22 million, a number projected to reach over $5.59 billion by the year 2020.
Drones go by many names, such as unmanned aerial vehicles (UAVs) and unmanned aircraft systems (UASs). Yet no matter what the name is, drones are basically aircrafts controlled remotely which do not involve an onboard human pilot. Different kinds of autonomies could be used to control UAVs' flights, such as onboard computers which make the control fully autonomous, through the use of a remote control by ground operators, or by operators in another vehicle on land or in the air.
Drone technology has been on the rise, especially with these unmanned aircrafts offering the best tactical solutions in dangerous, messy or repetitive missions. Drones have been used for surveillance, military purposes, and other special operation applications. UAVs have also been used increasingly for recreational and civil applications, which range from aerial filming, policing and drone racing.
Small, civilian drones have grown in their scope and scale of innovation, a surprise to many analysts. In 2010, the Federal Aviation Administration (FAA) estimated that there will be around 15,000 UAVs in the world. However, analysts estimated that more than one million drones were made and sold around the world in 2015, with America being its biggest consumer.

The good, the bad and the ugly
Although drone technology's initial purpose is to do good, it cannot be lost that these amazing unmanned aerial vehicles have also been used for illegal purposes. For example, they have been used to smuggle items, such as phones and drugs, into prisons, which has become a rising trend. Some of these occurrences have been reported in Australia, America, Canada and Brazil, among others. Drones have also been intercepted in Britain while being used by criminals to scout houses they intend to burglarize. There are fears that UAVs could also be used by terrorists; a fear heightened by the crash of a small drone on the lawn of the White House. Other incidences have been reported, including the defacing of New York's billboards by a pseudonymous graffiti artist, KATSU.
There have been concerns from different quarters regarding the safety of drones and their uses, with different voices having contributed to this debate. There is a consensus, however, that there is need for policing and regulating policies to ensure that drones do not expose people and countries to danger. Last year, an unmanned autonomous vehicle was spotted flying towards a passenger airplane flight 366 causing different groups to come together and work with the industry, the White House and various universities to develop rules and regulations on the use of drones. And while these rules and regulations are necessary, stakeholders also agree that it is crucial to provide a policy for drone technology in the national air space. "There's tremendous personal responsibility, and you need to educate yourself before you open the box and start to operate an airframe like this," Keith Kaplan, CEO of Tesla Foundation and representative of UAV System Association, was quoted as saying.

Expanding frontiers
A growing network of drone hardware and software vendors has emerged, catering to a growing list of clients in different industries, which ranges from construction to land management to agriculture to energy. Most of these vendors are startups and private companies, but there are other large industrial conglomerates which are defense-focused who seek to invest in UAV technology as well. Boeing Company, Lockheed Martin Corporation, and General Atomics and AeroVironment Inc. are some of the main drone manufacturers. Drone manufacturing and sales soared tremendously in 2015. The overall number of drones sold across the world in 2015 reached 4.3 million, at a cost of approximately $1.7 billion, a 167% increase compared to two years ago. The US, Europe and China occupy the top list of drone consumers with 35, 30 and 15 percent of the world UAV purchases respectively, according to Kleiner Perkins Caufield & Byers.
As the drone innovation and commercialization heightens, there is a need to come up with clear regulations that will help enhance safety without stifling the industry. After the rise of drone crashes and violations of safety rules for flying drones, the FAA has put requirements in place meant to regulate the industry; the first one being that all drone owners must register their unmanned aircrafts with the government. Civil penalties approximating $27,500 could be assessed for those caught flying unregistered drones.
Drone technology has registered tremendous improvements and new long-endurance drones are here with us today. The manufacture of Eagle XF Drone by UAV-America and the first electric-powered passenger drone by a Chinese entrepreneur, simply spells the advancement in drone technology. New commercial drone designs such as Woolpert by Kespry Inc. are quickly emerging, and with them, an exciting future, full of possibilities. Kaplan says, "The pace of the drone industry's innovations are moving at light speed and there are no signs of slowing any time soon as you will see each week, as the past week will seem like 'the old days'." More advancement in drone technology can be anticipated if comments by Kaplan are anything to go by.
Popular in the Community