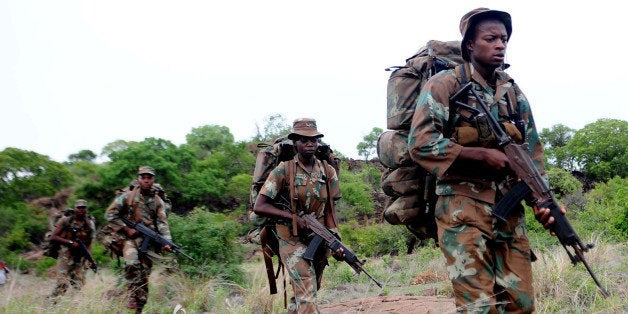 Unmanned aerial vehicle (UAV) technology designed by Spanish engineers will be used to fight rhino poachers in national parks in Africa. The ranger drone is fitted with thermal vision that can report potential irregularities in real time.
Designed to be an easy tool for use by park rangers, its makers say the 'Keros 1' drone is a low cost solution for surveillance and observation.
The lightweight vehicle is made of styrofoam and allows its controller to send instant photographs to park monitors while also collecting relevant data when the drone returns to base.
It can function amid winds of up to 30 knots (55 km/h), its battery will last for one hour, and it enjoys a large communication range.
Four researchers from the Polytechnic University of Catalonia (UPC) in Barcelona worked with Hemav, a company that promotes UAV and drone solutions, to design the drone. The UAV uses thermography, sound identification and onboard processing data.
"This is a smaller model; the final one is bigger," team member Arnau Garcia said, while holding a drone model. "This only includes basic elements as we built it in a way that it can easily be put together and dismantled, as well as easily repaired. It has electric batteries so that it is not noisy. It has an autopilot so that you give it a mission and it memorizes the path to follow. It has sensors that can be microphones or cameras and can be used to pile up data or used to detect threats. And it also has a GPS in order to draw a map so that you can know where it has been and where it has taken every picture."
The idea emerged as a way of dealing with an alarming increase in rhino poaching in South Africa in recent years.
Rhino horn is highly prized in traditional Asian medicine, where it is ground into a fine powder or manufactured into tablets as an unproven treatment for a variety of illnesses such as nosebleeds, strokes, convulsions, and fevers.
In 2009, 122 rhinos were killed, a number that has since more than trebled to 388 rhinos in 2012, according to the World Wide Fund for Nature (WWF).
South Africa has reportedly lost more than 2,600 rhinos since 2008 due to poaching, which could cause the animal's extinction, according to stoprhinopoaching.org.
"Right now natural parks have two big problems," Garcia said. "The first one of them is to detect rhinos and non-authorized people in the area. That has been done with helicopters and planes up until now, but that is very expensive. In addition, you cannot see people who hide under trees from a plane. We solve this with thermal cameras. We use a drone that carries that kind of camera and looks over that area or those places suspected of having this kind of problem and it detects hot points. Like we see here. This shows people. Every pixel has a different color depending on how hot it is. This is placed on the drone, that takes a picture and reports directly to the ranger."
As the drones gather information on each mission, an interactive map is updated with individual rhinos' positions, the state of water and vegetation in the area, and the suspected points where poachers are located.
The drone costs upwards of 10,000 euros (10,700 USD), but Carlos Ferraz, Hemav's Innovation Manager, says it promises to be a vital tool in the fight against poaching.
"Currently natural parks use a lot of resources against poaching," said Ferraz. "Two very clear examples are, in the first place, the hiring of helicopters to chase poachers or locate elephants or things like these. They use a big part of their budget for that. With the budget national parks spend on a three month helicopter rental, we could fill the air with drones. And use technology better. On the other side, if they need to monitor the perimeter of the whole area they use two or three-men crews. What we could achieve if we placed drones in specific parts of the park is full monitoring of the park in only a few hours or a few minutes."
Hemav has begun talks with wildlife parks in Ethiopia, Rwanda and South Africa, and is trying to design a model that fits each park's individual needs. Parks in Brazil and Asia have also showed interest in the Keros 1.
REAL LIFE. REAL NEWS. REAL VOICES.
Help us tell more of the stories that matter from voices that too often remain unheard.
BEFORE YOU GO
PHOTO GALLERY
Elephant Poaching