NEW YORK, NY ― On Tuesday, a few dozen women and men gathered outside of Fox News headquarters to send one simple message: fire Bill O'Reilly.
"Hey hey, ho ho, Bill O'Reilly's got to go," chanted protesters, holding signs with slogans like, "Talk to me about revolution and a world without rape!!," and the more straightforward, "Fox: Fire Sexual Predator Bill O'Reilly."
Fox and O'Reilly have reportedly paid out a collective $13 million over the course of 15 years to settle the claims of five different women. The allegations against O'Reilly included "verbal abuse, lewd comments, unwanted advances and phone calls in which it sounded as if Mr. O'Reilly was masturbating." (Two of the settlements were reached after former Fox News Chairman and CEO Roger Ailes left the company in the wake of his own sexual harassment scandal.)
Tuesday morning, The Hollywood Reporter reported that a new accuser came forward with allegations of harassment through the Fox News hotline. The woman, who has been identified as an African-American clerical worker at the network, said (through her attorney, Lisa Bloom) that O'Reilly would "leer at her," and called her "hot chocolate."
O'Reilly is currently on a two-week vacation, which he claims had been planned since last year. In his absence, advocates have been vocal in their insistence that he not be allowed to return to air. The Intelligencer reported that "while no final decision has been made, the Murdochs are leaning toward announcing that O'Reilly will not return to the air."
"It is outrageous that Fox News is even considering whether or not they should fire Bill O'Reilly. It's not a question," said speaker Melissa Quesinberry of NOW-NYC, who is a rape crisis advocate and sexual assault survivor. "We have a man in the highest position of power right now ― our president ― who is a serial sexual predator who came out and said, immediately without hearing the details of what's going on, with this Bill O'Reilly scandal that he did nothing wrong; that he was a nice guy. Well, that's not the story that we're hearing from all of these women. So by not condemning this behavior, Fox News is elevating it to a pervasive level, demonstrating to all of their employees that this is acceptable, that it is expected and allowed. It is not."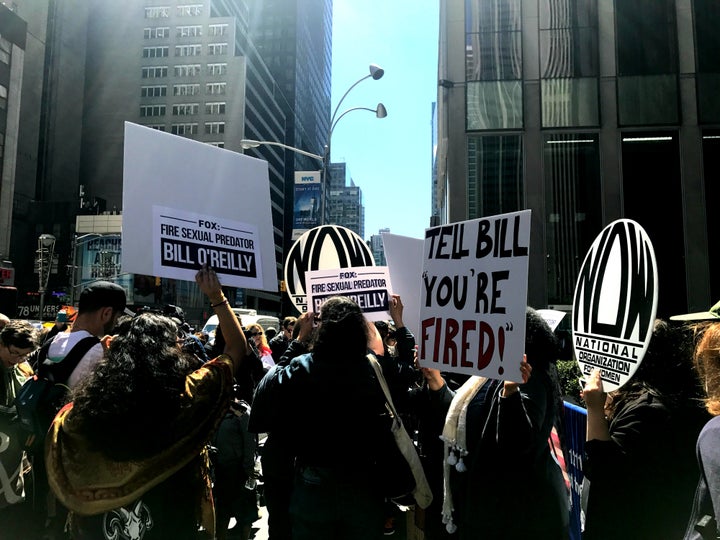 The atmosphere outside of Fox headquarters was tense, as several men passing by the protest became verbally combative with protesters.
"Bill's a good guy! Forget about it!," a middle-aged man in a gray suit yelled as he walked by.
"Bill O'Reilly's a legend!," fist-pumped another, younger, suited man.
"Stop acting like fools, people," said diamond wholesaler Auri Ambalu, who stopped to engage with protesters. "It happens in life, what are you going to do? There's nothing you can do about this, that's world that we live in today. You have to accept certain things the way they are and that's the way it is."
But the protesters, including 69-year-old Brooklyn resident Sally Moses disagreed with Ambalu's sentiments.
"There are a lot of people who are part of the problem and they're not in touch with their own personal power," she said. "They don't understand what can happen with a voice... If I can say one thing that might wake someone up and there's no guarantee but I'm willing to take five minutes, then I'm willing to try."
Moses explained to HuffPost why she had made the time to come out and demonstrate:
For one thing, I don't want people to get away with things that are so hurtful, as is misogyny [and] sexual assault. And I made the time to be here because I've been subjected to this kind of thing and I know how pervasive it is.

I remember the days that the relatives of two of my very close friends ― one in junior high and one in college ― I was walking past them and these men grabbed my breast. It was fast, and I thought did something really happen just now? And it wasn't until I was 38, resuming my education back at Mills College in Oakland, California that we had Sexual Assault Awareness Week and I learned what sexual assault is. And I don't understand why a lot of these men don't get it. But then if I were the one in power, I might not want to get it either.
In addition to staging the demonstration, UltraViolet launched two online petitions, one calling on Fox to fire O'Reilly, and another asking "O'Reilly Factor" advertisers to pull their ads from the show. (Dozens of advertisers, including H&R Block, Lexus, BMW, Invisalign, Mitsubishi, Jenny Craig and Advil, have pulled their ads since the allegations surfaced.) The organization also published an open letter to 21st Century Fox CEO James Murdoch, signed by nearly 300 survivors of sexual assault and their allies.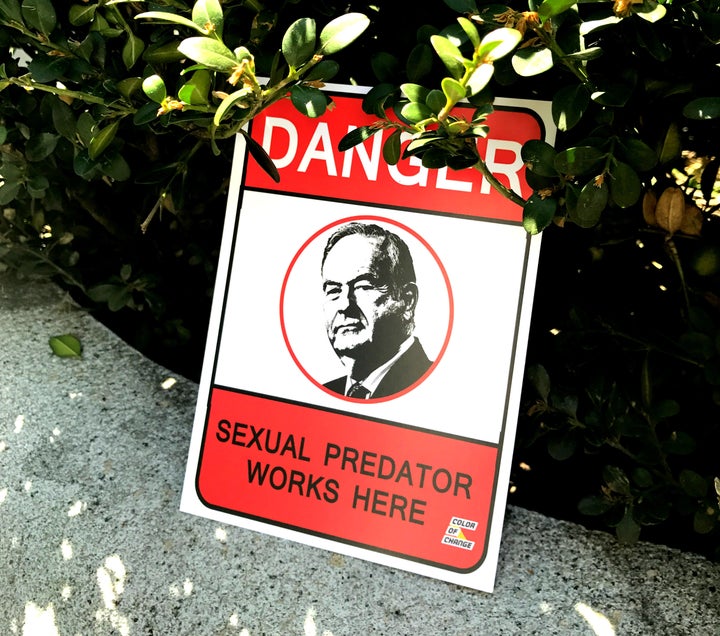 According to a HuffPost/YouGov survey, 65 percent of "The O'Reilly Factor" viewers still approve of O'Reilly, and just 17 percent reported that they believe the show should be canceled in light of the controversy. That number is even lower among viewers who identify as Republicans.
"I'm not sure why people continue to watch his show, but I do know that Fox News has an obligation to protect everyone, all of their employees, from a sexual predator," Karin Roland, Chief Campaigns Officer at UltraViolet, told HuffPost. "It doesn't matter what [O'Reilly's] ratings are. He's repeatedly assaulting and harassing women at Fox. He needs to be stopped and he has no place in their workplace."
CORRECTION: This article has been updated to reflect the correct name of the speaker at the demonstration, Melissa Quesinberry of NOW-NYC.
Popular in the Community