As online mag Campaign reports, the ASA cited ads for Drop Dead, a British clothing line, as "socially irresponsible" for featuring a visibly underweight model in a bikini.
"In the bikini images her hip, rib and collar bones were highly visible. We also noted that in the bikini and denim shorts images, hollows in her thighs were noticeable and she had prominent thigh bones. We considered that in combination with the stretched out pose and heavy eye makeup, the model looked underweight in the pictures."
Drop Dead is just one more fashion company to get caught in ASA's crosshairs, as the British watchdog agency has gotten busy regulating the often provocative images used by fashion and beauty brands.
Now body image is also coming under fire. Take a look at the supposedly anorexic model from Drop Dead's ads below. Do you think the ad deserved to be banned?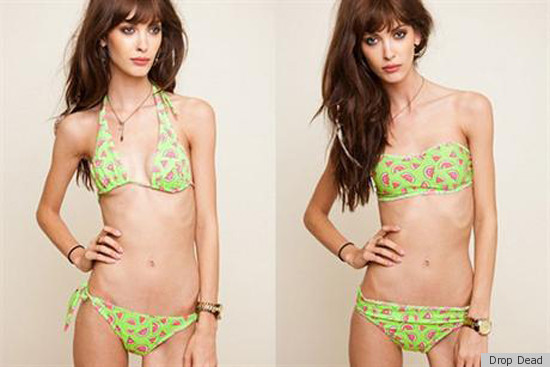 Related