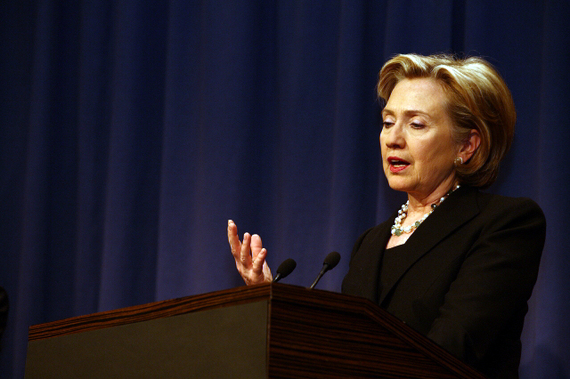 Hillary Clinton is losing in both Iowa and New Hampshire to her rival Bernie Sanders and after a failed attempt to attack Sanders health care plan, which actually backfired, her campaign is attempting to focus on foreign policy and borrowing from the Republican playbook, again, she is now using ISIS to strike fear into the hearts of American voters.
In the video released by her campaign, Clinton's top foreign policy adviser, Jake Sullivan, explains that Clinton disagrees with Sanders when it comes to ISIS and Iran. "I have the greatest respect for Sen. Sanders," Sullivan says. But adds that Sanders' ideas on national security issues "just don't make sense."
When it comes to fixing Iran and Saudi Arabia relations and how to fight ISIS troops inside Syria and Iraq, Sullivan says that is clear that Sanders has "not thought it through."
Clinton made the same exact remarks in an interview Wednesday night on NPR while making sure to say that she believes President Obama has the best plan for dealing with these issues and she would continue with his word, driving the point home, yet again, that her presidency would be a continuation of the Obama administration.
The attacks from Clinton are increasing as the polls reflect more and more losses for Clinton around the country after Clinton spent a great deal of time telling people she was not worried about Sanders at all.
Her failed health care attacks and inability to match Sanders on economic issues have left her with few options to attack Sanders on. She is doubling down on her commitment to being Obama part 2, and using foreign policy fears to appeal to a vanishing voter base.
Calling all HuffPost superfans!
Sign up for membership to become a founding member and help shape HuffPost's next chapter