 By Russ Blinch and K.T. Arasu
WASHINGTON/CHICAGO, July 18 (Reuters) - Oppressive heat and a worsening drought in the U.S. Midwest pushed grain prices near or past records on Wednesday as crops wilted, cities baked and concerns grew about food and fuel price inflation in the world's top food exporter.
Soybean prices at the Chicago Board of Trade set a record high and corn closed near a record as millions of acres of crops seared in triple-digit heat in the Corn Belt. Corn fields have been plowed up in many locations for lack of rain. Now soybeans, which develop later than corn, are in the bull's eye.
"I get on my knees every day and I'm saying an extra prayer right now," U.S. Agriculture Secretary Tom Vilsack told reporters after briefing President Barack Obama. "If I had a rain prayer or a rain dance I could do, I would do it."
Vilsack said the drought was getting worse for hard-hit farmers and the wilting crops will mean higher food prices.
"Part of the problem we're facing is that weather conditions were so good at the beginning of the season that farmers got in the field early, and as a result this drought comes at a very difficult and painful time in their ability to have their crops have good yield," Vilsack said.
Drought conditions now extend over more than 60 percent of the lower 48 states, the government said. The Department of Agriculture on Wednesday extended drought aid to an additional 39 counties designated as primary natural disaster areas, bringing such aid to a total of 1,297 counties across 29 states.
Vilsack said rising grain prices would mean meat and poultry prices will be higher this year and next, although the inflation may be delayed as farmers start culling their herds due to high feed prices and meat supplies stay adequate.
But the outlook for higher food prices could add up to another headache for Obama as he faces a November election with high joblessness and slower economic growth.
Hard-hit livestock producers and other groups want the Environmental Protection Agency to give oil refiners a waiver from the mandate to blend ethanol into gasoline, arguing demand for the corn-based fuel was driving up corn prices. About 40 percent of the U.S. corn crop now is used to produce ethanol.
But Vilsack said there was no need for such action as yet.
"There is no need to go to the EPA at this time based on the quantity of ethanol that is in storage," he said.
The U.S. drought is expected to be felt worldwide as the world's biggest grain exporter struggles with shortfalls. The United States exports more than half of all world corn shipments and is also the single top exporter of wheat and soy.
"The dramatic rise in grain prices in the past few weeks is shaping up to be a serious financial blow for wheat importing countries," one German trader said on Monday.
"African and Middle Eastern countries are now facing painful rises in import bills."
WEATHER OUTLOOK STILL HOT AND DRY
Forecasters were calling for scattered showers on Wednesday evening in some parts of the east coast and Midwest. But relief was seen as too little and too late for many of the key areas of the central Plains and Corn Belt.
"There are no soaking rains in sight, nothing to relieve the drought," said World Weather Inc meteorologist Andy Karst. "There will be some light rains today through Friday in the eastern Midwest."
Iowa and Illinois, which produce about a third of U.S. corn and soybeans, continued to swelter on Wednesday in temperatures at or above 100 degrees (37.8 degrees Celsius) with little to no rain forecast.
Corn prices have jumped more than 50 percent in the last month as the crop wilted in many locations during its key growth stage of pollination.
Corn for September delivery at the Chicago Board of Trade closed at $7.95 a bushel, near last summer's record high of $7.99-3/4. Soybeans for August delivery closed at $16.85-1/2, a new record high.
"Now, it's soybeans' turn. The next two weeks will be critical for them. There is a chance for catastrophic problems in soybeans," said grains analyst Don Roose of U.S. Commodities in Des Moines, Iowa
"The summer of 2012 is on pace to finish third hottest on the list of 62 summers since 1950," said Steven Root, a meteorologist with WeatherBank Inc. "But it is still in the running for number two or one."
In many parts of the country, power grids were under pressure from demand on air conditioning but most were holding up. In New York City, Consolidated Edison reduced its power voltage in some Manhattan neighborhoods, resulting in brownouts.
Low water levels in many lakes and rivers were hampering transportation, with hydroelectric plants tapping water in locations like Arkansas and the Army Corps of Engineers issuing warnings to consumers about water levels.
Water usage for lawns and recreation continued to see restrictions in many areas of the country.
In crop areas, farmers saw further headaches from plant diseases like fungus and crop pests like spider mites on soybeans or rootworms or Japanese beetles in corn that appear in hot weather.
But one silver lining in many areas from weeks of drought was a pleasant surprise: fewer mosquitoes, which lack moist breeding places. "I can live with that part of the drought," said Scott Trout as he left a playground in Westwood, Kansas, with his wife and two children. (Additional reporting by Timothy Gardner; Writing by Peter Bohan; Editing by Todd Eastham)

Related
Before You Go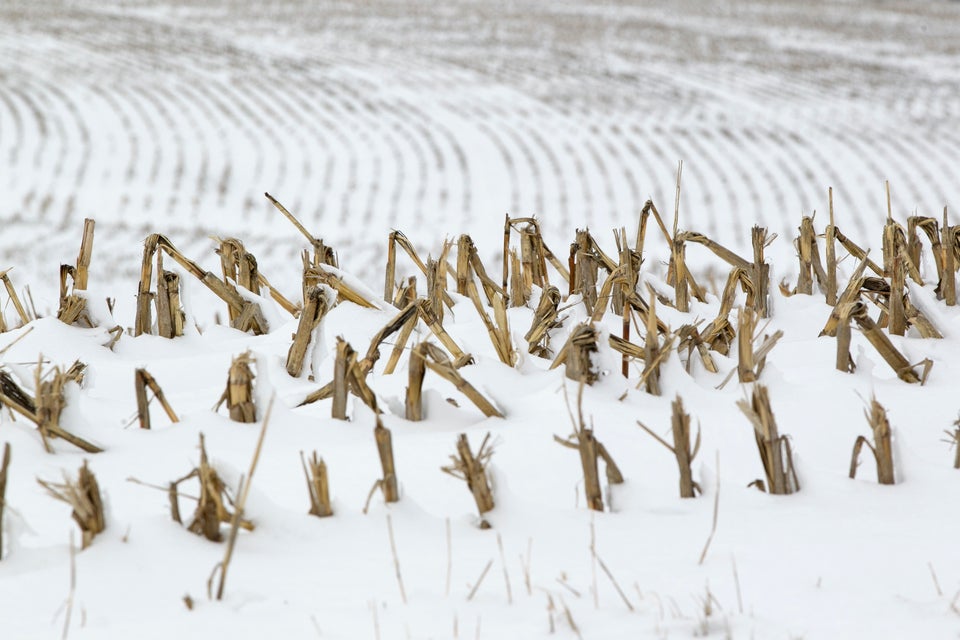 U.S. Drought 2012-2013
Popular in the Community